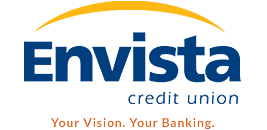 If you're a current resident of Kansas, I definitely recommend checking out Envista Credit Union today and when you apply for a new checking account with direct deposit. You'll also be eligible to receive a $25 referral bonus when you refer a family, friends, co-workers, etc. to apply for a checking account using this promotion, not only that, but you're referred friends will also receive $25!
Take advantage of this offer and start referring as much people as you can now, because this is a accumulative promotion offer with no limits on the amount of cash bonuses you can earn. Make sure to fill out the referral form and give it to your friend, at account opening, your friend must provide a Envista Representative your personalized promotion card. This Credit Union offers an exceptional banking experience for all of their customers, and now you can be rewarded for your time with them, all your friend has to do is open a checking account with a direct deposit minimum of $100. Enjoy a completely free checking account along with your accumulative $25 bonuses.
Envista Credit Union $25 Referral Bonus:
Account Type: Any Checking Account
Referrer Bonus(You):

$25

Referral Recipient Bonus(Your friend): $25
Availability: KS
Expiration Date: None
Soft/Hard Pull: Unknown
Credit Card Funding: Unknown
Direct Deposit Requirement: Yes DD, $100 minimum
Additional Requirements: Referral card must be presented when the account is opened and must contain the referring member's name and address. Also, See Below for detailed requirements
Monthly Fee: None
Early Termination Fee: There is a 3 month early termination fee
Envista Credit Union $25 Referral Steps:
Must be 18 years of age or older and be new to Envista Credit Union to participate in the referral program
New accounts are subject to approval
Must open a checking account with direct deposit with a minimum deposit of $100 and the checking account must remain open for 90 days or opens a loan with a minimum balance of $2,500 and remains open for 90 days
Referral card must be presented when the account is opened and must contain the referring member's name and address
Envista Credit Union Checking

Features:
FREE 24 hour account access:
FREE Online Bill Pay
FREE Mobile Banking App
FREE Mobile Deposit
FREE MoneyDesktop – Personal Financial Management Tool
FREE Visa Check Card
FREE e-Statements
FREE Check View on e-Teller
FREE Notary Services
FREE Transactions at 5,000+ Locations
Over 100 Surcharge Free ATMs
Overdraft Privilege or Overdraft Protection is available to qualified account holders and fees may apply
Refer Our Readers:
For local Kansas checking consumers, feel free to leave a comment to reach out to readers for a referral. If you are a current member of Envista Credit Union, then make sure to leave a comment with your contact information so that my readers can reach out to you and y'all both can benefit. Also, don't forget to let us know if you can fund your account with a credit and whether it's hard pull or soft pull.
Conclusion:
Reap the opportunity and benefits that Envista Credit Union has to offer for their local Kansas residence, and earn yourself a easy $25 bonus when you and your referred recipient sets up a personalized checking account with direct deposits (minimum of $100). This is quite possibly the easiest bonus Envista Credit Union has to offer, so if you're enjoying all the great services Envista Credit Union's Loyalty program has to offer? Make sure to tell your friends and family all about it! Don't forget that there is a closure fee period of 3 months, I recommend not closing your account in order to avoid any clawbacks of your bonus! If you want to check out other banks, head over to our complete list of Bank Referrals for all your banking needs!