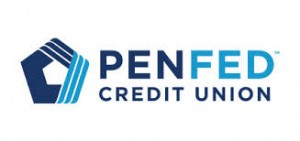 PenFed Credit Union is made up of members who serve the country and community, including the military, state and local governments, government contractors and our nation's school systems.  It is considered one of the most stable financial institutions, offering it's members award-winning credit cards with unbeatable rates, incentives, and almost no fees.  PenFed is currently offering a great credit card promotion of at least $100 bonus statement credit after spending $1,500 within the first 3 months on all their cards.  You may be eligible through your employment, association membership, and volunteerism, or by becoming a member of one of their nonprofit partner organizations when applying for a credit card. Review the list of PenFed credit cards to learn details about each.


Learn More
With the PenFed Pathfinder Rewards American Express® Card:
-0% APR promo balance transfer rate for 12 months with 3% balance transfer fee now through December 31, 2018. After that, the APR for the unpaid balance and any new balance transfers will be 12.49% to 17.99%. APR will vary with the market based on Prime Rate. Subject to credit approval.
-Earn 25,000 Bonus Points by spending $2,500 in the first 90 days of account opening.
-Earn 4X Points on travel purchases through the PenFed Honors Advantage program. Earn 3X points on travel purchases for all other card holders.
-Earn 1.5X points on all other purchases unrelated to travel.
-$100 Annual Air Travel Credit
-$100 Global Entry or $85 TSA PreCheck Benefit every 5 years
-No caps or limits on rewards. No annual or foreign transaction fees.
-Chip enabled for added security.
-Variable rate as low as 12.49% APR. Rate and offers current as of October 1, 2018 and are subject to change.
-Federally insured by NCUA.

Learn More
With the PenFed Power Cash Rewards Visa Signature® Card:
-0% APR promo balance transfer rate for 12 months with 3% balance transfer fee now through December 31, 2018. After that, the APR for the unpaid balance and any new balance transfers will be 11.49% to 17.99%. APR will vary with the market based on Prime Rate. Subject to credit approval. $100 bonus after spending $1,500 in purchase transactions within the first 90 days of account opening.
-Rate and offers current as of October 1, 2018 and are subject to change.
-1.5% unlimited cash back on all purchases
-Flexible cash redemption options
-No caps, limits or category restrictions on rewards
-Earn up to 2% cash back through the PenFed Honors Advantage program
-No annual or foreign transaction fees
-Chip enabled for added security
-Federally insured by NCUA
-Variable rate as low as 11.49% APR

Learn More
With the PenFed Promise Visa® Card:
-4.99% APR promo balance transfer rate for 12 months with no balance transfer fee now through December 31, 2018. After that, the APR for the unpaid balance and any new balance transfers will be 11.49% to 17.99%. APR will vary w/the market based on Prime Rate. Subject to credit approval. $100 bonus after spending $1,500 in purchase transactions within the first 90 days of account opening.
-Rate and offers current as of October 1, 2018 and are subject to change.
-Absolutely no fees
-No annual fee
-No late fee
-No cash advance fee
-No foreign transaction fees
-Chip enabled for added security
-Federally insured by NCUA
-Variable rate as low as 11.49% APR