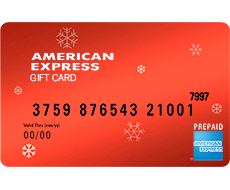 It's no exaggeration when I say that American Express Gift Cards are one of the most popular gift cards out there and with the holidays being right around the corner, it's almost an obligation of mine to push out a full comprehensive evaluation on American Express Gift Cards.
Typically, they can be purchases online in denominations of $25, $50, $100, $200, $500, $700, $1000, $2000 and $3000. Note that there is a purchase limit attached to AMEX Gift Cards; $10,000 for Personal Gift Cards, $100,000 for Business Gift Cards. Furthermore, AMEX Gift Cards should not be associated with VISA Gift Cards and here's why:
American Express Gift Cards are non-reloadable and they can be used anywhere in the US, Puerto Rico and the U.S. Virgin Islands, just as long as the merchant accepts AMEX. You can use your AMEX Gift Card at both brick and mortar, online retailers, and for mail-orders. Note that they cannot be used at reservations/deposits (cruise lines, hotel reservations, car rental reservations), for any recurring billing purchases, or at casinos, ATMs or international airlines. Now that we got that out of the way, let's get into this post!
---
You have the option to either buy AMEX Gift Cards in-store or online. Although I must add that purchasing an AMEX Gift Card online will accrued a purchase fee or Shipping Fee, unless you plan to use any of the promotional links/codes down below.
American Express Gift Cards Fees:
Standard USPS Shipping: $5.95
Express 2nd Day Shipping: $8.95
Express Next Day Shipping: $15.95
Online Purchase Fees: $3.95
In-Store Purchase Fees: $5.95 (verified at various drugs stores and supermarkets)
In-Store American Express Gift Cards Purchase:
Below is a list of well-known retailers that sell AMEX Gift Cards
Office Depot
Staples
Safeway
Walgreens
Walmart
Target
Pathmark
Winn Dixie
Stop&Shop
Wawa
Albertsons
Kmart
Kroger
Tom Thumb
A&P
Rite Aid
CVS
US Post Offices
| Bank | State(s) | APY | Min | Max | Account Name | Review |
| --- | --- | --- | --- | --- | --- | --- |
| Bankers Trust | AZ, IA | 2.75% | $1K | --- | 7-Month CD | Review |
| Advantage Federal Credit Union | NY | 2.50% | $500 | --- | 5-Month CD | Review |
| America First Credit Union | AZ, ID, NV, OR, UT | 2.50% | $500 | $1M | 6-11-Month CD | Review |
| Wasatch Peaks Credit Union | UT | 2.50% | $500 | --- | 6-Month CD | Review |
| Sunstate Bank | FL | 2.50% | $2.5K | $1M | 7-Month CD | Review |
| Belmont Savings Bank | MA, NH | 2.40% | $500 | $1M | 6-Month CD | Review |
| State Bank of India (IL) | IL | 2.27% | $2.5K | --- | 6-Month CD | Review |
| Washington Federal Bank | AZ, ID, NM, NV, OR, TX, UT, WA | 2.20% | $1K | --- | 7-Month CD | Review |
| Atlantic Federal Credit Union | NJ | 2.15% | $500 | --- | 7-Month CD | Review |
How To Waive Purchase or Shipping Fees:
No Shipping Fees promo codes:
How To Register American Express Gift Cards:
You don't necessarily have to register your AMEX Gift Cards, however, this could be a case if you want to either check your Gift Card balance and transaction history, your preparing to use your gift card online, or you've had your gift card lost or stolen.
Call the American Express Gift Card Customer Service Center. The number is usually on the back of your gift card. If that is not the case, you can try 1-877-297-4438
Enter the AMEX gift card number and security code. Both of these can be found directly from your card.
Request to speak to a customer service agent
Register your billing address. After the customer service agent confirms your billing address registration, you can proceed to using your card online.
Why Did I Have My Order Declined?
Your purchase could have been declined because it exceeded your cash advance limit. Some credit cards do treat online Amex Gift Card purchases as cash advances. Cash advances is definitely unwanted fees that you do not want. Some credit cards treat gift card purchases as an initial cash advance that transitions to a coded purchase, so if your cash advance limit is low, then this could be the premise as to why you've been declined.

It's to my understanding that Discover and US Bank charged a cash advance fee for AMEX gift card purchases, so be cautious when you're making large gift card purchases.

The name or address that you put in the order does not match your name and address on your credit card. I would say that there is a sense of case-sensitivity attached.
Editor's Note: You could get a statement from AMEX stating that they "could not verify your order information and cannot approve your order at this time." #2 could sometimes be the case, and other times, it's just that you're approved or not approved. Could be a systematic error, however, it's happened to me very rarely in 2018.
How To Cash Out American Express Gift Cards:
Here are some ideas you might want to pursue:
Buy things that you would already buy anyways
Buy VISA or Mastercard gift cards and use the gift card PIN to cash out
Purchase merchant gift cards via online cash back portals to earn extra points/cash back
Pay bills with Plastiq. (2.5% fee)
These may be some ideas but I especially recommend you engage or try some of them. It should already be obvious that you'd want to buy things that you would already buy anyways, however, let's face it, AMEX Gift Cards are not approved everywhere and there's been plenty of reports that the gift card may not even work within a merchant that is abiding by the American Express network.
Your next option could be to buy VISA or Mastercard gift cards. Not only will you have more flexibility, but you'll be able to cash out with the gift card PIN. Note that there are some cons to this method and it's particularly associated with just finding the right merchant that would allow for you to purchase VISA or MC gift cards with an AMEX gift card. Typically,retail employees are especially trained to catch such practices, but if you find the right retail then this could be an attractive option for you.
If you want to chase some more cash back rebate, then your best bet would be purchasing merchant gift cards from an online cash back portal. It's worth noting that once you purchase the merchant gift card, certainly, you will be limited to purchases only from that certain merchant that you have a gift card under. I would only recommend this if you're sure that you'll be putting heavy spending on that certain merchant. Personally, I prefer flexible currency over anything, but I will definitely keep this method in mind within the span of 2018. Again, I reiterate that the holidays is around the corner and merchant gift cards makes for a decent gift.
The last option that I know of is to pay your bills with Plastiq. Remember that American Express did emphasize recurring bill payments as a restriction for Gift Cards so Plastiq offers you the ability to pay your recurring bills with a gift card at the cost of a 2.5% fee. The fee is not too egregious, however, it could determine a significant devaluation of your currency.
Each method really does have it's pros or cons with some weighing out the others. It's to your discretion as to which method suits your lifestyle and spending. I'll admit that the process could get rather time-consuming, however, I still consider it to be a hobby and an easy way to get rid of my minimum spending on a credit card. If you have any other suggestive methods you want to add to the list, we'd really appreciate you leaving a comment down below in the comment section!
Some things you can't do with American Express Gift Cards:
AMEX gift cards can be used as a credit card, but cannot be used as a debit card. Therefore, you cannot set up a PIN, which means you cannot load BlueBird via Walmart, pay bills at Walmart, or buy money orders.
AMEX Gift cards used as a credit card source to load Serve Online typically does not work either, however, there have been previous accounts that it does. I can assure you that in 2018, this method will not work.
AMEX Gift Cards cannot be used to load REDbird cards as of May 6, 2015.
Final Analysis:
If you want to accomplish your minimum spending quicker, then American Express Gift Cards could be an option for you. Just remember that some credit cards charge a cash advance fee for purchasing. Also, when purchasing AMEX gift cards online, there will be a purchase fee and shipping fee applicable unless you use some of the promotion links/codes above. Make sure you're cautious when purchasing AMEX gift cards, because the process can get rather intricate real quick. As always, don't forget to also check out our full list of Credit Card Bonuses for all of your credit card needs.