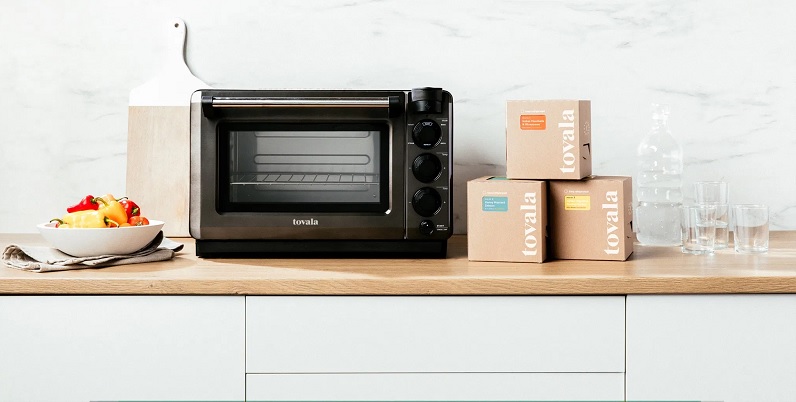 Tovala is a smart oven and also a meal delivery service that caters to those who want to make dinner in a jiffy. There's no need to shop, prep, cook or clean. Simply connect your Tovala and start cooking yummy f00d.
See the best grocery and food delivery promotions
If you make the purchase with a referral link and earn an additional $50 off for a total discount of $150 on a Tovala Starter Kit. In addition, earn an additional $50 meal credit for every person you successfully refer to Tovala. Find more referral bonuses here.
Tovala $50 Welcome Bonus
Earn $50 off a Tovala Smart Oven (Starter Kit included) when you use our sign up link to make an account and complete your purchase. This offer will automatically stack on top of the "I'm Hungry for a Deal" promotion at check out for a total discount of $150 off your Starter Kit order. The welcome bonus is valid for new customers only.
(Sign Up Now)
Tovala Give $50, Get $50 Referral Program
Refer your friends and family to join Tovala and Tovala will  give them an extra $50 off the Tovala Smart Oven. For every referral who uses your personal referral link to make their purchase, you will earn $50 in free Tovala Meals.
To access your referral link, go to the Tovala referral page and log into your account.
How Tovala Works
Tovala will delivers fresh meals that you can heat up in the smart ovens.. Here's how it works:
Get weekly deliveries. Choose your meals from a new menu every week.
One minute of prep. There's no washing or chopping, just 60 seconds or less for prepping and you're done.
Scan to cook. Scan the code and the Smart Oven will cook each meal perfectly.
Relax and enjoy. Each meal will cook in 20 minutes or less.
Not only can the Tovala Smart Oven cook Tovala Meals, it scans the barcode on over 750 grocery items, so they steam, bake, broil, toast or reheat perfectly. The Tovala Smart Oven is $299 ($149 after the "I'm Hungry for a Deal" and welcome bonus). Financing is available, starting at $17 per month.
Conclusion
Tovala makes home cooking convenient and tasty with their Smart Oven and Meals. Sign up now to get some money off!