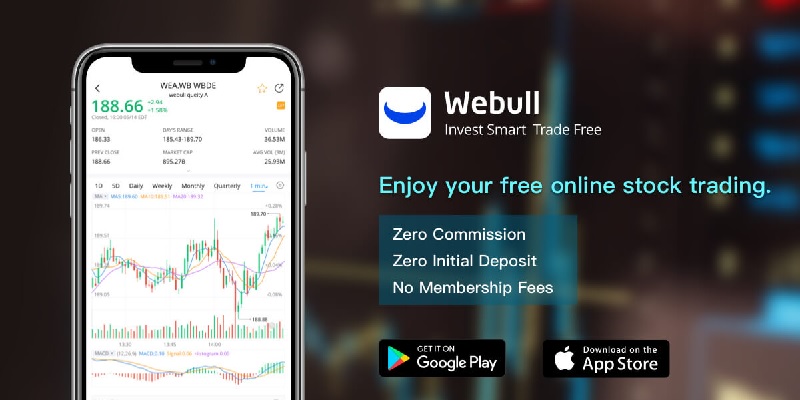 Take advantage of our updates on Webull offers for trading stocks, ETFs, bonds, options and mutual funds. You'll be able to earn free stock with you sign up and gain more free stock when you make referrals. Check out other referral bonuses here.
More investment promotions here.
With Webull, it's an app that will allow you to purchase and sell stocks, ETFs, and more. Plus, it will come with the latest updates and data about markets in more than 90 countries. This way, you can make informed choices with your money.
The commissions are free, however, the trades come with small SEC and FINRA charges. There are also some margin fees that will range from 3.99% to 6.99%.
Read below for more information on Webull and their recent bonuses.
Webull Free Stock Welcome Bonus
Just open a new account with our referral code to get two free stocks, each valued between $3.00-$300. If you fund your new Webull account with a minimum of $100 in the first 30 days, you'll be able to receive two more free stocks ranged from $8 to $2,000 each.
Account Type: Webull Account
Availability: Nationwide
Online Trades: $0.00 per trade
Credit Inquiry: Unknown
Monthly Fee: $0
Bonus Requirements: See below
Closing Account Fee: Not listed
(No expiration)
How to Earn Your Free Stock
Earning the Bonus
Account Features
Fine Print
Get a FREE stock valued between $3 – $300, when you open a Webull brokerage account.
Get a FREE stock valued between $8 – $2000, when you make an initial deposit of $5 or more.
All Trades are commission free for U.S. Stocks.
No account minimum balance or monthly service fees.
All U.S. Market Data is in real-time and free
Get real-time financial news from leading outlets such as Bloomberg and Reuters.
Access to a Free Virtual trading simulator to make experience with no risk.
View and track professional analyst ratings.
Get Smart Alerts for price and Volume changes.
Financial calendar gives information on New Listings, Earning Releases, Dividends, and more.
Pre-market and after hours trading is available for everyone.
The Deposit Bonus Promotion is only applicable to Webull cash accounts and Webull margin accounts. Any other accounts (such as Webull IRAs) are not qualified for this.
Free stocks: Offer valid for first time Webull Individual account deposits only. During the event duration, new brokerage account holders, who makes an initial deposit of $100 or more,within 30 days of signing up, will be able to claim 2 free stock valued between $8-$1600 each. Please note: These reward stocks will be distributed from Webull's inventory of settled shares held specifically for this promotion. When the stocks were purchased, Webull made sure they were above the price range we promised. Due to market fluctuation, some stock values may drop from the time we made the purchase. Please understand that we do not have control over the fluctuation of the market.
Free stocks can only be claimed when the deposited amount has settled into your account. Depending on your deposit method, funds may take up to 5 (five) business days to settle.
Webull is not responsible if a user's brokerage account goes into the negatives due to a failed transfer. Once the user has attempted to participate in this promotion, they will no longer be allowed to participate in any other "initial deposit" promotions.
---
WeBull Member Bonuses
Once you're an active WeBull member, you can see different promotions and get a chance to earn free stocks, free gift cards, etc.
You can take advantage offers like:
Transfer fee reimbursement: They will reimburse your transfer fees up to $100 when your initial transfer is $2000 or more.
Refer & Earn Free Stocks: Refer a friend, get 2 free stocks. Each free stock valued between $8-$1600. Your invitee must make an initial deposit of $100 or more into their Webull brokerage account.
---
Earn 5-60 Stocks with $25,000-$250,000 Deposit (Targeted)
WeBull is offering free stocks based on the net deposit amount you post! Each stock is valued between $9-$1,000. You can see the tiers below:
Deposit $25,000-$99,999 = 25 free stocks
Deposit $100,000-$250,000 = 35 free stocks
Deposit $250,000+ = 60 free stocks
Conclusion
Overall, when you open a new account with Webull, you'll be able to earn these amazing bonus offers and the best stocks in the platform. These accounts come with real-time quotes for: stocks, forex, indices, bitcoin price quotes, financial news, and more. With Webull, it will give you a streamlined stock market no matter what background experience you have with brokerage.
Plus, Webull takes pride in always improving their virtual platform and offering great utensils for their clients. These tools help you make better financial choices that will benefit your financial future. If this offer is appealing to you, check out Webull and see why they're one of the best competing brokerage platform there is.