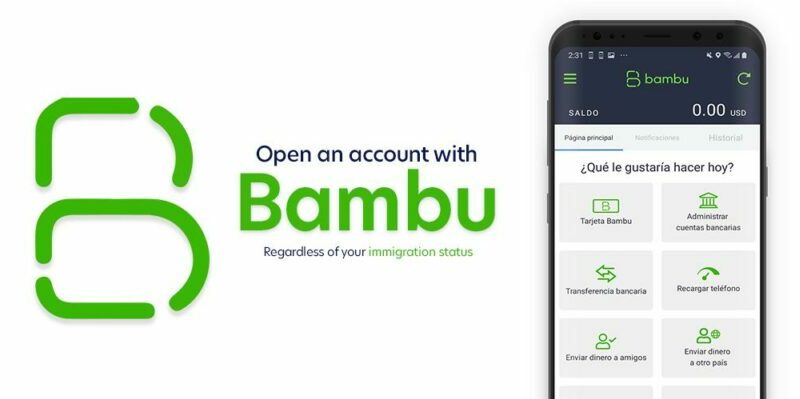 MyBambu is offering new customers a $10 cash bonus. Plus earn an additional $15 cash bonus for every person who opens a new MyBambu account using your referral link. Find more referral bonuses here.
MyBambu is a mobile based financial services products that offers an array of financial solutions to provide convenient, reliable and affordable services to everyone, regardless of their immigration status-No SSN needed.
Be sure to check more popular bank promotions include Chase Bank, Bank of America, Citibank, Discover Bank, CIT Bank, TD Bank, Huntington Bank, HSBC Bank, Wells Fargo and many more.
MyBambu $10 Welcome Bonus

Earn a $10 cash bonus when you use a referral link to sign up for a free MyBambu account. This offer is only for new customers. Just click the link through your smartphone.
MyBambu Give $10, Get $15 Referral Program
Once you're a MyBambu user, you can refer a friend to MyBambu and they open an account, you'll earn a $15 bonus credit. Each of your referrals will enjoy a $10 welcome bonus as well.
It takes approximately 24 hours for your referral reward to post to your MyBambu account.
---
MyBambu Features
Bambu offers different services for your banking needs and they provide convenient, reliable and affordable services to everyone. They are FDIC insured and offers great features like:
Bank Account – No monthly fees, no credit check, no overdraft fees
Cross-border international money transfers – Send money instantly to family and friends at over 40,000 cash-out locations in Latin America.
Bill-pay – Access to over 8,000 bill payment providers in the U.S and Latin America
Phone Top-up – Bambu offers convenient top-up services for all major carriers in the U.S and Latin America.
P2P Payments – Bambu users can send money to or request money from other users for free instantly.
Bambu Visa Card – Take your card with you anywhere you go, Bambu offers a physical or virtual card. Use it where VISA is accepted.
Add cash – Access to over 120,000 cash in retail stores in the U.S. Find the closest one to you within our app!
Just set up your account with no Social Security Number required. All you need is a local or foreign ID.
---
MyBambu Fees
MyBambu does not charge any monthly fees or overdraft fees, and there is no minimum balance requirement.
Conclusion
MyBambu is a great way for Latin Americans who are currently living and working in the U.S. It's easy to set up your account, no Social Security number is needed.