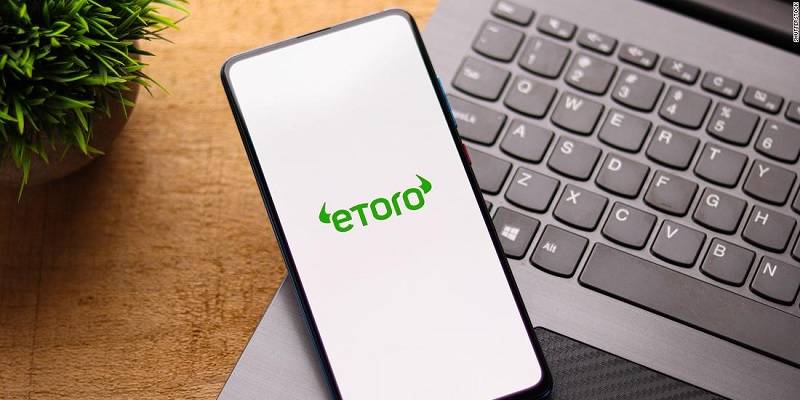 Create an investment portfolio as unique as you are. Diversify with stocks, ETFs & crypto. Improve your trading skills with our free demo account, guides, videos, articles & more with eToro.
Invest in crypto, stocks, and beyond – find the latest eToro promotions and offers here!
About eToro
eToro was founded in 2007 by brothers Yoni and Ronen Assia, together with David Ring. Since then, eToro has stayed true to its mission: To make investing accessible to anyone, anywhere, and reduce dependency on traditional financial institutions. Today, eToro is a multi-asset investing platform built on social collaboration and investor education, with over 25 million registered users from over 100 countries.
In the United States, eToro offers crypto, stock, and ETF investing services for beginners and experienced investors. eToro currently offers over 24 of the most popular crypto assets and more than 1,600 stocks, as well as unique tools such as CopyTraderTM and Smart Portfolios (crypto only), which help users learn and diversify their investments easily.
---
eToro Features & Highlights
Over 24 cryptos and 1,600 stocks to invest in, plus an array of ETFs
Community engagement through our social feed
CopyTraderTM technology allows users to copy other investors' crypto moves
Powerful data-driven tools and technology
Get started with just $10
News alerts and news feed
Simple and user-friendly interface
Secure and reliable platform
Low and transparent fees
Insured by FDIC (cash) and SIPC (stocks)
Test drive the platform with a $100k virtual portfolio
---
eToro Facts
Number of investors: Over 25 million
Deposit and withdrawal methods in the US:

Bank transfer (ACH)
Wire transfer
Debit cards

Funds are available instantly to invest.
The minimum amount for withdrawal is USD $30.

You must have withdrawable funds available.
Your account must be verified, meaning a green tick appears on your profile.

(If you haven't yet verified your account, please contact us and upload the
required documents).

Regulated by the following agencies:

eToro USA LLC is registered with FinCEN as a Money Services Business.
eToro USA Securities Inc is a member of FINRA and SIPC.

Minimum deposit: $10
---
eToro $10 Welcome Offer Bonus
Join today, and get $10 of a crypto of your choice.
eToro is one of the world's leading social investment communities that allows people to grow their knowledge.
---
eToro – One Stop Shop for Your Investments
---
Crypto
As a global pioneer in cryptocurrency investing, eToro's platform already offers more than 20 of the world's most popular digital currencies, with plans to continue adding emerging coins and tokens in the future. In addition, you can mirror the crypto investments of our most Popular Investors via our CopyTraderTM feature or invest in a unique set of Smart Portfolios, which are managed by eToro's Investment Committee.
Zero-commission stocks
eToro offers zero commission or fees on stocks. Other advantages of buying shares on eToro include the ability to buy fractional shares, free access to TipRanks' expert stock analysis, and eToro's notifications on volatility and market events, and  potential payment of dividends in proportion to the number of shares owned.
CopyTraderTM
With CopyTrader, eToro's most popular feature, users can automatically copy top-performing crypto investors. CopyTrader can help beginners and time-crunched investors easily access others' expertise. Users can choose up to 100 investors simultaneously to copy their investments, and they have the flexibility to pause or close their copy at any time with the click of a button. CopyTrading is currently available for crypto only in the US. Stocks and ETFs are not included in CopyTrader or Smart Portfolios.
Smart Portfolios
The SmartPortfolio is eToro's premium product offering a machine learning algorithm with a thematic approach to investing. It is designed to help investors diversify their portfolios, minimize long-term risk, and take advantage of potential market opportunities. Each SmartPortfolio is periodically rebalanced* to get the most out of the thematic trading strategy upon which it is based. There are two types of SmartPortfolios to choose from:
1. Market SmartPortfolios, which bundles together a select combination of instruments, according to a predefined theme.
2. Partner SmartPortfolios, which have been created by our partners. TheTie, for example, is a Partner SmartPortfolio which follows Twitter sentiment around crypto and invests in the coins that are getting the most positive buzz. *Fees may apply.
Social Investing
eToro is not just a platform for investing — it's also the ideal place to engage. eToro is the pioneer in social investing, enabling over 25+ million users around the world to communicate, share thoughts, gain knowledge, and exchange ideas about the financial markets. Join an entire community of investors and benefit from the wisdom of the crowd.
Popular Investors
Copy some of our top-performing investors — or become one! Although all eTorians who invest in crypto can be copied by other investors, the Popular Investor program aims to single out the best performers. PIus get paid for being copied. Think  you've got what it takes? Popular Investors must be responsible investors with low risk scores and a minimum investment track record. Investors who qualify for our Popular Investor Program can build their own investment business and earn up  to a 2.5% annual fee in AUM. For example: 1,000 people may copy a Popular Investor with a total of $10 million in AUM, on top of the profits from their own investing. We provide the tools and support to help Popular Investors grow their AUM and, thus, their earnings, which we augment by featuring them on the platform, in blog posts, and in other marketing campaigns. Past performance is not necessarily indicative of future results.
eToro's News Feed
Another unique feature is the personalized social news feed. Incorporating elements from the worlds of social media and the markets, it helps users follow the financial events and investors they like, interact with fellow members of the eToro  community, have open discussions, and much more. Users can post their own updates, tag the instruments or people they're talking about, share posts to their feed, comment on others' posts, and gradually create a feed that is tailor-made to their investing interests.
On the eToro platform, users will also receive notifications when a user they copy writes a new post, an asset on their watchlist becomes volatile and many other customizable updates. Notifications appear both on the web platform and as push
notifications straight to their mobile device.
Users must verify their account in order to tag other people or markets and to join the discussion within market streams.
Daily blogs and customized alerts
The markets are evolving fast — and keeping pace can be challenging. Knowledge is power: You'll get customized notifications about instruments on your watchlist, as well as blogs with market updates. You will have access to real-time, relevant,  and easy-to-read market data at any time.
The eToro academy
The eToro Academy is a one-stop-shop for all your questions on investing. Whether you're curious about different assets, looking for definitions of investment terms, or want to learn more about how to interpret the markets, you can find helpful  resources on the eToro Academy. Using both video and text-based educational materials, there are guides for everyone from beginner to advanced investors.
Security and privacy
eToro is an established and reliable leader in the global fintech industry, trusted by millions of users worldwide. We have endeavored to ensure measures have been taken to make your funds and data safe. eToro is held to the highest standard of  localized regulations. eToro USA LLC is registered with FinCEN as a Money Services Business, and eToro USA Securities Inc is a member of FINRA and SIPC.
Transparent pricing
You won't be running into any hidden fees with eToro. All trades are executed instantly* at the price listed, and there are no limits on daily withdrawals. *Subject to market availability and conditions.
eToro Club benefits
Enhance your investment experience with exclusive membership advantages. Users with at least $5k of realized equity can become part of the eToro Club, which grants members exclusive benefits, including outstanding personal service to help  you navigate our full product offering. Other benefits include access to VIP events and webinars, subscriptions to services such as The Wall Street Journal, and more.
Easy-to-use wallet app
Transfer your crypto from the eToro platform to the eToro Money crypto wallet, without any need to remember multiple credentials or keys. Store 11multiple cryptocurrencies, convert between coins on the fly, and send or receive transfers with
ease.
The eToro Wallet is one of the safest Wallets available, with several high-level security features to protect against unauthorized access, including multi-signature facilities, DDoS protection, and ISO 27001/27032 standardization protocols.
---
---
Conclusion
When you use eToro, it's a great choice for a novice trader that want to depend a little more on performance of better investors. There are some good features that comes with making an account with eToro that you can benefit from.
Plus, eToro is one of the world's best leading trading platforms that you would be able to use.
For more, see our list of the latest investing promotions.
Disclaimer: Transacting in virtual currencies is subject to various risks, such as price volatility, and is therefore not suitable for everyone. Your capital is at risk.