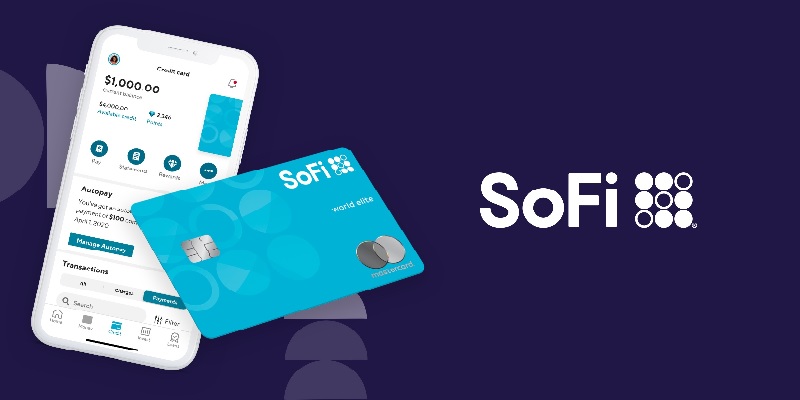 Currently, SoFi Credit Card has an unlimited 2% cash back offer with no annual fee included. This card is great for avoiding fine print and has no category limitations. Additionally, the convenience of this card is one of the best selling points for it. You can host your banking, investment, loan, and now credit card all in one place.
Check out our list of the best credit card bonuses here.
Read below for more information on what SoFi has to offer.
SoFi Credit Card Summary
SoFi Credit Card
| | |
| --- | --- |
| Bonus Available | N/A |
| *Bonus Value | N/A |
| Ongoing Rewards/Benefits | Earn 2% unlimited cash back on eligible purchases when redeemed towards investing, saving, or paying down an eligible loan with SoFi.* |
| Foreign Transaction Fees | No |
| Airport Lounge Access | N/A |
| Annual Fee | $0 |
*Bonus value is an estimated value calculated by Bankcheckingsavings and not the card issuer. View our latest valuations here.
PROS
Use rewards to save, invest, or pay off debt
Unlimited 2% cash back
Lower APR after 12 on-time payments
CONS
High balance transfer and cash advance fees
No one-time bonus or higher categories
Good-Excellent credit needed to qualify
SoFi Credit Card Features
Some of the benefits that comes with SoFi is:
Cell Phone Insurance Protection, Mastercard ID Theft ProtectionTM, Lyft and Other Partner Rewards have additional terms and conditions, which can all be accessed through the World Elite Mastercard® Benefits portal. Please see the guide to benefits for details or call 1-800-MASTERCARD.
Concierge services
Free ShopRunner membership for unlimited free 2-day shipping and free return shipping at specific online stores.
Special bonus offers at: Boxed, Fandango, Lyft, Postmates, and onefinestay
When you make 12 on-time payments, we'll lower your APR by 1%.
No annual fee.
No foreign transaction fees
Cell phone protection (insurance coverage up to $1,000)
Mastercard ID Theft ProtectionTM
$10 Lyft credit when you take 5 rides per month
SoFi Credit Card Offer
Since the SoFi credit card comes with no annual fees, this cash back card is one of the most popular on the platform.
The SoFi Credit Card's best feature is the 2% unlimited cash back when you redeem your rewards in a specific way. It's a credit card that helps you save, invest, and pay down your debt
Here are some ideas for spending:
Meeting Credit Card Bonus Spending Requirements
• Plastiq: Plastiq allows you to pay for expenses that you generally won't be able to with your card like rent, tuition, auto lease, mortgage payment, and more. There's a 2.5% processing fee for using your credit card. However, this'll be worth the card bonus you'll get. There's also a referral program where you can earn "Fee-Free Dollars" to use towards processing fees. See our Plastiq review.
• Fund Checking accounts with your card: Many banks will allow you to fund the opening deposit with a credit card. Consider opening Checking accounts that also offer a sign-up bonus. This way, you can work towards bonuses from two different sources. Big banks like Chase, HSBC, Huntington, and TD Bank have great offers and allow credit card funding. You can generally fund anywhere from $50 to $1,000 towards the opening deposit with a credit card, depending on the bank.
• Buy gift cards: Consider buying gift cards with your credit card that you can then spend later at your leisure. Individual merchant cards (restaurants, gas stations, supermarkets, etc.) generally don't have purchase fees, so this is a plus. On the other hand, American Express and Visa gift cards will have purchase fees. Amazon gift cards are a great idea as you can shop for almost anything there with no purchase fees either. Unfortunately, Citi credit cards tend to code gift card purchases as Cash Advances and there'll be a fee. Call in to customer service and lower your Cash Advance limit to $0 before purchasing gift cards. You can also buy discounted gift cards as well from Raise or find gift cards on eBay.
• Everyday spending & bills: Always using your credit card for everyday spending, such as for dining, gas, groceries, etc. You can also use your credit card to pay for things like insurance bills, property taxes and income taxes. However, you'll have to consider the convenience fees.
*Read More Ways to Meet Credit Card Spending Requirements*
Earning Rewards
Even if this card is described as a cash back credit card, you'll still be able to earn points on it. Gain 1 point for every $1 spent on your card. But, if you don't make the minimum payment for a billing cycle by the due date, you will not earn points on your account. We value their points to be worth around $0.01 per point. But, SoFi will include an extra reward point to each point you redeem for:
Cash deposited into your SoFi Money account
Shared credited to your SoFi invest account
Cash applied to the balance of your SoFi student loan or personal loan.
You'll have to forfeit your points if your credit card account is canceled or closed for any reason. With this in mind, SoFi reserves the right to cancel some or all of your points if they think you have gone against their terms or conditions.
Redeeming Rewards
You'll be able to redeem your points for:
Bonus offers on the redeem points webpage
Cash deposited into your SoFi money account.
Shares credited to your SoFi Invest account
Cash applied to the balance of your SoFi student loan or personal loan.
You can take advantage of this straightforward program to maximize your rewards. Do this by putting all qualifying purchases on the card to maximize the points you earn. Then, you'll be able to redeem your points to deposit cash in your Money account, get shares, or apply cash to a loan.
Conclusion
Overall, when you open a SoFi Credit Card, you'll be able to gain cash back on your daily transactions. Additionally, it comes with many features and perks that will appeal to you as well. One of the main benefits is that it comes with no annual fee or limitation on spending categories.
However, if you want a different type of credit card, be sure to check out our list of the best credit card bonuses for more information.
SoFi Credit Card
Cell Phone Insurance Protection, Mastercard ID Theft Protection™‎, Lyft and Other Partner Rewards have additional terms and conditions, which can all be accessed through the World Elite Mastercard® Benefits portal. Please see your guide to benefits for details or call 1-800-MASTERCARD