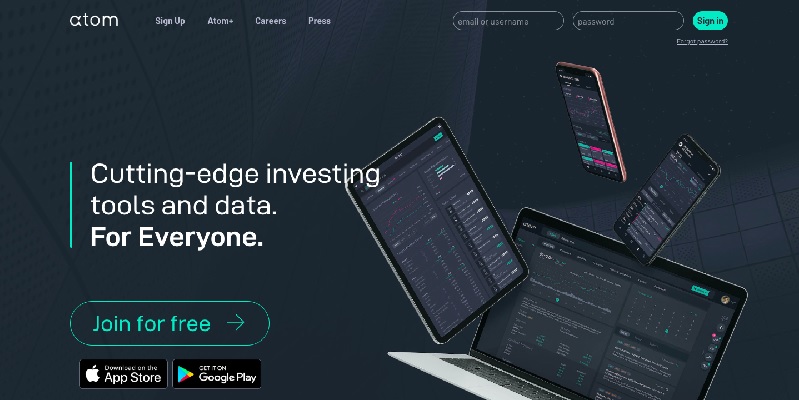 With Atom Finance, they will help you make better choices with their amazing utensils. It will provide curated news, company comparisons, modeling capabilities, etc. Read below for more information on this stock news and research industry.
Pros
Free for individual investors
Collect data from your favorite companies
Curated news feed
Company comparisons
Financial modeling tools
In-depth stocks analysis
Basic portfolio tracking
Quick sign-up process
Bank-grade encryption
Cons
News feed doesn't pull stories from several major outlets
Modeling data not available across the platform
Weak customer support
Fee for institutional access
Check out other investment bonuses here.
Atom Finance Features
The Atom Finance tool is made with the active stock market investor in mind. In other words, a person that picks their own stocks or ETFs to invest in themselves. Some of their features are:
Sandbox. This is one of the most special features that they have to offer. These financial models will enable you to customize assumptions to calculate a price for a specific stock. For example, the share price, the amount of shares outstanding, and the forecasted debit altogether. They will recalculate fundamentals based on your previous inputs.
News Feed. Atom Finance will automatically curate news feeds for you based on the stocks and market sectors you like. Plus, with their "x-ray," you'll be able to search for mentions of companies, keywords, earnings, transcripts, and SEC filings.
Company Comparison. They will allow you to compare at least two companies to one another. The results will go over all their fundamentals such as: price to earning ratio, revenue growth, EBITDA, etc. However, this process doesn't give you the results easily. You yourself must put in the tickers. In other words, you must know which companies you want to compare beforehand.
Features Continued
Portfolio Tracking. Atom Finance has a portfolio tracker that will allow you to track investments. However, you must connect a brokerage account to be able to use this feature. There isn't another way to put in transactions manually, or create a simulated portfolio to see how it grows.
Collaborate. You can share your thoughts with other Atom Finance investors over: group chats, conference calls, and discussion boards.
Atom+. This investment tool is free of charge at the moment. But, soon there will be a paid service called Atom+ that has better detailed coverage for stock and markets. The price will be covered pre and post earning commentary, analysis of corporate actions.
(Visit Atom Finance for more information)
Conclusion
With Atom Finance, they are very well suited for fundamental investors that want a custom modeling utensil. That feature is one that catches the eyes of many. Plus, it's pretty amazing that Atom Finance will offer their services to you with no cost.