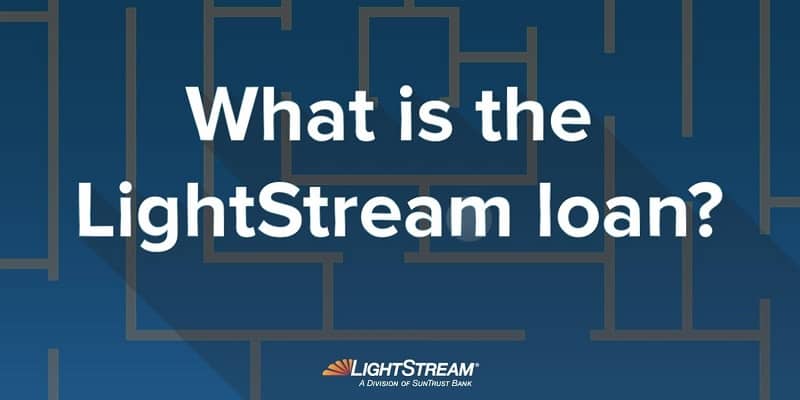 LightStream, an online lending division of SunTrust Bank, offers personal loans. If you are interested, continue reading the review to find out if LightStream could benefit you.
Even if you are not a member of SunTrust Bank, you are still able to apply for a personal loan at LightStream. They will also compare your situation to their loans to find you the right one.
LightStream has a unique model that provides transparent rates but they depend on the purpose of the loan.
(Visit for more)
---
LightStream General Information
| | |
| --- | --- |
| Lender | LightStream |
| APR | *See website for latest rates |
| Loan Amount | $5,000 – $100,000 |
| Term Length | 2 to 7 years |
| Origination Fee | None |
| Prepayment Fee | None |
| Late Fee | None |
| Minimum Gross Income | None |
| Minimum Credit Score | 720 |
| Availability | Nationwide |
LightStream Overview
Borrower's Average
Credit Score: 720
Credit History: you need at least 5 years of credit
Payments: positive payments
LightStream Personal Loan Eligibility
To be able to qualify for the BEST rates, a borrower will typically need to have:
An excellent credit score (at least 720)
An excellent payment history with no misconducts
5 years or more credit history
A good amount of savings
Stable income
Pros and Cons of a LighStream Personal Loan 
ProsCons
You don't need to own a home to apply.
The application is simple and easy to follow.
There are no fees–prepayment, origination nor late fees to worry about.
You can get your funds as soon as today if you are approved.
You can use your LightStream personal loan towards anything you wish.
With excellent credit, you can reduce your APR, and it will stay at a fixed rate for the duration of your loan term.
LightStream is competitive with their interest rates
If you are unsatisfied with your personal loan, you can contact LightStream's customer service and if you have submit a questionnaire within 30 days, you may get up to $100 back!
When you apply for a LightStream personal loan, they will donate a tree to American Forests.
You will have to completely specify what you will use your personal loan towards and cannot change it.
The minimum credit score needed to apply for a LightStream personal loan is quite high.
You need several years of credit history (at least five)
There is no peer-to-peer lending
LightStream is unable to refinance student loans
How To Apply For a LightStream Personal Loan
To apply for this loan, you must do so online. There are three stages to the application:
Deciding on the terms of the loan of your wishing.
Providing your personal information such as you name, address, employment information, etc.
Supplying security information.
LightStream may require you to upload documents to verify your identity and income. The lender will tell you whether you're approved, usually within minutes, upon the terms of the loan offer.
Conclusion
Overall, LightStream offers those with excellent credit history personal loans that can be tailored to them.
The better your credit score is, the higher and more competitive rates you can be qualified for.
Cosigners are also welcome and there are no origination nor late fees to worry about either.
Unfortunately, the only downside is that LightStream is unable to refinance student loans, unlike some other personal lenders.
(Visit LightStream for more details)