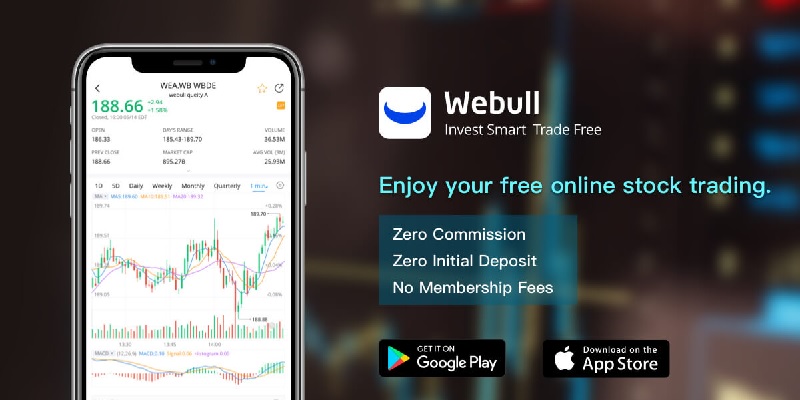 Take advantage of our updates on Webull offers for trading stocks, ETFs, bonds, options and mutual funds. You'll be able to earn free stock with you sign up and gain more free stock when you make referrals. Check out other referral bonuses here. Plus, look at other investment promotions here.
With Webull, it's an app that will allow you to purchase and sell stocks, ETFs, and more. Plus, it will come with the latest updates and data about markets in more than 90 countries. This way, you can make informed choices with your money. The commissions are free, however, the trades come with small SEC and FINRA charges. There are also some margin fees that will range from 3.99% to 6.99%.
Read below for more information on Webull and their recent bonuses.
Webull Free Stock Welcome Bonus
Just open a new account with our referral code to get a free stock. If you fund your new Webull account with a minimum of $100 in the first 30 days, you'll be able to receive a second free share of a random stock ranged from $4 to $1,000.
Account Type: Webull Account
Availability: Nationwide
Online Trades: $0.00 per trade
Credit Inquiry: Unknown
Monthly Fee: $0
Bonus Requirements: See below
Closing Account Fee: Not listed
(Visit Webull for more information)
How to Earn Your Free Stock
Earning the Bonus
Account Features
Fine Print
Apply for this offer with a referral link.
Open a new Webull Brokerage Account.
Download the app and go to "Menu" then click "My Free Stock"
Go to "Get It Now" to begin your registration.
Then, make a deposit of at least $100 to gain your free stock. You must claim this second free stock in the first 30 days of your deposit settling.
Your free stock reward will be put into your account in 5 trading days after it's been claimed.
All Trades are commission free for U.S. Stocks.
No account minimum balance or monthly service fees.
All U.S. Market Data is in real-time and free
Get real-time financial news from leading outlets such as Bloomberg and Reuters.
Access to a Free Virtual trading simulator to make experience with no risk.
View and track professional analyst ratings.
Get Smart Alerts for price and Volume changes.
Financial calendar gives information on New Listings, Earning Releases, Dividends, and more.
Pre-market and after hours trading is available for everyone.
Stock allocation will be random and determined by their own algorithm.
After the stock has been rewarded to you, you have about 30 days to claim it. Other free stocks that aren't claimed after the 30 days, it will go back to Webull.
Stock that's awarded will be credited to your account 7 trading days after it's been claimed.
You will be able to hold or sell awarded stock after it's been credited to your account. The value from the sale of stock can be withdrawn or used to buy other qualified securities in your account.
The bonus offer is available to U.S. residents that live in the U.S. and are at least 18 years old. They must also have an eligible social security number.
Employees, contractors, or persons that are associated with Webull or a Webull affiliate, members of their household and employees of any securities regulatory organization or exchange will not be qualified for this offer.
Webull will reserve the right to change the incentive program parameters.
They will also reserve the right to decline participation of specific customers in their program.
Lastly, they will be able to terminate he incentive program at any given time without a warning.
Webull 5-60 Stocks w $5k – $250k Deposit *Targeted*
Now, Webull is offering specific clients a change to gain 5-60 stocks. First, they must make a $5,000 – $250,000 deposit to qualify. Remember, this offer is targeted, so check if you're one of the people they've picked. You will not get any free stocks if you've already taken part in this offer without getting a notification or email for it.
Promotion: Get 5-60 stocks with a $5k – $250k deposit
When it expires: October 8, 2020
Availability: Targeted Webull customers
Terms & Conditions: This targeted bonus deal is back from September 8, 2020, to October 8, 2020.
(Check out the link for more details)
Editor's Note: The expiration date varies from user to user because this is a targeted offer.
Webull Member Promotions
After you've made a Webull account, you will see that there are several different bonus offers that will enable you to earn free stock, gift cards, and more. However, keep in mind that these offers are constantly changing, so check your account for any updates. Here's an example of an offer they have:
Free stock & a $10 gift card. Your first referral must make their first initial deposit of $100 or more. This will earn you about $18 at least.
Two free stocks & a $10 gift card. Just invite 2 friends to make their deposit of $100 and you will gain about $26.
Three free stocks & a $50 gift card. Invite 3 friends to make their deposit of at least $100 to earn around $84.
Just use our personal referral code to sign up for this bonus offer to earn referral bonuses as well.
Conclusion
Overall, when you open a new account with Webull, you'll be able to earn these amazing bonus offers and the best stocks in the platform. These accounts come with real-time quotes for: stocks, forex, indices, bitcoin price quotes, financial news, and more. With Webull, it will give you a streamlined stock market no matter what background experience you have with brokerage.
Plus, Webull takes pride in always improving their virtual platform and offering great utensils for their clients. These tools help you make better financial choices that will benefit your financial future. If this offer is appealing to you, check out Webull and see why they're one of the best competing brokerage platform there is.