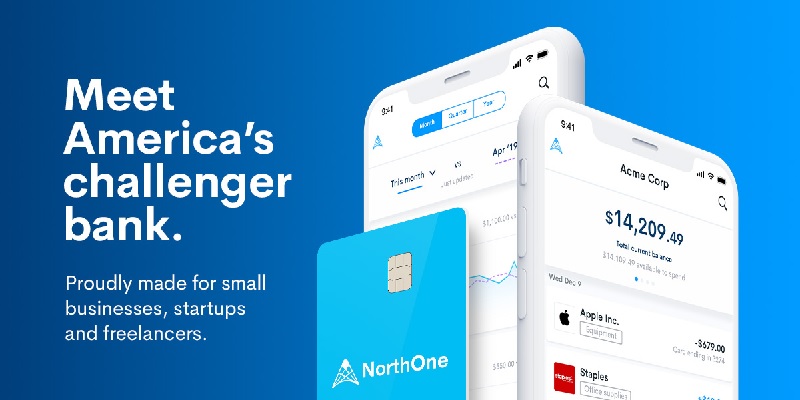 NorthOne now has a mobile banking service designed for: small businesses, startups, and freelancers. With NorthOne, they state that they are the first bank in America to provide an online welcome in less than 3 minutes. Their banking services are backed up by Radius Bank and is member FDIC insured.
Check out our business checking account bonuses here.
Read below for more information on NorthOne bonuses.
NorthOne Online Business Banking
With NorthOne's online banking, you can make deposits or withdraw money from about 300,000 ATMs free of charge! When you use their mobile app, you'll be able to:
Make an FDIC insured business bank account in less than 3 minutes.
Pay bills
Deposit checks
Manage your NorthOne Mastercard debt card
Transfer money from the NorthOne bank account to your account at the old bank.
Look for NorthOne ATMs to deposit or withdraw checks or money.
Connect to the Stripe, PayPal, Shopify, or other payment processors or wallets.
Have 24/7 live chat support from their support team.
(FDIC insured)
Fees & Restrictions
Normally, NorthOne will charge you a flat fee of $10 a month for unlimited banking. If you want to make a domestic wire transfer, the fee is also $10. For international wire transfers it will be $25. Plus, making ACH or PAD returns will charge you a $2 fee. However, if you have non-sufficient funds then the fee will be $25. Overdrafts included will be $5 a day.
Conclusion
Opening a bank account with NorthOne is much easier now that you can do it in under 3 minutes online! Plus, there are several features that comes with this online mobile account. NorthOne has many ATM locations in the nation that you will be able to use as well.