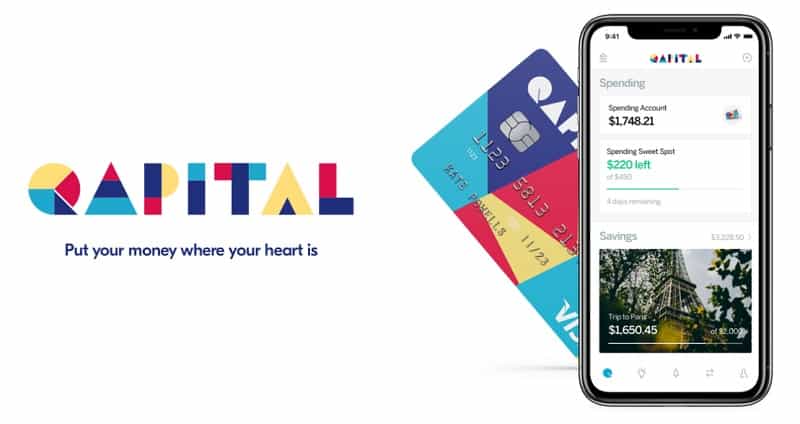 The Qapital Banking App was created with the goal of helping customers reach both short and long term financial goals. If you wish to go on vacation a year from now, you can set up daily or weekly transfers to a savings account. The app will do it automatically for you so you can maintain good savings habits.
After you sign up for Qapital, you can participate in their refer-a-friend program where both you and your referral can earn a $20 sign up bonus. For this month of March, you can an additional $100 bonus for every 3 friends who sign up (for a total of $500).
There is no annual fee, no monthly fee, and no minimum balance requirement. You may cash out and transfer money back to your linked checking account at any time in the app. Try it out! There's nothing to lose and at least a $20 sign-up bonus to gain.
Qapital's email memo:
This March, we're giving Qapital members a better way to share the wealth. For every 3 friends you refer through the end of the month, we'll add $100 to your Qapital account — up to $500!

So, tell your friends, your family, your co-workers, your barista, your dry cleaner, your dog walker — anyone who might want to use more of their money for things they really want. When 3 people use your link to sign up and start saving toward their goals, we'll give you $100 to put toward your own.
How Qapital Works
Here's a step-by-step process on how to download, create and account, and set up payments.
Download the Qapital App for iOS or Android.
Create your Profile and Link your Checking Account.
Choose your Savings Goals, like paying off a loan, saving for a vacation, or buying a car.
Set up Rules to Trigger Deposits into your Qapital account, such as rounding up card purchases, weekly transfers, or charging yourself for guilty pleasures.
Funds are Automatically Transferred from your linked bank account to your Qapital account based on the Rules you select.
You can Cash Out Your Money at Any Time when you need it, whether you've reached your goals or not.
Different Saving Rules
With Qapital, you can set up different rules that your saving transfers have to follow. These include:
Round up your change every time you make a purchase on your card and have it added to your Goal.
Set a daily, weekly, or monthly transfer toward your Goals.
Save a set amount whenever you enjoy a guilty pleasure.
Spend less than a certain amount in one place, and then get the remainder automatically sent to your Goal.
Put your apps to work with Qapital and IFTTT and turn almost anything into a way to save.
App Details
Free 30-day Trial: All new members get a 30-day free trial to try Qapital. After 30 days, you will be billed monthly based on your selected membership tier.
Membership Fees:Qapital Basic is $3/month; Qapital Complete is $6/month; and Qapital Master is $12/month.
No Minimum Balance Requirement.
Bank-Level Security.
FDIC-Insured up to $250,000.
Cash Out and Transfer Money Back to Your Checking Account at Any Time in the App.
Create Shared Savings Goals with Family, Friends, and Teammates.
Must be 18 Years of Age or Older.
Requires a Checking Account from a U.S.-based Bank or Credit Union.
Available for iOS and Android.
Membership Tiers
In addition to features to helping you save money, they offer different tier memberships that have advanced features and benefits.
Qapital Basic
At $3/month you'll receive the basic design for those who want to start building your savings and stop putting your purchases on a credit card.
Qapital Complete
At $6/month you'll get a better understanding of your complete financial well-being by allowing you to track exactly what happens with your paycheck
Qapital Master
At $12/month you'll be able to take your financial insight even further. You be granted access to information from financial leaders with years of experience to help guide you to your financial goal.
You can change your membership tier at any time, and any changes will go into effect immediately and be reflected on your next billing cycle.
Your external funding account will be charged with your monthly subscription fee, and you can view or change your membership plan if you go to the "Profile" tab under "Membership."
Referral Bonus
If you sign up today using our link, you can earn yourself a $20 bonus! All you need to do is make your first deposit and you'll recieive your bonus.
Additionally, you can participate in the referral program after you finalize setting up your account. If you refer people who sign up through your link, you'll receive $20 and the person you've referred will also receive $20!
Just be sure to sign up through our provided link to earn your $20 bonus!
Conclusion
If you wish to gain insight through financial leaders and reach short/long term goals, then Qapital Bank App is the perfect choice for you.
You can set up automatic transfers from your accounts to help maintain good saving habits.
After you sign up for Qapital, you can participate in their refer-a-friend program where both you and your referral can earn a $20 sign up bonus. For this month of March, you can an additional $100 bonus for every 3 friends who sign up (for a total of $500).
If you love finding posts like this, be sure to check out more on BCS! You can also find our compiled list of the Best Credit Card Bonuses you can find!