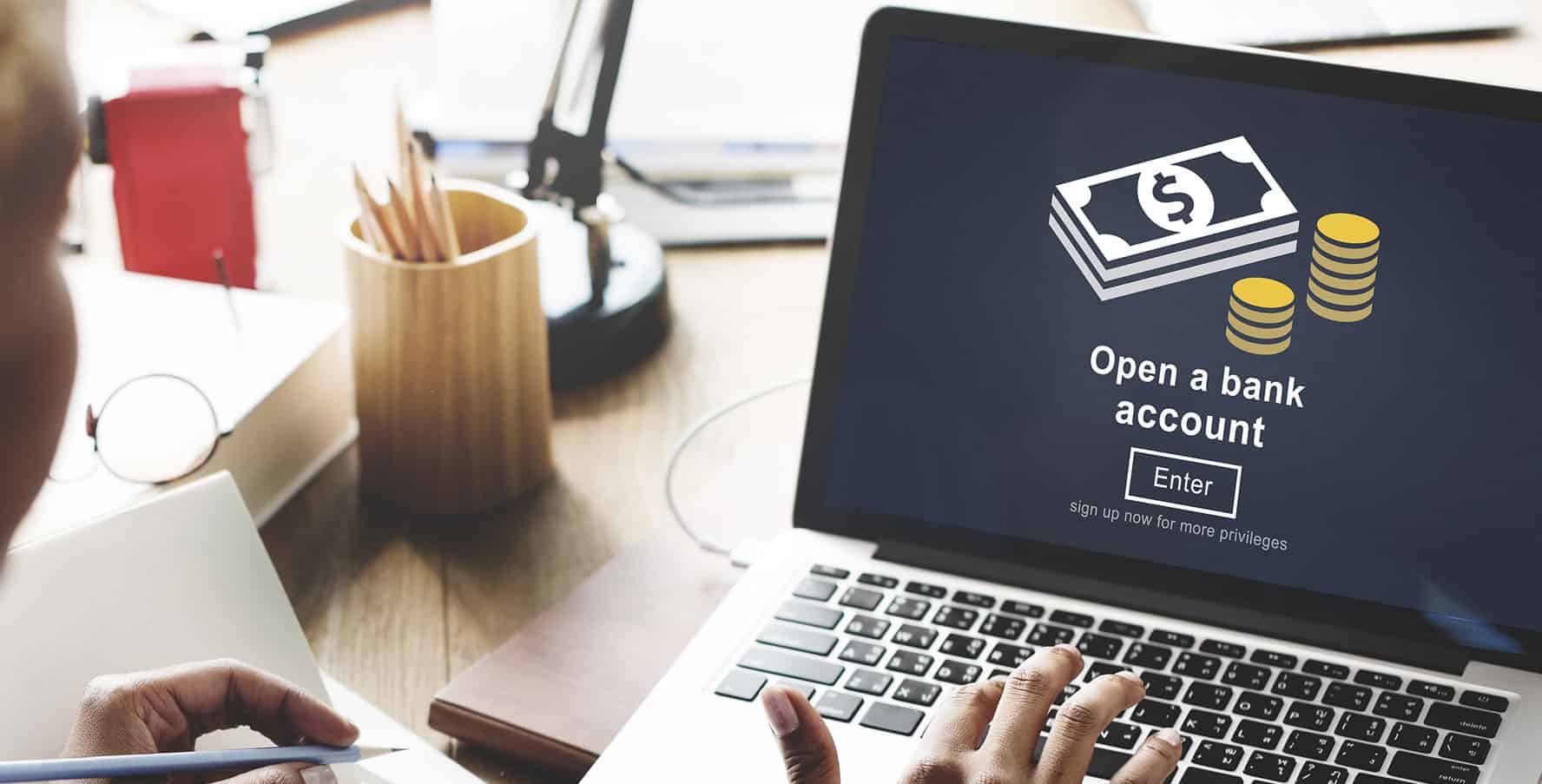 Having a business bank account is absolutely essential and most definitely the most crucial part for a new business owner. Even if you are good at managing your expenses, a business checking account acts as a safety blanket that keeps check of your records which organizes and separates your personal and professional finances. This article will act as your to-go guide towards opening a brand new business bank account. Whether you are a small business specialist, looking to expand your business or even looking for that extra protection just in case, this article can definitely help you out. To learn more, be sure to read the full article for detailed instructions on how to open a business bank account.
How to Open a Business Bank Account
Opening a business bank account is a five-step process that includes determining the right type of bank account, selecting the right bank, knowing what you have to pay, providing the required documentation, and depositing funds. Opening a business bank account makes it easier to keep your business and personal cash flow separate.
We all have our own reasons to expedite our day-to-day finances. However, no matter what the reasoning is, the experience should be an effortless and swift process. So here are instructions on how to do it wisely.
Determine What Accounts You Need–
Most new business owners start by opening a business checking account. They must decide between a free online checking account, which is fine for most businesses without the need for cash deposits, or bank accounts with traditional banks which often come with more fees but also a wider variety of products and services. New business owners may also want to open a business savings account to earn interest on capital that's not ready to be deployed. To determine which account fits you the best, definitely talk with your accountant for professional recommendations before heading to the bank.
Business banking is different from consumer banking in that the account keeps track of your expenses, provides you with lending abilities and so much more. When deciding which accounts you would like, you also have to consider the different financial institutions in your area. With different institutions, you will encounter a variety of practices that offers you income, taxes or payroll solutions. To determine which account fits you the best, definitely talk with your accountant for professional recommendations before heading to the bank.
Choose Your Bank –
While your current personal banking experience might be the perfect fit for your own finances, ever wondered if there is a better option for your business? A business solution provides you with better servicing option that offers you valuable expertise, especially in regards to a line of credit and desire a balance transfer credit card or need cash management. One great solution to go by is to compare your current banking experience with an ideal option you have found. However, when doing so, do not count out other options that may be a better fit for your business needs.
In addition, when researching, be aware that some credit unions out there may not offer a business checking solution at all. Create a checklist with all your banking desires, wants and needs and make sure the bank you have selected so far can meet those goals while helping you grow your business and helping you evolve as well.
Obtain Your Business Name –
In some states, specific business depending on your field would require a business license to operate. When you have legally established your business with the state, you will be notified of the license and if needed, the bank will need to see whether the business you are operating is legitimate. If you are DBA, doing business as a fictitious name, you are required to register that name with the state of which you are operating in by visiting the U.S. Patent and Trademark Office's trademark search tool. Photocopy the registration and keep it as a record, as it is essential in starting a business banking solution.
In addition, I would definitely advise both potential and current business owners to apply for trademark protection, which typically cost less than $300 in order to protect your new business name from any trademark infringements that you may come across in the future.
Get Your Paperwork and Documentations in Order-
Now that you have legally registered your business with the state, the next step is gathering all your paperwork and documentations. The documentation requirements for a business bank account would vary depending on the type of business. Sole proprietors are viewed similarly to a consumer, so required documents should be pretty minimal. Corporations on the other hand, would require further documentations such as articles of incorporation and a certificate of good standing with the state.
When opening a business bank account, you will need to provide and verify the name and nature of your business. With the documentations provided, you are proving that one, your business is legitimate and two, that your business is registered with the IRS.
If you are not sure on which documents are needed to open a business bank account based on your situation, I have provided a list below:
Sole Proprietorship 
If you are a sole proprietorship meaning you are the sole owner, and have not filed papers to be a Limited Liability Company (LLC) or Corporation, I would advise you to do so immediately. You will need your social security number as well as 2 separate forms of personal ID in order to open a business bank account. Valid types of IDs would be a driver's license, passport, and social security card.
You might also need a "Fictitious Business Name" certificate known as a "doing business as" certificate (DBA certificate) if your business operates under a different name from your own.'
Limited Liability Company (LLC)
Your business would be considered an LLC if you have filed articles of organization with the state and are in good standing. With LLC, you would typically need to have an LLC operating agreement. To successfully open a business bank account under LLC, you will need your Federal Employee Identification Number (EIN) as well as a copy of your articles of organization. On top of that, you might also have to provide a signed operating agreement or a Declaration of Unincorporated business, such as what you would see with restaurants ownership.
C-Corporation
C-Corporations have to file articles of incorporation with the state and stating that you are in good standing. Similar to LLC, you will need to provide your Federal Employees Identification Number (EIN) to open a business account. In addition to the EIN, you will need your Certified Articles of Incorporation and Corporate Charter. You'll receive these documents as part of your incorporation process.
In some cases, your articles of incorporation might not provide sufficient information regarding who is authorized to sign. In cases like these, you will need to provide an additional corporate documents such as your 501C letter from the IRS or other tax-exempt documentations.
S-Corporation
Similar to C-Corporation, S-Corporation would require you to have file articles of incorporation with the state and stating that you are in good standing. The difference is that you will have selected S-Corporation status instead. You will need to show your Federal Employee Identification Number (EIN) and either your certified articles of incorporation or corporate charter. To prevent any insufficient authorization, you might also want to show a signed corporate resolution by all your officers as well as a signed signature card by the account signers.
Start Fresh and Start Accepting Payments–
After you have successfully researched and opened a new banking solution, secured your business name and met all the required documentations for your type of business, you can now allow your business to start accepting payments by setting up a merchant account. Having a merchant account is a necessity when it comes to accepting credit card payments online.
Systems such as PayPal would allow you to receive large volume of e-commerce transactions while providing you with a safe and effective solution through an established email address. On the other hand, in-store purchases or point-of-sale transactions would work well with applications such as Square Register, in which your business would allow credit card payments as well as helping your business work effectively by providing you with a sales reports and monitoring your current sales trends.
Conclusion
If you would like to better your financial future for your business, then definitely keep the checklist above in mind. Without providing the documentations or even registering your business with the states, opening a new business banking option can be quite a hassle. However, when you know which category your business fits under and have kept in mind of the steps required, I would hope this article has helped you in one way or another! Additionally, If you are interested be sure to check out our list of bank bonuses and CD rates!
Other Bank Offers You May Like


The Best Bank Offers are updated here. See the below pages to get started with some of the best offers:

• Chase Bank Offers. Chase offers a range of attractive Checking, Savings and Business Accounts. Chase has a great selection of sign-up bonuses in comparison to other big banks.
• HSBC Bank Offers. HSBC Bank routinely has offers for several of their Personal Checking and Business Checking accounts. They also have a good referral program.
• Huntington Bank Offers. Huntington Bank has high bonus amounts available through their Checking and Business Checking. Huntington also offers a Business Premier Money Market Account.
• Discover Bank Offers. Discover Bank offers top cashback, savings, money market accounts and CD rates for you to take advantage of. Discover has industry leading selections to cater to your banking needs.
• TD Bank Offers. TD Bank consistently offers a fantastic selection of checking accounts to cater to your banking needs. However, savings account offers are less frequently available.