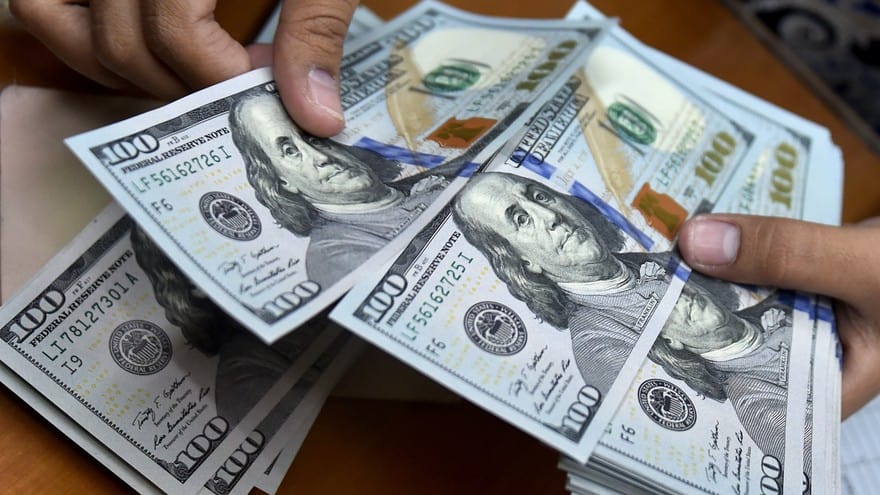 Here at BankCheckingSavings, we try to find the best bank deals for our readers. It's important to learn what methods Banks count as direct deposit so you guys can max out on Checking and Savings bonuses.
If you're familiar with these offers, you will know that they often come with some kind of Direct Deposit requirement. While there are a few banks that don't require Direct Deposit, most of the higher value bonuses do.
In addition, many Checking accounts require Direct Deposit in order to avoid some monthly fees.
The terms and conditions usually define Direct Deposit as an "electronic deposit of your paycheck, pension or government benefits (such as Social Security) from your employer or the government."
If you don't have any problem adhering to those guidelines, then you'll receive your bonus without any problems. However, there are many who can't get their paycheck directly deposited by their employer and many who don't qualify for government benefits.
To help save you time and energy, here's a list of several banks that accept alternative Direct Deposit options.
Best Alternatives To Trigger Direct Deposit For Bank Accounts
All of these methods are YMMV, meaning Your Mileage May Vary. One method isn't guaranteed to work for everyone, so keep in mind that you may have to use a combination of these options.
ACH Transfers. All banks have Automated Clearing House (ACH) Transfers. It's a free way to transfer money between financial institutions. This popular alternative method is fast, taking typically 2 business days for transfers. People often try to do an ACH transfer from a different bank account they own into the new one.
Capital One 360 Online Checking. This online checking product allows for ACH transfers and Person2Person payments (a way to send money to anyone using their email, similar to Chase Quickpay). It's a popular option to fulfill Direct Deposit requirements because you control everything online. Plus, there are no monthly fees, unlike the ones traditional banks require. You can also earn up to $1,000 in bonus money with referrals.
PayPal. This is an iffy option and may not work. Essentially, you just add your new bank account to your PayPal profile. Then, withdraw the balance from your PayPal account into your bank account.
The good thing about these methods is that you're just shifting your own money with no risk of additional fees. If you plan on signing up for many bank bonuses, you should prepare by setting up these options first.
Meeting Direct Deposit Requirements For Specific Banks
Here's a list I've compiled of Direct Deposit alternatives that have or haven't worked for banks often offering bonuses. This is based on user reports from many popular finance blogs and forums. If you have any personal experience with a bank, please comment below to let us know.
Take note that this information is always changing. So, I can't guarantee that these other Direct Deposit methods will always work.
1st Source Bank
The following count as a direct deposit
3Rivers Federal Credit Union
The following count as a direct deposit
Adventure Credit Union
The following count as a direct deposit
Amalgamated Bank
The following count as a direct deposit
American Express Bluebird
The following count as a direct deposit
American Express Serve
The following count as a direct deposit
Ally
PayPal
CapitalOne 360
Santander ACH push
Anchor Bank
The following count as a direct deposit
Andigo Credit Union
The following count as a direct deposit
Amex Bluebird
Charles Schwab brokerage
Fidelity
The following don't count as direct deposit
Associated Bank
The following count as a direct deposit
Avidia Bank
The following count as a direct deposit
Bank & Trust
The following count as a direct deposit
Alliant
Ally
American Express Serve
Capital One
Charles Schwab Checking
Chase
Bank of America
The following count as a direct deposit
Amex Serve
Baxter Credit Union
Connexus
Emigrant
E*Trade
PurePoint Financial
Robinhood
The following don't count as direct deposit
Ally
Amazon
Bluebird
Capital One
Chase
Charles Schwab
Discover
Fidelity
HSBC
PayPal
Vanguard
Bank of New York
The following count as a direct deposit
Bank of the West
The following count as a direct deposit
BMO Harris
Capital One 360
Discover
Emigrant
PayPal
Schwab
USAA
BankWell
The following count as a direct deposit
BB&T
The following count as a direct deposit
The following don't count as a direct deposit
BBVA
The following count as a direct deposit
Capital One 360
Charles Schwab
Fidelity
First Tech Federal Credit Union
Merrill Edge
PayPal
Provident Credit Union
TD Ameritrade
The following don't count as direct deposit
Blue Federal Credit Union
The following count as a direct deposit
Blue Hills Bank
The following count as a direct deposit
The following don't count as direct deposit
BMO Harris Bank
The following count as a direct deposit
Alliant
Ally
Amex Serve
Chase Biz Checking
Discover
Robinhood
Charles Schwab
UFCU
The following don't count as direct deposit
Amex Bluebird
Capital One 360
Chase
Fidelity
PayPal
USAA
Vanguard
BOKF
The following count as a direct deposit
Capital One 360
Chase
Charles Schwab
Bridgeview Bank Group
The following count as a direct deposit
The following don't count as direct deposit
Charles Schwab
Capital One 360
Camden National Bank
The following count as a direct deposit
Capital Bank
The following count as a direct deposit
Alliant
Ally
Capital One
PayPal
The following don't count as direct deposit
Capital One
The following count as a direct deposit
Capital One 360
The following count as a direct deposit
Alliant
Ally
Charles Schwab
E*Trade
Fidelity
Fifth Third Bank
Goldman Sachs
PNC
Robinhood
TD Ameritrade
Vanguard
The following don't count as direct deposit
Ally
Chase
Discover
Elements
Santander
Stripe
TIAA Direct
Wells Fargo
USAA
Charles Schwab
The following count as a direct deposit
Charter One
The following count as a direct deposit
Chase
The following count as a direct deposit
Acorns
AirBnB
Amazon Payments
American Express Redcard
Ameritrade
Circle Pay
CIT Bank
Connexus FCU
Consumers Credit Union
Discover Savings
DoorDash
Dosh
Dwolla
Elements
E*Trade
Fidelity EFT
First Green Bank
First Technology Credit Union
Goldman Sachs
Google Adsense
Gusto
Keesler Federal
MarketForce Payroll
Merrill Edge
M1Finance
Motif Investing
Mountain America Credit Union
M&T Bank
M1 Finance
Northern Bank
Payooner
Provident Credit Union
SchoolFirst
Standford FCU
TD Ameritrade
Uber
University Federal Credit Union
Upwork
Vanguard Brokerage
Wealthfront
Wisebanyan
The following don't count as direct deposit
Alliant
Ally
American Express Savings
Barclay Savings
Bank of America
Capital One
Capital One 360
Charlies Schwab
Citi ACH
Discover
FNBO
IRS
Robinhood
Square Cash
TopCashBack
U.S. Bank
USAA
Venmo
Wells Fargo
Chime
The following count as a direct deposit
American Express Serve
Charles Schwab
Chase
Discover
CIBC US
The following count as a direct deposit
Citibank
The following count as a direct deposit
Amazon Payment
Capital One 360
Chase
Discover
Emigrant Direct
Fidelity
PayPal
The following don't count as direct deposit
Barclays
Schwab
TD Ameritrade
Citizens Bank
The following count as a direct deposit
ACH
Alliant
Amex Savings
Bank of Guam
CardCash
Charles Schwab
Chase
Discover
Fidelity
Huntington Bank
IRS refund
PayPal
Santander
TD Bank
Topcashback
Wells Fargo
Vanguard
Venmo
The following don't count as direct deposit
Clearview Federal Credit Union
The following count as a direct deposit
Columbia Bank (NJ)
The following count as a direct deposit
Capital One 360
Chase
Citizens Bank
Discover
Fidelity
Robinhood
TD Bank
Vanguard
Venmo
Columbia Bank (WA, OR, ID)
The following count as a direct deposit
Commerce Bank (MA)
The following count as a direct deposit
Compass Bank
The following count as a direct deposit
Connexus Credit Union
The following count as a direct deposit
Consumers Credit Union
The following count as a direct deposit
Credit Union One
The following count as a direct deposit
Discover Bank
The following count as a direct deposit
Ally
Amazon Seller Disbursements
Bank of America Business ACH
Capital One 360
Fidelity
PayPal
Serve
TD Ameritrade
Dollar Bank Wells Fargo
Elements Financial
The following count as a direct deposit
Alliant
Ally
American Express Serve
Capital One 360
Discover
Goldman Sachs savings
Incredible Bank
Wells Fargo
The following don't count as direct deposit
E*Trade
The following count as a direct deposit
Evansville Teachers Federal Credit Union
The following count as a direct deposit
Alliant
Initial CC Funding
Chase
Wells Fargo
Fifth Third Bank
The following count as a direct deposit
Ally
American Express Serve
Bank of America
Capital One 360
Chase
Chase business
Citizens
Discover
PayPal
Serve
USAA
The following don't count as direct deposit
FirstBank
The following count as a direct deposit
American Express Serve
First Tech Federal Credit Union
TD Ameritrade
The following don't count as direct deposit
First Mark Credit Union
The following count as a direct deposit
First Merchants Bank
The following count as a direct deposit
First National Bank (FNB)
The following count as a direct deposit
First National Bank (NE)
The following count as a direct deposit
Charles Schwab Trial Deposits
First Niagara Bank
The following count as a direct deposit
Alliant
Ally
AmEx Savings
Bank of America
Capital One
Capital One 360
Chase
Discover
HSBC
PayPal
State Farm
First Tennessee Bank
The following count as a direct deposit
ACH
Alliant
Capital One
Capital One 360
Capital One Savings
Charles Schwab
Discover
First Citizens Bank
PayPal
Santander
Schwab Brokerage
USAA
Wells Fargo
Venmo
The following don't count as direct deposit
First Trade Union Bank (FTUB)
The following count as a direct deposit
The following don't count as direct deposit
First United Bank
The following count as a direct deposit
Five Star Bank
The following count as a direct deposit
Flushing Bank
The following count as a direct deposit
Amex Serve
Charles Schwab
Fulton Bank
The following count as a direct deposit
Capital One 360
Citi
Discover
Huntington
Wells Fargo
GoBank
The following count as a direct deposit
Great Lakes Credit Union
The following count as a direct deposit
Hancock Whitney
The following count as a direct deposit
HomeStreet Bank
The following count as a direct deposit
Citibank
PayPal
Provident Credit Union
Horizon Bank
The following count as a direct deposit
Huntington Bank
The following count as a direct deposit
ACH Transfers
Alliant
Ally
Amazon Payment
Amex BlueBird
Capital One
Chase
PNC
IC Federal Credit Union
The following count as a direct deposit
Incredible Bank
The following count as a direct deposit
Charles Schwab
Chase
Wells Fargo
Investor Bank
The following count as a direct deposit
The following don't count as a direct deposit
JSC Federal Credit Union
The following count as a direct deposit
Key Bank
The following count as a direct deposit
Alliant
Amex Serve
Capital One 360
Chase
Discover
E*Trade
Oregon Community Credit Union
PayPal
Santander
Stripe Transfer
TD Ameritrade
USAA
Wells Fargo
Venmo
The following don't count as a direct deposit
Lake Michigan Credit Union
The following count as a direct deposit
LegacyTexas
The following count as a direct deposit
Liberty Bank (CT, MA, RI)
The following count as a direct deposit
Mango
The following count as a direct deposit
Alliant
Amazon Payments
Bluebird
Capital One 360
Fidelity
PayPal
M&T Bank
The following count as a direct deposit
ACH trial deposits
Capital One
Chase
Citi
Discover
HSBC
PayPal
PNC
MB Financial Bank
The following count as a direct deposit
Memory Bank
The following count as a direct deposit
MidFirst Bank
The following count as a direct deposit
My Banking Direct
The following count as a direct deposit
Capital One 360
Schwab Brokerage
Nationwide Bank
The following count as a direct deposit
American Express Serve
Capital One 360
Fidelity
PayPal
The following don't count as a direct deposit
NorthWest Savings Bank
The following count as a direct deposit
ACH
Ally
Capital One
Discover
PayPal
PNC
Schwab
USAA
NuVision Federal Credit Union
The following count as a direct deposit
Amazon Payments
Ameritrade
Schwab Brokerage
NYCB Family Of Banks
The following count as a direct deposit
Old Missouri Bank
The following count as a direct deposit
The following don't count as a direct deposit
Old National Bank
The following count as a direct deposit
Initial credit card funding
Fidelity
PNC
Wells Fargo
Old Second Bank
The following count as a direct deposit
OneWest Bank
The following count as a direct deposit
PNC
The following count as a direct deposit
Alliant
AmEx Serve
AmEx Redbird
Bank of America
Barclays
BB&T
Chase
Chase Business
Discover ACH
FCB South County Bank
Fidelity Cash management
Fifth Third
Huntington
M&T
Navy Federal
PayPal
Pentagon Federal Credit Union
Schwab
Transferwise
USAA
Vanguard
Venmo
Wells Fargo
The following don't count as a direct deposit
Ally
Amex Savings
Capital One 360
Charles Schwab
Tech CU
PeoplesBank (MD & PA)
The following count as a direct deposit
Ally
Charles Schwab
PNC
Wells Fargo
People's United Bank
The following count as a direct deposit
The following don't count as a direct deposit
Pinnacle Titans Bank
The following count as a direct deposit
Popular Community Bank
The following count as a direct deposit
Capital One 360
Chase
Citibank
Discover
Wells Fargo
Presidential Bank
The following count as a direct deposit
Principal Bank
The following count as a direct deposit
Regions Bank
The following count as a direct deposit
ACH
Ally
Amazon payments
American Express Serve
Ally
Bank of America
Capital One 360
Charles Schwab
Chase
First Tennessee
PenFed
Salem Bank
The following count as a direct deposit
Salem Five
The following count as a direct deposit
Santander Bank
The following count as a direct deposit
Alliant
Amex Bluebird
Amex Serve
BMO Harris
Chase
Charles Schwab brokerage
Fidelity
Wells Fargo
Venmo
The following don't count as a direct deposit
Capital One 360
Charles Schwab Checking
Discover
TD Ameritrade
USAA
Sandy Spring Bank
The following count as a direct deposit
SchoolsFirst FCU
The following count as a direct deposit
Seacoast Bank
The following count as a direct deposit
American Express Serve
Discover
Security Service Federal Credit Union
The following count as a direct deposit
Stoneham Bank
The following count as a direct deposit
Capital One 360
Wells Fargo
SunTrust
The following count as a direct deposit
ADP
Ally ACH
Alliant
Adventure Credit
Capital One 360
Charles Schwab
Chase
Discover
Fidelity
Goldman Sachs
Navy Federal Credit Union
TCF
Wells Fargo
The following don't count as a direct deposit
Synovus Bank
The following count as a direct deposit
Talmer Bank & Trust
The following count as a direct deposit
TCF Bank
The following count as a direct deposit
Alliant
Ally
Capital One 360
Chase
First Tech
Discover Savings
Fidelity
TD Bank
The following count as a direct deposit
ACH
Ally
Alliant
American Express Savings
Bank of America
Barclays Saving
Capital One,
Charles Schwab
Chase
Discover Savings
E*Trade
Fidelity
PayPal
PNC
Tax refund
Vanguard
Wells Fargo
Tech CU
The following count as a direct deposit
Ally
Capital One 360
Charles Schwab
Chase
Citi
Discover
PNC
Schwab
Synchrony
Thrivent Federal Credit Union
The following count as a direct deposit
American Express Bluebird
Discover
TIAA Direct
The following count as a direct deposit
Capital One
Capital One 360
Chase
Chase business
Discover
Fidelity
Fidelity CMA
Town Bank
The following count as a direct deposit
TruMark Financial
The following count as a direct deposit
TruStone Financial
The following count as a direct deposit
TruWest Credit Union
The following count as a direct deposit
Unify Financial Credit Union
The following count as a direct deposit
Alliant
Capital One
Charles Schwab
Chase
Discover checking
Fidelity
Ticketmaster
Union Bank & Trust
The following count as a direct deposit
Alliant
Ally
American Express Business Plus
Capital One 360
Charles Schwab
Chase
Discover
Merrill Edge
USAA
The following count as a direct deposit
Capital One 360
Navy Federal ACH
The following don't count as a direct deposit
US Bank
The following count as a direct deposit
ACH
Alliant
Ally
Charles Schwab
Chase
Fidelity
PayPal
Tech CU
Venmo
Wells Fargo
The following count as a direct deposit
Amex Serve
Bank of America
BECU
Citibank
Dwolla
E-Trade
Fidelity
HSBC
Huntington
KeyBank
PenFed Trial Deposits
PNC
Robinhood
Santander
Schwab
USAA
The following don't count as a direct deposit
Alliant
Ally
Capital One 360
Charles Schwab
Chase
Discover
PayPal
Wesbanco
The following count as a direct deposit
The following don't count as a direct deposit
Valley National Bank
The following count as a direct deposit
VantageWest
The following count as a direct deposit
Varo Money
The following count as a direct deposit
Alliant
Ally
Bank of America
Capital One
Charles Schwab
Chase
Discover
Santander
Square Cash
USAA
The following don't count as a direct deposit
Vista Bank
The following count as a direct deposit