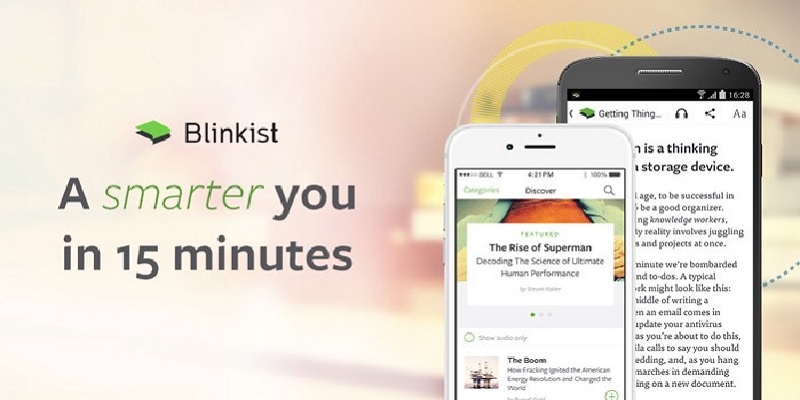 Blinkist now has a 7-day free trial. Plus, you'll get 7 days of free access for each person that you've referred towards this professional book summary service. Check out more referral bonuses here.
With Blinkist, they focus on key insights from the best non-fictional books in the world. Plus, it will only take no more than 15 minutes for audio and text. However, if you can't finish a non-fiction book, Blinkist can help you with that.
Read below for more information on Blinkist and their recent bonuses here.
(Visit for more)
Blinkist 7-Day Free Trial
Try out Blinkist for seven days with a free trial or get 40% discount on Blinkist Premium. If you cancel during the trial period you won't be charged.
(Visit Blinkist for more information)
Blinkist 7-Day Trial Referral Bonuses
Receive seven days of Blinkist free for each person that you've referred towards them. Every one of your referrals will get an additional week for trial access. Here's how it works:
Download and open the Blinkist app and click "You" in the top right corner.
Click "Invite Friends"
Copy and share your unique referral code via email, Facebook, or Twitter.
Every direct sign-up made with your referral will earn you an extra week on your account.
Check out their link for more information on their referral here.
Blinkist 40% Off Limited Offer (Expired)
Save 40% on Blinkist Premium with this offer
Offer set to expire on September 30, 2020
(Visit Blinkist for more information)
Blinkist Features
With Blinkist, they have a team that will do all the hard work for you. From reading books, identifying key points, and explaining the plot easily. Every key insight, "a blink," will put together on one page. Their explanations are easy to comprehend as well.
You must pay for a subscription to get full access to Blinkist. Visit their website for updates on prices.
| | |
| --- | --- |
| Premium Monthly | Premium Yearly |
| $15.99/month ($12.79 1st month) | $6.67/month ($79.99 billed annually) |
| No free trial | 7-day free trial |
Their Premium access allows you to:
Have unlimited access to every title
Learn hands free with audio
Highlight the ideas you love
Sync highlights with Evernote
Enjoy your library offline
Send your reads to Kindle
To begin your free seven day trial, you have to sign up for a Blinkist Premium Yearly Plan. It's not necessary to stay for the full year, it will charge you after the trial period ends. However, keep in mind that this offer is for new users only.
Conclusion
Blinkist is a great and knowledgeable platform for non-fictional books. Plus, it comes with many excellent features that will make reading easier for you.