Bankcheckingsavings has partnered with CardRatings for our coverage of credit card products. Bankcheckingsavings and CardRatings may receive a commission from card issuers.
The
Journey® Student Rewards from Capital One®
allows you to build your credit as a college student while earning cash back on all your purchases. There's no annual fee, so this card would be great for students with average credit. Unfortunately, there's no
sign-up bonus
with this card.
Earn 1% cash back on all purchases. Plus, earn a 25% bonus on the cash back you earn each month you pay on time. This will earn you a total of 1.25% cash back.
To keep track of your finances, you'll get access to a Credit Tracker as well as a higher credit line. With rewards for paying on time, this card makes it easy to establish good habits early on.
Journey Student Credit Card Summary
Journey® Student Rewards from Capital One®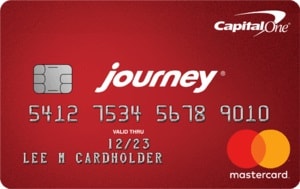 Earning Cash Back
Journey Student credit card holders earn 1% cash back for every purchase. If you pay on time, that goes up to 1.25% cash back. You'll get that extra .25% within the next two billing cycles. However, if your account enters "past due" status, you will not get the bonus.
There's no limit to the amount of cash back you can earn, and it will never expire for the lifetime of your card account.
It should be easy to always earn this bonus because you only need to make the minimum payment. However, credit card users should always pay off their entire balance in full each month. This is a good for your credit and it lets you avoid interest on purchases.
For students with limited credit, this is important because it will help improve your credit while keeping your credit card debt down, by preventing interest accumulating.
Simplify this process by setting up automatic payments. Have the entire card balance automatically paid by the due date, ensuring that your balance stays low and you'll always get the bonus. However, make sure you have enough in your bank account.
Redeeming Cash Back
Redeem your cash back in the form of statement credits online, through the mobile app, or contact the Reward Center through customer service. These will lower your account balance.
Cash back can be redeemed manually, or by using the automatic redemption system. You can have your cash back automatically redeemed when it reaches a certain amount or at a certain time each year.
Journey Student Rewards Cardholder Perks
While the Journey Student doesn't have the most luxurious benefits, you can still enjoy many perks commonly found on credit cards. These include, extended warranty, travel and emergency assistance, travel accident insurance, and auto rental collision damage waiver. Other great perks that could benefit you include:
Cashback Bonus: Pay your Journey Student Rewards bill on time and earn a bonus 0.25% cash back on all your purchases for that month. That's a total cash back rate of 1.25% for the billing cycle.
Credit Line Increase: Credit cards designed for people with average credit often come with low limits. With the Journey Student Rewards card, you'll be rewarded with a higher credit line if you make your first 5 monthly payments on time. In comparison, many cards will make you wait an average of 12 months before you can request an increased limit.
Few Fees: You won't have to pay any annual, balance transfer or foreign transaction fees. However, you shouldn't transfer any credit card debt to your Journey Student Rewards card, because of its high APR. Unless, of course, you're currently paying a higher penalty APR.
Conclusion
The Journey® Student Rewards from Capital One® is a simple, no-annual-fee card that can help you build your credit and eventually qualify you for even better cards. It's far from the best rewards card on the market. But for the purpose of building credit, it gets the job done.
Pay on time and you will be able to earn up to 1.25% cashback. Use the CreditWise service to check up on your credit, and learn about what will improve or hurt your credit scores. You also have some shopping and travel protections available if you need them. Then, once you build up better credit, you can start looking at other bigger and better Capital One credit cards.
If you're looking for many rewards or low interest rates, the Journey Student may not be the best choice for you. Check out our complete list of credit card promotions to find the one that best suits your needs!
Learn more about this card and find out how you can apply here.
Other Credit Cards To Consider
For Those With Average Credit: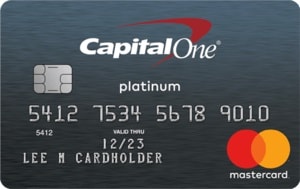 With the Capital One® Platinum Credit Card:

This card can help you strengthen your credit for the future with responsible card use; get access to a higher credit line after making your first 5 monthly payments on time.

You'll have 24/7 access to your account and be covered with fraud coverage if your card is lost or stolen.

You're able to pay by check, online or at a local branch, all with no fee - and pick the monthly due date that works best for you

This card comes wit no annual fee.


Opinions, reviews, analyses & recommendations are the author's alone, and have not been reviewed, endorsed or approved by any of these entities.
Bankcheckingsavings has partnered with CardRatings for our coverage of credit card products. Bankcheckingsavings and CardRatings may receive a commission from card issuers.