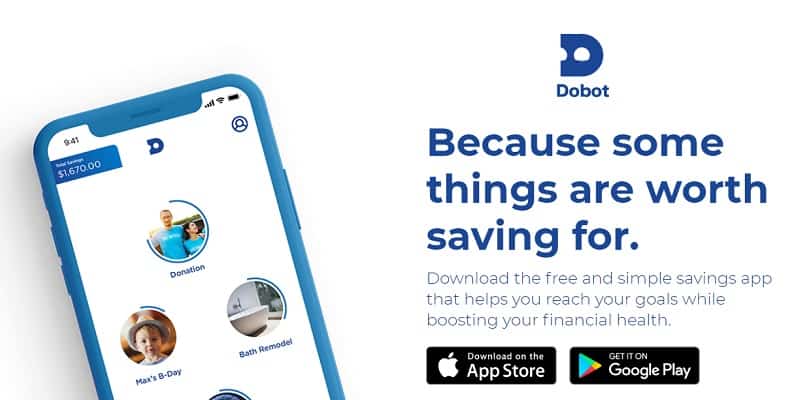 If you want the latest Dobot App bonuses or promotions, be sure to check here for frequent updates!
Dobot App is a financial app offered by Fifth Third Bank that helps you save for personal matters. If you are interested in what other bonuses that Dobot has, continue reading the review below.
This app is unique in the fact that it can automatically move small amount of money into your Dobot savings account if you open one.
Dobot $5 Sign-Up Bonus
You can earn a $5 bonus when you create a new Dobot account through an existing member's referral link.
You will also need to enter your phone number, link your bank account and make your first transfer.
How To Earn the Bonus
Register for Dobot through a current member's referral link.
Download Dobot App and enter your phone number to verify your account.
Sign up for a Dobot savings goal and link your bank account to it.
Use the "Kickstart Your Savings" during registration and transfer $5 from your linked bank account to Dobot.
You will receive the $5 bonus after your first transfer within 30 days.
Dobot $5 Referral Offer
For every successful referral, Dobot will reward you a $5 bonus towards your savings goal.
Your referrals will have to register through your referral link and also make their first transfer to qualify.
You may earn up to 100 referral bonuses per year which is up to $500 in USD value!
How To Earn the Bonus
Earning the BonusFine Print
Log into your Dobot account and click on the Gift icon in the Account to get your referral link
Copy and share your link to anyone you want
When your referral has register for a new account through your link and made their first transfer, you will both receive the $5 referral bonus within 30 days.
You can receive up to 100 referral bonuses ($500) each calendar year.
Dobot is not responsible for any taxes due as a result of receiving a referral bonus.
They reserve the right to investigate any suspicious or inappropriate activity relating to the Referral Program.
Dobot may suspend, limit or terminate the Referral Program for any reason at any time by providing notice to you.