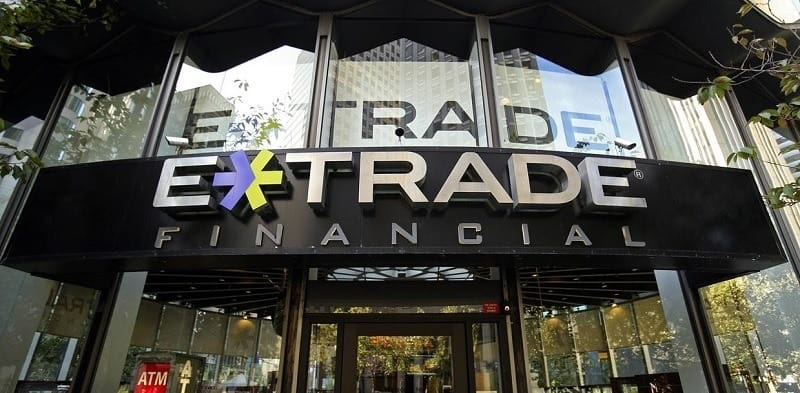 E*TRADE is one of the most popular stock brokers online. Here, you can find the current bonuses for E*TRADE. It features stock and options trading, mutual funds, retirement planning, and more. Though, it isn't the cheapest option in terms of commissions, E*TRADE is still adored for it's easy-to-navigate website, tools, and features. You do need a minimum of $500 to open an account on E*TRADE.
When you arrive on E*TRADE's site, you'll love how beginner-friendly it is. If you don't know anything about investing or you'd like to learn more, E*TRADE offers an excellent built-in investor education center. You have the options to reach out to a broker or open a managed portfolio with a financial advisor for a more hands-off investment approach.
E*TRADE is your go-to for financial services. With a large range of investments from stocks and bonds to ETFs and mutual funds, you can also open and maintain checking accounts and IRAs, and even apply for a mortgage.
All traders can access the basic research center, featuring real-time quotes, interactive charts, and tax advice.
More active traders (30+ trades per quarter) are automatically upgraded to the E*TRADE Pro platform. You'll receive additional tools like customizable watch lists. This streamlines all your investments and trading information into one convenient place. E*TRADE Pro also comes with extended trading hours that begin at 7am EST.
Read on for the latest bonuses, promotions, and offers E*TRADE has to offer.
E*TRADE $600 Cash & 500 Free Trades Bonus
E*TRADE is offering a $600 bonus and 500 free trades for new customers. You must make an initial deposit within 60 days and the funds must remain in the account for at least 6 months to be eligible for this cash bonus. Depending on how much you deposit, you can receive up to a $600 bonus on your initial deposit.
Offer valid for one new E*TRADE Securities non-retirement brokerage account
Earn a cash credit & free trades based on your deposit or transfer amount
Credits for cash or securities will be made based on deposits or transfers of new funds or securities from external accounts made within 45 days of account open
How To Earn Free Trades
You'll earn up to 500 free trade commissions for each stock or options trade executed within 60 days of the deposited funds being made available for investment in the new account (excluding options contract fees).
You will pay $6.95 for your first 29 stock or options trades (plus 75¢ per options contract) and $4.95 thereafter up to 500 stock or options trades (plus 50¢ per options contract).

Your account will be credited for trades within a week.

Fund your account within 60 days of account open.
You won't receive cash compensation for any unused free trade commissions.
New funds or securities must remain in the account (minus any trading losses) for a minimum of six months or the credit may be surrendered.
Bonus cash amount depends on your amount funded:
| | |
| --- | --- |
| Amount Funded | Bonus |
| $10,000 – $24,999 | Free trades only |
| $25,000 – $99,999 | $200 + Free trades |
| $100,000 – $249,999 | $300 + Free trades |
| $250,000 – $499,999 | $600 + Free trades |
| $500,000 – $999,999 | $1,200 + Free trades |
| $1,000,000+ | $2,500 + Free trades |
Conclusion
Enjoy these E*TRADE bonuses for a limited time. Though E*TRADE costs to invest and has a $500 minimum, it's well worth for its bonuses and what it has to offer. E*TRADE is more than just a discount brokerage. It's almost a full-service financial institution, with many features you can take advantage of.
Even if you're starting out as a beginner, E*TRADE can guide you along to become an active investor. Though, with all investments, understand your risks and do your research before you dive in.
If you're interested in other promotions, check out our list of the Best Stock Broker Bonuses and their respective reviews, here on BankCheckingSavings.


Open an E*TRADE account with all these features:
-Earn $600 to $2,500 cash bonus with deposit amount requirement
-Free Trades for 60 days when you open a new E*TRADE Securities Individual, Joint or Retirement account.
- Low flat pricing with $4.95 – $6.95 stock & options trades, 50¢ / 75¢ per options contract, and low margin rates
-Turn volatility into opportunity and protect your positions with professional-grade options tools and analytics.
-Mobile Pro lets you track the markets and place trades anytime, anywhere – available on iPhone, iPad, Blackberry, and Android


Open an Ally Invest account to enjoy all these benefits:
-Earn up to $3,500 cash bonus with deposit amount requirement
-Free Trades for 90 days when you open a new Ally Invest Securities Individual, Joint or Retirement account.
-$4.95 per equity trade with no opening minimum & option trades 65¢ per contract
-$3.95 per equity trade for high-balance/high-volume traders & option trades 50¢ per contract
-LIVE Trading Platform & Mobile App: Stay on top of the market with live news/streaming quotes available across multiple devices the mobile app.
-Get a wide variety of investment products built with the do-it-yourself investor in mind PLUS in-depth research & market analysis tools to support all types of investment strategies


Open a TD Ameritrade, a leader in mobile trading, for all these features:
-Earn $100 to $600 cash bonus with new Individual, Joint or IRA account
-Get commission-free trades for 60 days
-No platform fees: Never pay a fee to use our trading platforms.
-Requires $3,000 account funding within 60 days of account opening
-$6.95 flat-rate commission on all equity trades
-Trade & invest how you want with a variety of investment choices.
-24/7 account support and free access to trading specialists.
-Great trading platforms and tools from web to mobile and their thinkorswim platform to help you execute.