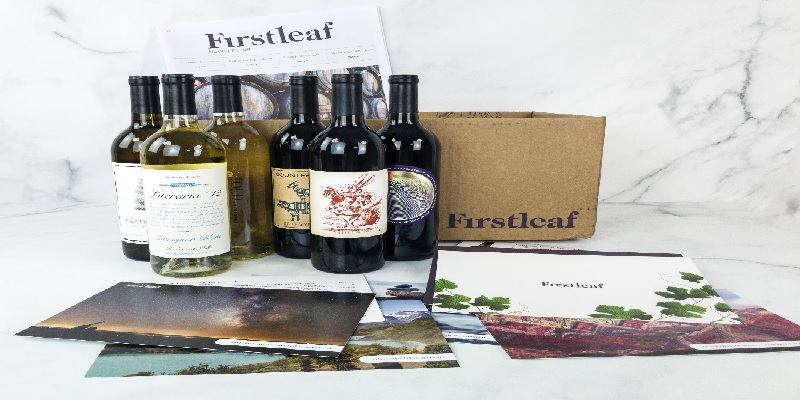 When you sign up for Firstleaf, you'll get your first order of 6 wines for free with a referral link. Additionally, you can receive a $40 referral credit for any future Firstleaf order when someone signs up with your personal referral link. Check out other referral bonuses here. Find all the best food & grocery delivery offers here.
Firstleaf is a personalized wine club that learns more about your personal preferences as you receive, drink, and rate their bottles. Their portfolio includes: domestic, international, and award winning bottles offered up to 60% off standard retail prices.
Read below for more information on what Firstleaf has to offer.
Firstleaf Free 1st Order of 6 Wines ($40 Credit)
Firstleaf welcomes new members with your first 6 bottles of wine for only $40. However, if you sign up with a referral link, you'll also receive a $40 welcome credit as well. Put these two offers together and you'll get your first 6 bottles of wine for free! You just have to pay for tax and shipping, that's about it.
Feel free to leave your referral link down in the comments section below.
(Visit for more information)
Firstleaf Give $40, Get $40 Referral Program
Invite a friend to join Firstleaf with a $40 discount and you will get a $40 referral credit for each person that applies with your personal referral link. To partake in this program, go to the Firstleaf website and look for "Earn $40" link in the navigation menu.
Furthermore, your referrals have to be new to Firstleaf and must pay for at least one full-priced club shipment of wine to be eligible for referral credit.
---
How Firstleaf Works
Like many personalized services, Firstleaf starts with a short online questionnaire. Answer with the type of wines you like to drink, which regions you prefer, and how much wine you drink a month. Additionally, it also asks what food you like and dislike to better understand your palate.
Then, Firstleaf will give you a recommendation of 6 wines. If you want to continue the subscription after the welcome bonus, the cost will be around $90 for 6 wines including shipping. You'll be able to set the delivery frequency to every one, two, or three months. Pick another delivery date or cancel your subscription whenever you want.
After you've tried the wines you got, sign into your account and rate each one. If you liked all 6 bottles of wine, you can reorder them for $90. Additionally, the more wines you rate as time goes on, the better suggestions Firstleaf will make. Furthermore, Firstleaf comes with a 100% guarantee, so if you don't love the wine you buy, you get a full refund without having to return the bottle.
Conclusion
Firstleaf is a great option for you if you want to join a wine club that's accessible and affordable. Additionally, they have a large variety of wines to choose from for $15 a bottle as well. Take advantage of this welcome bonus to get your first 6 bottles of wine for free!