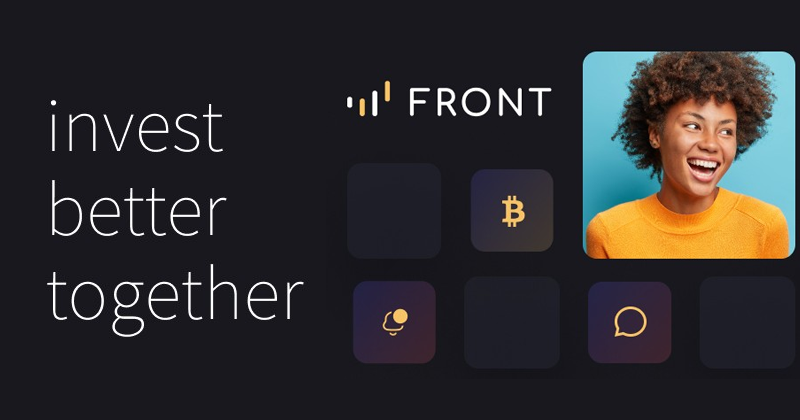 Front is offering new users a $5 gift card bonus. Earn an additional $5 gift card bonus for every person who uses your link to claim their reward. Find more referral bonuses here. See the full list of investment bonuses here.
Front is the ultimate companion app to Robinhood, Coinbase, and more that guides better investment decisions with Front Score technology. It's a free tool that's good for researching individual stocks, you can sync your investments account, crypto included, and you can easily find stocks to add to you portfolio.
Continue reading below to learn more about their current bonuses.
$5 Gift Card Bonus

Earn a $5 debit gift card when you use a referral link to your smartphone to download the Front app, sign up, and link one brokerage account with at least $25 of assets. This is valid for new users only.
If you have a referral link, feel free to share it in the comments section below.
Front Referral Program – Give $5, Get $5

Invite others to join Front and you can earn a $5 gift card with each referral. Plus your referrals will also earn a $5 debit card for signing up. See referral program details here.
Plus you can also potentially earn up to $1,000 per referral. The company will send this additional award in an email with your debit gift card redemption code.
---
Front Features

Front is the free app that every investor needs for smarter investment decisions. Front tracks all your stocks and crypto in one place and gives access to top investor portfolios. It keeps you in the know with market alerts and an investor community full of investment ideas. The higher your FISCO, the healthier your portfolio is.
They also lists individual stocks, each with a FISCO, market statistics, and related news. To explore new stocks, simply swipe through like on dating apps and easily add investments to your watchlist.
Also get access to features like:
Front Portfolio Scores which are unique to each investor and instantly sums up the health of your collective portfolio with a single number.
Front's proprietary, AI-driven Front Score algorithm considers: portfolio diversification, asset performance, company financials, ESG rating, news sentiment.
Connect Robinhood, Coinbase, Webull, Stash, TD Ameritrade, Charles Schwab, and more to see stock & crypto holdings in one place, with extra insights to build a stronger portfolio.
Chance to win $200 if you connect your brokerage with at least $500 and maintain a FISCO of at least 600. The top five investors with the best weekly returns win the prize.
The app features Front Stock Scores that boost every investor's search for smart stocks to build a stronger portfolio.
Front shows new investment ideas every day. See top stocks to improve your portfolio score, market movers, and top stocks by Front Score.
Front is free to use. No minimum deposit ad no account fees is needed for investing insights.
Conclusion
Front is a great app, that is free, that benefits investors and help them make smarter investments decisions. Front tracks all your stocks and crypto in one place and gives access to top investor portfolios.
Find all the best brokerage and investments bonuses here.