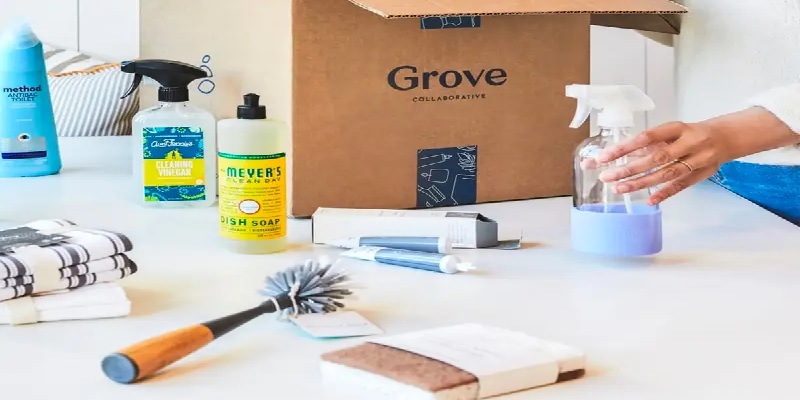 Grove Collaborative is welcoming new customers with a free, 5-piece gift set when you shop using a referral link. This welcome bonus comes with Grove's VIP membership, free for 60 days. Additionally, you'll have a $10 bonus credit for each person that you refer towards this home delivery service for natural household and personal care products. Check out other referral bonuses here.
They are partnered with Rakuten and other cash back shopping services. Also, check out these delivery service promotions as well.
With Grove, they deliver eco-friendly home essentials like: cleaning supplies, personal care, baby, children, and pet products right to your door. Additionally, they have a variety of products from a number of popular, socially-responsible brands, as well as products of their own. Customers can buy on an as-needed basis, or apply for a subscription to get monthly deliveries.
Read below for more information on what Grove Collaborative has to offer.
Grove Free 5-Piece Personal Care Gift Set
Get your exclusive free personal care gift set today. Plus, you can get free shipping and VIP trial as well.
Yes To Brightening Facial Wipes
Yes To Glow-Boosting Mask Stick
Yes To Charcoal Detoxifying Paper Mask
Grove Loofah
Grove Konjac Sponge
Grove Hydrating Bar Soap
(Visit for more information)
Grove Collaborative $10 Referral Credits
You can refer your friends to Grove with a five-piece gift set. Then, you'll be able to get a $10 bonus credit for each person that signs up with your personal referral link to make their first Grove order.
To partake in this, sign into your Grove account and go to "Your Account." Then, click on "Your Referrals" to share your special referral link. The maximum amount of referral credits you can earn is 50 ($500 in total value).
Grove Collaborative Features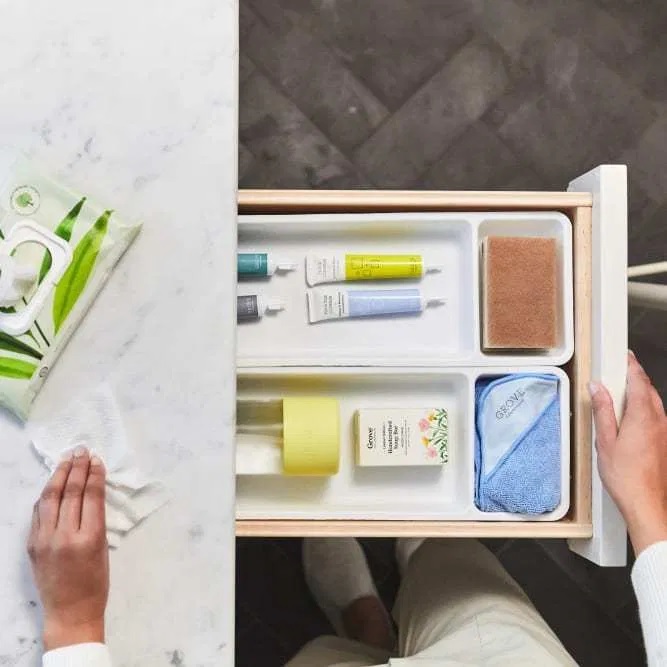 Before any products are put on Grove's virtual shelves, it has to satisfy several criteria. The product has to be: healthy, effective, and ethical. Additionally, it also has to be natural and non-toxic, made with a plant-based formula and with no synthetic fragrances. The products have to be 100% cruelty-free and from an ethical supply chain. Plus, it has to use sustainable materials whenever they can. It will go through the product testing to make sure that it works correctly and meets the Grove standards.
When you make your first order with Grove, you will immediately join their recurring service. With this service, you'll receive new product suggestions placed directly in your shopping cart every month. Then, a few days before your scheduled shipment, Grove will send you a reminder email to check your order before it goes out. After, you can add to your shopping cart, take items away, change the shipping date, or skip that month entirely.
However, if you don't like the auto-shipment feature then you can switch from the Recurring service to the Ship Now program. This program will enable you to buy items whenever you want to. Grove also offers a VIP membership ($19.99 a year) with free shipping, a lower order minimum, early access to new products, and four, free, full-size gifts each year.
This is how order minimums and shipping fees compare across Grove's services:
| | | |
| --- | --- | --- |
| Ship Now | Recurring | VIP |
| $39 order minimum | $25 order minimum | $10 order minimum |
| $4.99 flat shipping | $4.99 flat shipping | – |
| Free shipping on orders $49+ | Free shipping on orders $49+ | Free shipping on all orders |
Grove is also committed to using less plastic. If the company does send out plastic, they promise to collect and recycle the same exact amount. Grove's goal is to be 100% plastic-free by 2025.
Conclusion
If you want a natural, sustainable, and effective home essentials delivered right to your door, Grove Collaborative is a great choice for you. They are eco-friendly and offers products that are healthy, natural, and cruelty free.
Furthermore, LuckyVitamin is another service that delivers bath, beauty, and other natural products. Plus, they sell vitamins, nutritional supplements, and health foods as well. Currently, they have a $5 discount on your first purchase.