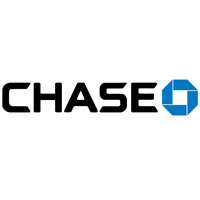 Learn How To Redeem Chase Coupon Codes here.
Chase Bank offers banking bonuses up to $300 when you open a new checking or savings account. However, if you already opened a new account without using one of our Chase Coupon offers then there is still hope.
There is a brand new option for customers to redeem coupon codes after opening a Chase Account. I contacted customer service about this feature, but they weren't even aware of it.
In the past, Chase Bank has provided the option to redeem your coupon codes in-branch within 7 days of account opening when presenting the coupon to a Chase banker.
However, this new feature allows you to save time and skip the process of visiting a Chase location. You can redeem the code retroactively online from the comfort of your own home. Learn how to apply your Chase Coupon Code below.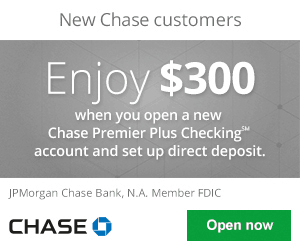 • Enjoy $300 as a new Chase checking customer, when you open a Chase Premier Plus CheckingSM account and set up direct deposit.
• Enjoy $300, more benefits, and earn interest on your new Chase checking account.
• The $25 Monthly Service Fee is waived when you keep an average beginning day balance of $15,000 or more in any combination of this account and linked qualifying Chase checking, savings and other balances.
• No Chase fee on first four non-Chase ATM transactions per statement period.
• Earn interest on your checking account balance.
• Access to 16,000 Chase ATMs and nearly 4,900 branches
• Open your account online now.
• Available online nationwide except in Alaska, Hawaii and Puerto Rico. For branch locations, visit locator.chase.com.


How to Redeem Chase Coupon Codes 
Log in to your Chase Online Banking Account
At the top of the page, click on "Customer Center" 
In the bottom right sidebar under "Coupon Redemption," click on "Redeem Coupon"
Enter your coupon code and select apply rewards to either your personal or business account, depending on which type of account is eligible. If you didn't have one, check out our list of Chase Coupon Codes.
Verify your bonus details and confirm your order.
Deadline for Redeeming Chase Coupons After Account Opening
Remember that Chase Customer Service was unable to verify how long you will have to redeem your coupon code online after you open your new account.
I would assume that the time frame would be 7 days after opening your account because the in-branch services are similar to online services, but you should check with a Chase Representative just to be sure.
Not All Coupons Can Be Redeemed Online 
The majority of Chase Coupon Codes work online; however, there are some coupon codes that can only be used in-person. You will have to go to your nearest Chase location to redeem these coupon codes, so it important to read the fine print of your coupon code.
How to Redeem Chase Coupon Codes Retroactively In-Branch
If you are unable to redeem your coupon code online, then you still might be able to redeem it at your nearest Chase location. You will have to present the coupon to a Chase banker and request for them to apply the coupon to your recently opened account.
Remember that most coupon codes are only redeemable after 7 days of opening the account.
Conclusion
Chase is always expanding and changing the way we bank to give us the best deals possible. The fact that you can redeem a Chase Coupon Code after opening a new account is great! You can earn more cash back bonuses than ever before.
If you didn't know about the bonuses, go ahead and check out our exclusive list of Chase Checking and Savings Coupons.