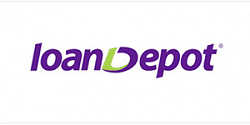 Make your dream home a reality with LoanDepot. Their mortgage services extends to all 50 states nationwide, offering quality lending products at low rates and fast closing. LoanDepot has funded over $90 billion in loans to hundreds of thousands of Americans with commitment towards excellent customer service expanded throughout their purchase, refinance, personal and home equity loans. With a wide range of loan products: Conventional fixed, ARMs, VA, FHA, HARP, JUMBO, and even Home equity loans, they offer you all there is to mortgage lending with perhaps the most exceptional technological lending platform to date.
LoanDepot Mortgage

Summary:
Account Type: Mortgage Loans
Availability: Nationwide
Expiration Date: None
Additional Advise: Have the necessary documents and validation information ready to make your process as smooth as possible.
Closing Loan: Standard lock period is 15-30 days
LoanDepot Mortgage Options:
Fixed Rate – A traditional, fixed-rate mortgage is our most popular program for refinancing or a new home purchase
ARMs – If you plan on staying in your home short-term or would like lower payments, an ARM loan program might be right for you
Jumbo – loanDepot offers consistent and secure low rate Jumbo mortgage programs with the ability to borrow higher amounts.
VA – loanDepot is authorized to offer special loan programs that are guaranteed by the VA for active military and veterans that are not available to the general public.
FHA – Qualify with ease with as little as 3% down; originally for first-time buyers, FHA programs are now open to wider audiences.
HARP –  HARP is a federal program to help responsible, underwater and near underwater homeowners refinance their mortgages to a lower rate.
Home Equity – Home equity loans are fixed-rate second mortgages that give you access to up to 90% loan-to-value of the equity you've built in your home.
LoanDepot Features:
Exceptional customer care
Quality, competitive loan options
Licensed in all 50 states
Tech-enabled lending platform


LoanDepot Mortgage Basic Requirements:

Below are examples of supporting documents which may be included in a loan file:

Income Documents:

Pay Stubs covering the customer's most recent two pay periods for each applicant.
W-2 Forms for the previous two years.
Two most recent years' federal tax returns (e.g. for a loan in 2015, the customer need to submit the customer's 2014 and 2013 federal tax returns). All the pages and all schedules.
If the customer is self-employed, the two most recent years' business tax returns are also needed.
For self–employed or investment income, the two most recent years' 1099's and K-1 forms are also needed
For self–employed business income,year-to-date profit and loss statement and balance sheet.
For retired customers, copy of Social Security and/or Pension "award letters" detailing the amount of retirement income.

Asset Documents:

Two most recent months' bank statements. All of the pages.

Other Documents:

Homeowner's Insurance statement(s) for all properties owned showing the customer's coverage and the annual premium.
Mortgage statements for all properties owned that have liens.
Copy of driver's license or State I.D.card for all customers.
If divorced, the customer's fully executed divorce decree.

Conclusion:

LoanDepot is here to make your dream house a reality with over $90 billion consumer loans funded, $70 billion in mortgage refinanced and $30 billion in home purchase loans lended, they definitely climbed to the top with their exceptionally integrated tech-savvy lending platform that deserves our fullest admiration. Rates are completely competitive and transparent and what I like is that they also offer home equity loan programs, which is completely unconventional compared to a majority of non-bank lenders out there. Definitely a solid option for your home purchase or home refinancing needs. If you're currently not interested, be sure to check out our Best Mortgage Rates!





The Citi Premier® Card offers 80,000 Bonus Points after making $4,000 in purchases with your card within the first 3 months of account opening.

The 80,000 Points are redeemable for $800 in gift cards when redeemed at thankyou.com.

You'll earn:
• 3X Points at Restaurants
• 3X Points at Supermarkets
• 3X Points at Gas Stations
• 3X Points on Air Travel and Hotels
• 1X Points on All Other Purchases

This card comes with a $95 annual fee and no foreign transaction fees.