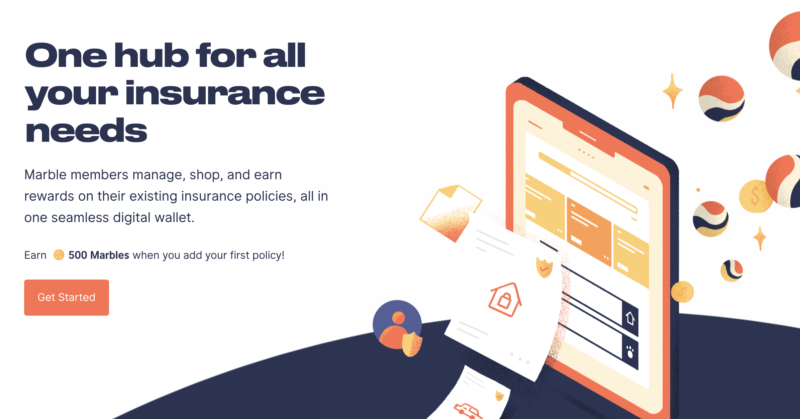 Marble is the first rewards platform for insurance. They are reinventing how people pay for and save on their insurance. They let their users, manage, shop, and earn rewards on existing insurance policies all in one place. Not only that, the great part is that the membership is free. Continue reading below to learn more about Marble.
Marble Features
With Marble, you can do everything in on place form managing, comparing, paying, and earning rewards with their seamless digital hub.
How it works:
Create your free Marble account.
Link your insurance policies effortlessly.
Compare your current rate and coverage with competitive policies.
Earn rewards on insurance premium payments as soon as you create your account and link your first policy.
Redeem rewards for gift cards, subscriptions, cryptocurrency, and more.
You can access amazing features like:
Link any personal insurance payment and provider to the platform
Members can manage, bundle, and keep track of all of their personal insurance policies, regardless of carrier, at a glance, in a single digital wallet.
Access and organize all your insurance policies and accounts on one platform.
Easily compare rates and coverage when you shop for insurance.
Get exclusive tools, rewards, and support.
Educational context for personal financial management.
Marble members are insured by the nation's largest insurance agencies and can link their automotive, home, renters, pet, or any other type of personal insurance. Not only that your account and information stay protected since they use a 10-point security protocol and data encryption system.
Marble Pricing
Marble is 100% free to use. They work with insurance companies to divert money they would've spent on marketing to you, the customer.
Conclusion
Marble is the first digital wallet and loyalty platform for insurance. This free service lets their customers earn even more rewards on their insurance.