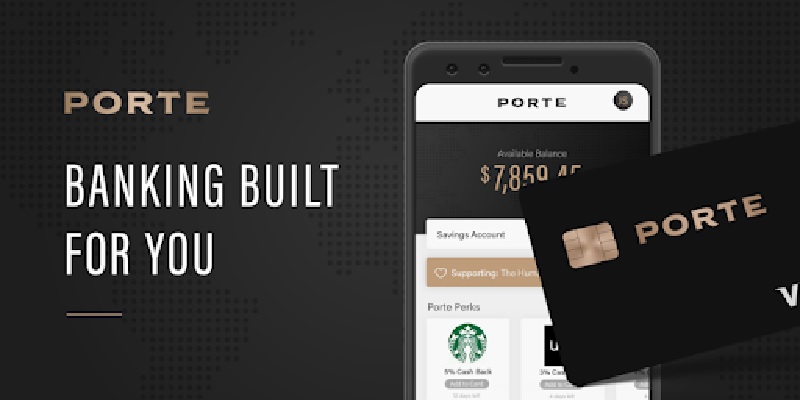 Porte now has a $100 cash bonus for new members. Additionally, they also have a Give $100, Get $100 referral program as well. Check out more banking bonuses and other money referral bonuses.
With Porte, it's a mobile services that allows you to deposit and open a savings account. They want to give you the best customer experience with their app. Plus, this app comes with no monthly fees, no minimum balances, and many perks.
Read below for more information on Porte to earn $100 bonus.
Porte $100 Welcome Bonus
Receive a $100 cash bonus when you make a new free Porte account with a referral link. Then, you must get an eligible direct deposit with a minimum of $500. Furthermore, your bonus will be put into your Porte account in about 24 hours of the deposit. You also have to be a new Porte member to be eligible for this bonus.
(Visit for more information)
Porte Give $100, Get $100 Referrals
Once you've shared your referral link, you'll be able to receive a $100 cash bonus for both you and your referral. The more friends you refer towards Porte, the more money you'll be able to earn. This is how it works:
Copy and share your referral link in the "Refer a Friend" section of the app.
Your referral has to make a new Porte account with your referral link.
Then, your referral receives an eligible direct deposit of at least $500.
After, both you and your referral will receive $100 into your Porte account in about 24 hours.
Furthermore, there are no limitations on the amount of people you're able to refer. However, keep in mind you can only gain no more than $500 (about 10 referrals) in referral bonuses.
Porte Features
With Porte, it's an online mobile app that comes with no available physical locations. However, you can still:
Receive cash with no fees at more than 30,000 MoneyPass ATMs.
Put money into your account at more than 130,000 reload locations.
Make check deposits wherever you like the mobile check capture.
Additionally, another perk that comes with Porte is that you'll be able to get paid up to 2 days earlier with direct deposit. It even comes with a premium matte black Porte Visa debit card as well. Other features included with Porte are:
Porte Perks
Gain cashback rewards and save with well known retailers when you shop with your debit card. Just activate your perks to be able to take advantage of these great features. For example:
10% cashback with Dunkin Donuts
10% cashback with Five Guys
5% cashback with AirBNB
5% cash back with Starbucks
5% off each Lifetime transactions
$15 cashback with Hulu
Porte Overdraft Service
With Porte, you'll be given the option to use their overdraft services if you want to. Porte will give you about 24 hours to pay back the overdraft with no additional fees. However, if you don't pay it off in time, it will come with a $20 overdraft fee for every transactions. Your next deposit will be immediately put into the overdrafted amount.
#DoorToChange
This #DoorToChange program enables you to support a partner charity without spending more money than necessary. Every time you make a transaction on your debit card, Porte will match a percentage of the amount you've spent and donate it to a charity of your choice. Some of their partners are: Save the Children and The Human Society.
Security
All Porte debit cards will comes with an EMV chip that can be locked or unlocked with your mobile app. Additionally, when you log in there is a 2 factor authentication you must go through. Furthermore, all Porte accounts are FDIC insured with MetaBank.
Conclusion
Overall, when you use Porte's mobile app, you'll see yourself enjoying the many benefits it comes with. This is more than just your typical mobile banking app. Furthermore, with each transaction you make, you'll be given the opportunity to donate a specific percentage to a charity of your choice.