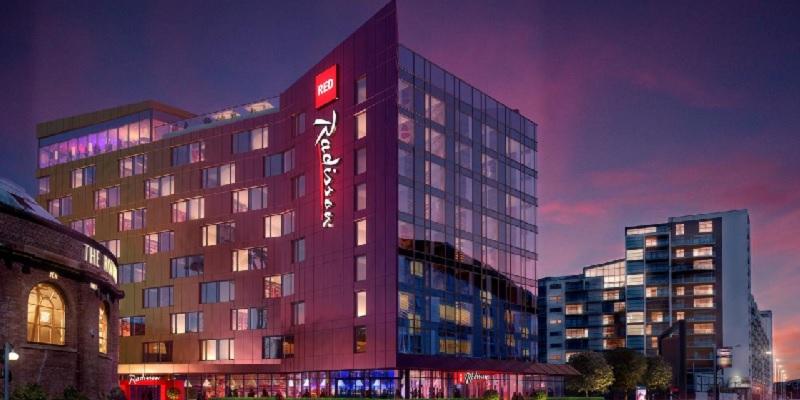 The Radisson Rewards Premier Visa Signature Card has two introductory offers for up to a total of 85,000 bonus points. Earn the first 50,000 after your first purchase and you can earn 35,000 bonus points when you charge at least $2,500 to your card within the first 90 days. The value of these points will be worth about $340. This card comes with a $74 annual fee, but with their full bonus offer, it will be able to cover the price of the card for about 4 years.
If you are a regular client of Radisson hotels, then this card is worth looking into. Radisson Rewards will be very beneficial to you in areas like Europe.
They will offer you 10x points for qualifying Radisson expenses and 5x points towards all other purchases. This way, you will be able to gain 25,000 bonus points each year when you've renewed your membership. You can even receive an extra free night for each $10,000 you've spent in a calendar year (no more than 3 nights).
To put the cherry ontop of the sundae, you can benefit from their complimentary elite status and all of the perks that comes with this status.
If you want a no annual fee option, then you should look into the Radisson Rewards Visa Signature credit card.
Radisson Rewards Premier Card Quick Facts
Bonus Available
 Earn up to 85,0000 bonus points: 50k after your first purchase plus 35k after spending $2,500 on your card within the first 90 days.
Bonus Value
$340
Ongoing Rewards/Benefits
Earn 10 points for each $1 used towards qualifying expenses at participating Radisson Family of Hotels, and 5 points for each $1 used for other purchases.

Gain 40,000 bonus points every year when your membership has been renewed.

Get no more than 3 free night e-certificates when you've spent at least $30,000 in one membership year. Every $10,000 spent = 1 free night.

Foreign Transaction Fees?
2% in USD, 3% in foreign currencies.
Elite Status
Automatic Gold status after you activate and use your card.

If you already have Gold or Platinum status, get 15 qualifying nights toward obtaining or maintaining Platinum status.

Annual Fee
$75
(Visit Radisson Rewards for more information)
*Radisson Rewards Premier is issued by U.S. Bank who offers great sign-up bonuses for its Checking/Savings accounts. You can also compare it to other credit card offers.*
Pros
Bonus points
High earning potential
Anniversary bonus
Spend bonus
Transfer partners
Cons
Annual fee
Excellent credit needed to qualify
Relatively few hotel choices
Foreign transaction fees
Radisson Rewards Premier Card 85,000 Bonus Points
Make use of the two different introductory offers from the Radisson Rewards Premier card:
Earn the first 50,000 bonus points after your first purchase
Earn the additional 35,000 points after you've spent a minimum of $2,500 to your card in the first 90 days of having your account open.
The evaluation for these possible 85k points will be worth about $340 (more on that below).
Here are some idea's on meeting the spending requirements:
Meeting Credit Card Bonus Spending Requirements
• Plastiq: Plastiq allows you to pay for expenses that you generally won't be able to with your card like rent, tuition, auto lease, mortgage payment, and more. There's a 2.5% processing fee for using your credit card. However, this'll be worth the card bonus you'll get. There's also a referral program where you can earn "Fee-Free Dollars" to use towards processing fees. See our Plastiq review.
• Fund Checking accounts with your card: Many banks will allow you to fund the opening deposit with a credit card. Consider opening Checking accounts that also offer a sign-up bonus. This way, you can work towards bonuses from two different sources. Big banks like Chase, HSBC, Huntington, and TD Bank have great offers and allow credit card funding. You can generally fund anywhere from $50 to $1,000 towards the opening deposit with a credit card, depending on the bank.
• Buy gift cards: Consider buying gift cards with your credit card that you can then spend later at your leisure. Individual merchant cards (restaurants, gas stations, supermarkets, etc.) generally don't have purchase fees, so this is a plus. On the other hand, American Express and Visa gift cards will have purchase fees. Amazon gift cards are a great idea as you can shop for almost anything there with no purchase fees either. Unfortunately, Citi credit cards tend to code gift card purchases as Cash Advances and there'll be a fee. Call in to customer service and lower your Cash Advance limit to $0 before purchasing gift cards. You can also buy discounted gift cards as well from Raise or find gift cards on eBay.
• Everyday spending & bills: Always using your credit card for everyday spending, such as for dining, gas, groceries, etc. You can also use your credit card to pay for things like insurance bills, property taxes and income taxes. However, you'll have to consider the convenience fees.
*Read More Ways to Meet Credit Card Spending Requirements*
What are Radisson Rewards Points Worth?
Compared to other hotel branded credit cards, depending on how you decide to use your points will reflect their value. Typically, every Radisson Rewards point will be worth about $0.004. This is under the average for most other credit cards that have an average of $0.01 in this platform. However, don't turn away yet, the Radisson Rewards Premier card has a large earning rate potential that will make up for the small point value.
Your Radisson Rewards points can be used towards:
Award night stays
Points + Cash awards (flat points rate combined with cash)
In-hotel awards (food and beverages at participating hotel restaurants, spa services, parking charges, in-room movies and etc.)
Priority Pass membership
TSA Precheck application fee
Points transfer to airlines (more on that below)
Gift cards
Cash cards
American Red Cross donations
To get the best value for your points, redeem the Radisson Rewards points towards award night stays and Points + Cash awards.
This way, your points can have a little more malleability to transfer towards miles on Radisson's airline partners.
Radisson Rewards Partner Airlines
| | | |
| --- | --- | --- |
| Aeroflot | Delta Airlines | Malaysia Airlines |
| Aeromexico | Emirates | Oman Air |
| Air Astana | Ethiopian Airways | Philippine Airlines |
| Air Baltic | Etihad Airways | Qantas Airways |
| Air Canada | Finnair | Qatar Airways |
| Air China | Frontier Airlines | SAS Airlines |
| Air France/KLM | Gulf Air | Saudi Arabian Airlines |
| Asiana Airlines | Hainan Airlines | Singapore Airlines |
| Avianca | Japan Airlines | South African Airways |
| British Airways | Jet Airways | Southwest Airlines |
| Cathay Pacific | Kuwait Airways | Turkish Airways |
| Czech Airlines | LATAM | United Airlines |
Radisson Rewards Premier Card Top Features
Anniversary Bonus
Spend Bonus
Elite Status
Each year, you will be able to qualified to get 40,000 bonus points. To participate, you must renew your card and pay for the annual fee of $75. It has a value of $160, this way it will definitely be able to cover the cards price using this feature.
Receive one free night e-certificate for each $10,000 spent on your card in your membership year. You will be able to gain no more than 3 free nights by doing this.
The certificates will only be valid in the U.S. where the average daily rate for hotels will be about $120.
Get complimentary Gold Elite Status, with this membership they have offers such as:
25% bonus on points for eligible purchases
15% discount on food and drinks at participating hotel restaurants
Complimentary room upgrade based on availability
Early check-in and late check-out
Welcome gift
If you already own a Gold or Platinum status, then you can qualify to gain a one-time credit of 15 nights for getting or maintaining the Platinum status. You have to charge your card for the first time to be able to qualify for this offer.
Conclusion
The Radisson Rewards Premier Visa Signature Card is an amazing choice for people who normally books rooms with Radisson. Make use of their perks and benefits, this way you will receive lots of free nights with the points you've built up.
However, if you don't necessarily like Radisson, then you should look into a different hotel branded or general travel rewards card elsewhere.