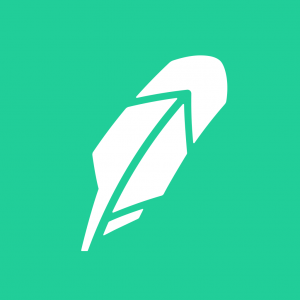 First glance at Robinhood's stock brokerage struck me as skeptical. As I venture upon bold word emphasizing "Free Trade Stocks. Stop paying up to $10 for every trade" It just comes as evident that you cannot have Unlimited Free Trades without any repercussions, which is all the more reason why we must go into further detail in regards to this app. With free trades, no minimum deposit required and Advanced Order Support, it's all the more necessary.
Editor's Note: Sign up with a Robinhood referral link to get a free share of stock that is randomly selected from a pool of "widely-held companies", which includes Apple ($158), Facebook ($172), or Microsoft ($75). However, most people are likely going get a share of stock valued at $10 or less. This is absolutely free with no cost of anything!
RobinHood Brokerage In-Depth Details:
Firstly, it's necessary that RobinHood performs in a application platform only with no attempts of expanding to desktop in the near year or so. Where Robinhood shines… The 100% commission-free stock and ETF trades, no minimum anything (unless you're opening a margin account, then you'd need $2,000 in portfolio balance), and the convenience of accessing your stocks through the phone.
Now, one of the biggest questions I had to ask myself is how exactly they make their money if their running a 100% free commission trade model. In which case, my question had been answered with Robinhood Gold Premium or what I mentioned earlier as the margin account. In which case, you would need $2,000 in portfolio balances to open in which case pricing is available and fluctuating between account size and buying power.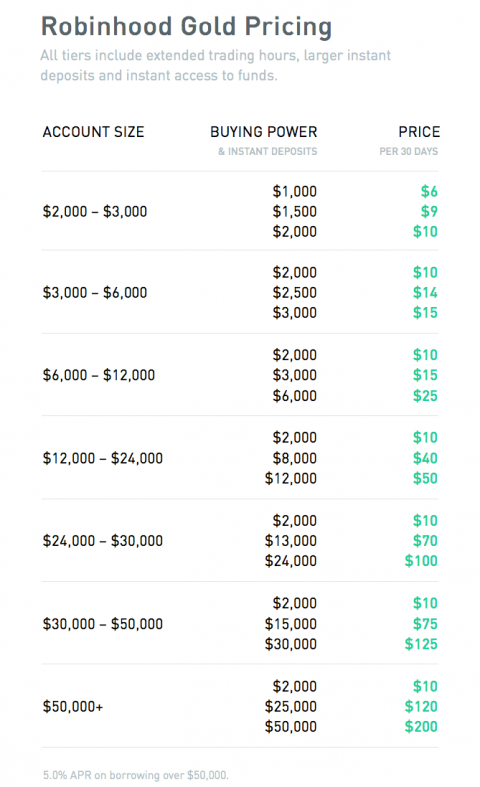 I do not fully recommend the Gold Premium account to those that are not seasoned investors. Considering that the Gold account is a margin account, it's safe to say that your investments will become exponentially more risky because you're trading on dollars borrowed from the broker which can institute you losing more than what you invest.
Now, there are some slumps on the road for those adamant on a RobinHood account and that would be the limited securities involved; you can't trade options, mutual funds or bonds. Some things to keep in mind is that dividends are credited to accounts as cash rather than reinvested in the security that issued them.
Secondly, you may notice a lack of tools and resources, in which case, I must add that Robinhood's sole priority was getting out a affordable stock brokerage with an app that doesn't fully support all the research reports and platforms that you'd expect from more expensive competitors. I must say that it's completely understandable, considering that Robinhood's main targeted audience may very well be young, entry-investors. I would like my viewers to keep an open mind regarding the app's priorities. You can still create a watch lists, and the app offers real-time data. Last thing to keep in mind is that Robinhood does not support broker transfers.
Robinhood Brokerage Bonus Information:
Account Type: Individual cash brokerage account
Availability: Nationwide, must sign up to be on a waiting list
Expiration Date: None
Online Trades: $0
Hard Inquiry: No, Soft pull only.
Monthly Fee: $0. Fees vary with a margin account
Additional Requirements: None
Closing Account Fee: None
Robinhood Brokerage Bonus Breakdown:
Unlimited stock trades for free
Make stock trades for free! Robinhood requires no minimum deposit and is currently only available on mobile devices.
Robinhood Brokerage Account Features:
Available Accounts – Individual accounts only.

Trade For Free – Buy or sell a stock at no cost.
No Minimum Deposit – You can start trading with a few dollars.
Mobile App Access – Make trades via an Apple iPhone or Apple Watch. Android app is now available (New).
Scheduled Deposits (New) – Automatically you can schedule transfers on a weekly, biweekly, monthly, or quarterly basis.
Advanced Order Support (New) – Robinhood supports market orders, limit orders, stop limit orders, and stop orders. Certain orders may be entered as good for the day or good till canceled (GTC).
Conclusion:
If you're new to the investing game, then a new Robinhood brokerage account may very well be a necessity for you. There's no fee on commission trades, no minimum deposit, and you will be able to make trades with the convenience of your mobile device. If you're new to the game, I do not recommend trying out their gold premium marginal account, unless you have the skill-set necessary. Keep in mind that they only offer an app-platform, in which case, lacking in data and research may apply. Don't forget to check out our full list of brokerage bonuses!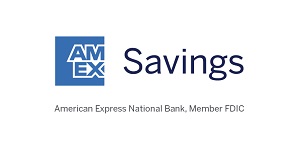 With the American Express® High Yield Savings Account:
• Earn 1.90% APY as of 9/15/22 on your deposits. Your High Yield Savings account earns interest daily and is posted to your account monthly.
• Links easily with your current bank accounts. No need to switch banks.
• FDIC Insured. Your account is insured to at least $250,000 per depositor.
• 24/7 Account Access