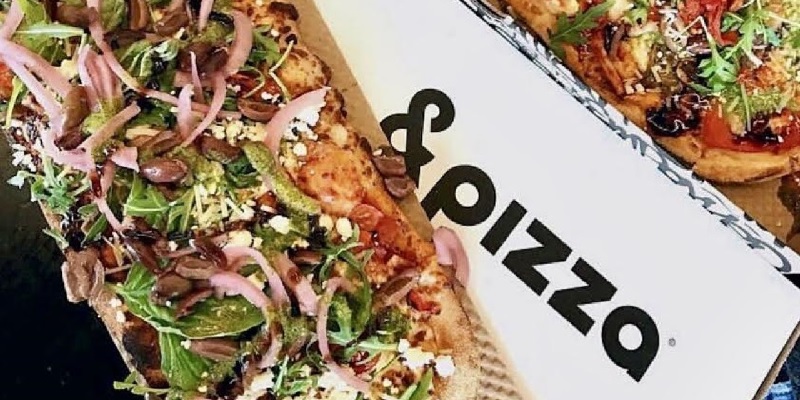 &pizza now has an offer for a free $5 credit when you get their app with a referral code. Plus, you'll even receive a $5 credit bonus for each person that you've referred towards the app. Check out other referral promotions here.
With &pizza, they are a fast-casual pizza restaurant chain that has a customizable, personal, oblong-shaped pizza. Their app will allow you to order ahead of time, earn rewards, and do more.
Check out other bonuses from Uber Eats, Grubhub, DoorDash, Postmates.
Read below for more information on &pizza and their recent bonuses.
&pizza App $5 Welcome Bonus
Receive $5 in free credit when you use a referral code to get the &pizza app. Just put your information in and make a new account. You can use your bonus credit for your first &pizza app order.
Feel free to leave your referral link down in the comments section below.
(Visit &pizza for more information)
&pizza App $5 Referral Credits
Get a free $5 credit for each person that uses your personal referral code to download the &pizza app. Then, they must spend a minimum of $5 on the app. Every one of your referrals will also receive a $5 welcome bonus as well.
There is not a limitation on the amount of people you're able to invite, or the amount of referral credits you can gain.
&pizza App Features
The &pizza app will enable you to:
Order ahead of time, skip the line, pay and pick up
Pay in-shop orders by scanning your QR code
Gain 10 points for every $1 you've spent
Redeem your points towards: pies, drinks, sweets, swag, events, etc
Then, unlock extra rewards perks when you meet the spending tiers:
Tier
Minimum Spend
Perks
Troublemaker
$100
1 free birthday pizza & 1 craft soda
Rebel
$500
2 free birthday pizzas & 2 craft sodas
Maverick
$1,500
In-house birthday party for you +10 friends
Black & white photoshoot
Tattoo (optional)
Access to Everything &pizza
Conclusion
If you love &pizza, just download their app and receive a free $5 credit now! Plus, you'll be able to earn rewards whenever you make an order at &pizza.