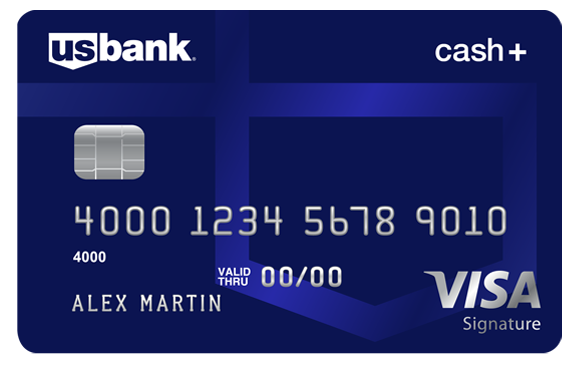 The U.S. Bank Cash+™ Visa Signature® Card features a generous cash back program that includes three tiers of cash back — 5%, 2% unlimited, and 1% unlimited. You can designate two categories of your liking for the 5% and 2% tiers. For the 1% tier, that will cover all other eligible purchases.
Similar cards offer 5% cash back in rotating bonus categories up to a quarterly spending cap. However, these categories are determined by the issuer. The U.S. Bank Cash card gives you the freedom to select your own categories for the 5% and 2% tiers.
New cardholders can earn a $150 bonus after you spend $500 in eligible net purchases in the first 90 days of account opening.
The U.S. Bank Cash+ card is great for any budget, as it does not have an annual fee. Just keep up spending in the categories you select. There's no limit to how much you can earn in the long run.
Though, this card doesn't have the simplest rewards structure, if you favor the ability to choose and high rewards-earning potential on everyday spending, you should consider checking it out.
U.S. Bank Cash+ Visa Signature Card Summary


The U.S. Bank Cash+TM Visa Signature® Card offers new cardmembers a $150 bonus after spending $500 in eligible net purchases in the first 90 days of account opening.

You'll be able to earn 5% cash back on your first $2,000 in eligible net purchases each quarter on the combined two categories you choose. In addition, 2% cash back on your choice of one everyday category, like gas stations or grocery stores; 1% cash back on all other eligible net purchases. All with no limit on total cash back you can earn.

This card comes with no annual fee.


Earning Cash Back
This card has a three-tiered cash back program.
Earn 5% cash back on eligible purchases, up to $2,000 in combined spending per quarter ($10,000 max spending per year) on 2 cash back categories of your choice. These categories include gym and fitness centers, restaurants, grocery stores, department stores, and more.
Then, earn an unlimited 2% cash back on eligible purchases on an additional cash back category.
All other eligible purchases earn an unlimited 1% cash back.
There's no limit to how much you can earn. Take note that unredeemed cash back rewards expire 36 months after the billing cycle during which they're earned. Category options are subject to change quarterly. You must register for your chosen categories on a quarterly basis.
Redeeming Cash Back
Redeem your accumulated cash back for statement credit, bank account deposits, or for a U.S. Bank Rewards Card (gift card).
You can redeem rewards at any amount, unless you're redeeming for a gift card. These Visa gift cards require a $20 minimum redemption, and must be made in $5 increments.
Cardholder Perks
As part of the Visa Signature program, the U.S. Bank Cash+ card has some useful perks you can use to your leisure:
Complimentary Rental Car Insurance: Get complimentary rental car coverage (loss and damage) for rentals paid in full with your U.S. Bank Cash+ card.
Retail Protection: Get reimbursement after certain your purchases are damaged or stolen, subject to limitations and restrictions. Read the account disclosures for more details.
24/7 Concierge Service: Enjoy this benefit to make complicated restaurant, entertainment, or travel reservations in unfamiliar places easier, even where you don't speak the language.
Conclusion
Get your hands on a U.S. Bank Cash+™ Visa Signature® Card to earn up to 5% cash back on spending categories of your choice. The categories aren't set in stone, so you'll have to choose from a list of categories U.S. Bank offers you. Though, if you feel like you don't get the most out of the category you've selected, don't worry. You always have the opportunity to choose a new one each quarter.
U.S. Bank issues several credit cards. If you prefer to earn flexible currency you can redeem for gift cards, travel, general merchandise, and other options, you may prefer one of their FlexPerks cards. Whatever you choose, you'll enjoy great service and perks from U.S. Bank. However, if you're looking for another credit card issuer or something better that fits your needs, you can check out our complete list of Credit Card Promotions today!
Learn more about this card and its features here.
The editorial content on this page is not provided by any of the companies mentioned, and has not been reviewed, approved or otherwise endorsed by any of these entities. Opinions expressed here are author's alone.