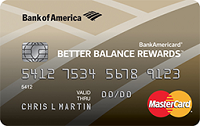 Seems like moves are on the way in the Bank of America department, and it's not necessarily good moves either. Bank of America discontinued the Better Balance Rewards Card on the premise that when you visit the Better Balance Rewards card page, you're directed to the generic Bank of America card selection page.
On top of discontinuing the card, they will be integrating a new card simply coined the "BankAmericard" which offers low interest, 0% APR for the first 15 months as well as 0% Intro balance transfer fee for the first 60 days your account is open and free access to FICO.
Editor's Note: It's likely that most current cardholders of the previous card will be sent the BankAmericard Low Interest Card, however, at this moment, we'll just have to wait and see. If you have any intel, we'd really appreciate it if you let us know in the comment section below!

Alternative Credit Card Bonuses:
Bank of America Discontinued Better Balance Rewards Summary:
BankAmericard is discontinuing the Better Balance Rewards and replacing it with the "BankAmericard"

Previous application link is now redirected to the front page of credit cards.
BankAmericard Card Features:
0% Intro APR for 15 billing cycles for purchases, and any balance transfers made in the first 60 days of opening your account. After that, a Variable APR that's currently 12.74% – 22.74% will apply.
$0 Intro balance transfer fee for the first 60 days your account is open. After that, the fee for future balance transfers is 3% (min. $10).
No Penalty APR. Paying late won't automatically raise your interest rate (APR). Other account pricing and terms apply.
Access your FICO® Score for free within Online Banking or your Mobile Banking app
Conclusion:
The Better Balance Credit Card from Bank of America was a prominent card for those that wanted time to pay off their balance over time. Just recently however, the card was discontinued and will be replaced with what is believed to be the "Bank Amerficard." Only way I can really describe the new card is useless, or a cookie-cutter Chase Slate Card to say the least. It's currently unknown just what happens to current cardholders, if you have any intel, we'd really appreciate letting us know in the comment section.  Otherwise, find out which card is fit for you by checking out our complete list of Credit Card Promotions today!