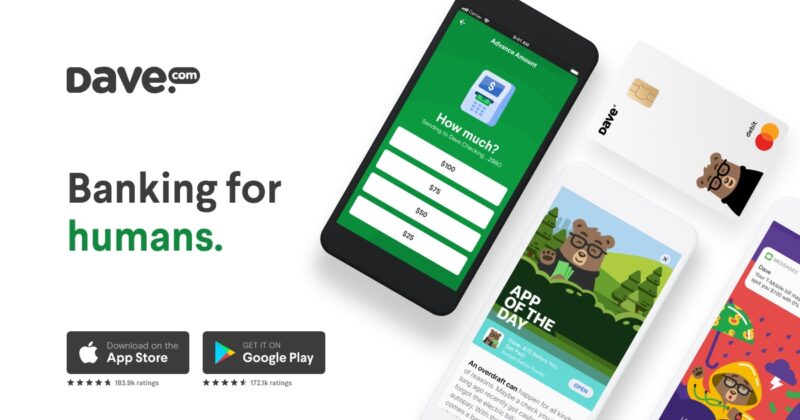 Dave is giving new members a $5 cash bonus when they sign-up for a new account. Then they can earn an additional $5 cash bonus for every person who uses their invite link to claim their reward. See more referral bonuses.
Dave is here to help you improve your financial health with their breakthrough financial tools. Just sign up to start balancing your budget today. Continue reading below to learn more about Dave and what their app offers.
Find more bank bonuses to find other offers from popular banks like Chase Bank, Discover Bank, TD Bank, Huntington Bank, HSBC Bank and many more.
Dave Banking App $5 Welcome Bonus

Earn a $5 cash bonus when you use an existing member's invited link to open a new Dace account. No minimum deposit is required and your reward will post within 24 hours of account approval.
This offer is valid for new Dave members only. If you have an existing account with Dave, leave your invite link below for people to use!
Dave Get $5, Give $5 Referral Program

You can start earning $5 cash bonus for each qualifying referrals that uses your link to open a new Dave account. Plus they also earn a $5 cash bonus upon account opening.
To qualify for the referral bonus:
You must have a Dave spending account in good standing.
Your referral must be new to Dave.
The reward will post to your Dave account within 24 hours after your referral satisfies all the criteria. Earn a maximum of $25 in referral bonuses.
Read more about their referral program here.
---
Dace Banking App Features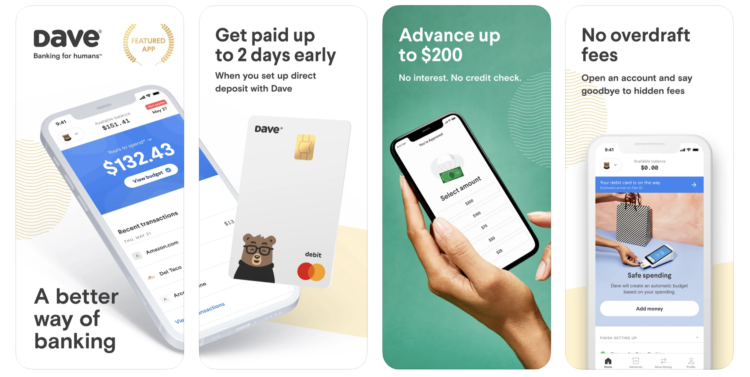 When you sign up and start balancing your budget. You can even get an instant $100 advance to cover daily expenses, search for local side hustles, and access our easy-to-use automatic budgeting tool right from the app.
Dave is here to help you avoid overdraft fees, they'll notify you when your account balance is low, plus they let your take out cash advances to help cover expenses in the near future.
To use the Dave app, you must have a steady paycheck that you direct deposit into a bank account, such as your checking account. Plus, you must be able to show that your bills don't eat up your entire paycheck and you have some extra money left over each month.
Additional Dave features include:
No credit checks
FDIC-insured spending account with debit card
Paychecks up to 2 days early
Budgeting tools
Credit-building, by reporting rent & utility payments (normally $100/year)
Income-generating side gigs in your area
---
Dave Banking App Fees
Dave charges a $1 monthly fee to use their app which is deducted from your linked bank account. But you can earn free months by making purchases at certain businesses.
Dave Banking guarantees no hidden fees, no minimum balance fees, and no overdraft fees. Plus, you get access to over 30,000 fee-free ATMs with Money Pass.
Conclusion
Dave is great for people who are looking for a simple planning tool that helps you organize upcoming and recurring expenses—such as rent, utilities, and even trips to your favorite restaurants and local shops.
If you have a steady paycheck you might want to consider Dave! You can also check out Chime, there are no monthly fees, no minimum balances, fees , no over draft fess and no foreign transaction fees.