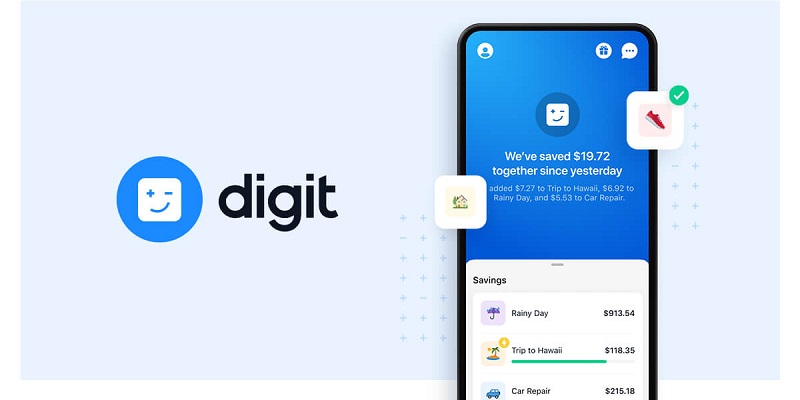 Digit.co is offering a $5 cash bonus to all new members that sign up. You can also take part in their Give $5, Get $5 referral program for more ways to earn $5 cash bonuses.
For more on information on Digit.co and their current offers, keep reading. See more referral promotions here.
---
Digit.co $5 Sign-Up Bonus
Digit is an app that analyzes your spending and automatically transfers the perfect amount every few days from your checking account to your Digit savings.
You can a earn a $5 cash bonus when you register for a Digit account using the referral link, connect your bank account and complete an autosave. You must be a new member to qualify.
---
Digit Give $5, Get $5 Referrals
On top of a sign up bonus you can also earn a $5 cash bonus for every friend that signs up with your unique referral link, connects their checking account and makes their first automatic save.
Everyone you refer will also earn a $5 cash bonus for signing up. All you need to do is find your referral link in the Rewards section of the app or by logging into your Digit online account.
---
Digit Features
When you open a new Digit account, there's no account minimum and you will earn a 0.1% savings bonus every three months. Digit will also reimburse overdraft fees if the app accidentally saves too much. They provide the following features to all account holders:
Helps you reach your financial goals by connecting to your checking account, analyzing their income and spending, and making smart money choices.
Automatically moves their money out of reach to a savings account.
Prevents overdrafts and fees by automatically moving money back to their checking account if it ever drops below the balance they set.
FDIC-insured accounts.
Helps you save faster, pay bills automatically and eliminate debt.
Digit helps users save an average of over $2,000 per year and costs just $5 every month.
---
How Digit Works
Digit helps you save money passively. After signing up for Digit and connecting your bank account, share what you're trying to save for. Digit can help you pay off your credit cards, budget for your next vacation or just help you save money for when you really need it.
They use sophisticated algorithms to learn how you spend to know when it's ok to save, and when to take a break. You don't have to change your lifestyle or worry about savings since Digit will essentially do it for you.
---
Conclusion
Saving money can be hard so sign up for Digit to help you save the way you want to!
Additionally, You might also be interested in
Qapital
and
Acorns
which are also great apps for saving money.