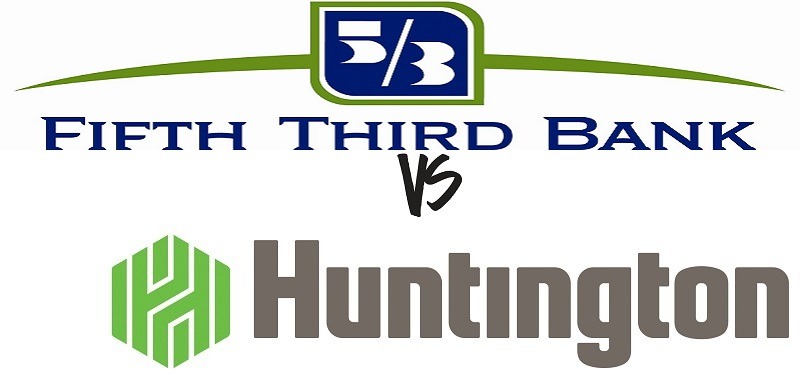 Located in the Midwestern states, Huntington Bank offers a vast array of account options (both personal and business) packed full of benefits and features.
With nearly 1,000 branches and over 1,800 ATMs, you are able to take advantage of fantastic interest-bearing accounts as well!
However, how does Huntington compare to Fifth Third Bank?
Fifth Third Bank has over 1,300 branches across the Midwest and Southwest. Promotional CD offers a high APY for terms of up to 27 months with a $5,000 minimum opening deposit. To learn more, be sure to continue reading for an in-depth side-by-side comparison.
Huntington Bank
Fifth Third Bank
Locations
Nearly 1,000 branches

(Locator)

1,300 branches, including 100 Bank Mart® locations across the country

(Locator)

ATMs
Over 1,800 ATMs
Allpoint® and 7-Eleven® network of ATMs. More than 50,000 fee-free ATMs nationwide.
Savings
3.6/5
2/5
CD
4/5
4/5
Checking
4.6/5
3/5
Money Market
3/5
2.5/5
Customer Service
5/5
4/5
Mobile App
3.6/5
4.5/5
Pros
-Free checking option
-24-hr grace for overdrafts
-All day deposit
-24-hr customer service
-Free Express Checking
-Free student checking
-Promo CD with high APY
Cons
-Limited branches
-Low savings APY
-Higher balance requirements
-Low savings APY
-Limited branches
Bottom Line
Huntington offers great account benefits and offers a great free checking account option.
Fifth Third Bank offers high balance requirements as well as good checking options.
Huntington Bank Bonuses
Huntington 25 Checking accountHuntington 5 Checking accountHuntington Asterisk-Free Checking accountHuntington Money Market AccountHuntington Unlimited Plus Business Checking AccountHuntington Unlimited Business Checking AccountHuntington Business Checking 100 Account
Conclusion
Whether you prefer Huntington or Fifth Third Bank, you will be able to take advantage of a wide variety of account services and benefits catered to your banking needs.
In short, Huntington has great checking and savings accounts to choose from. Additionally, their customer service is definitely noteworthy.
Comparatively, Fifth Third Bank has high balance requirements but offers good checking options.
For more variety of options, see our list of the best bank account bonuses & savings account offers.