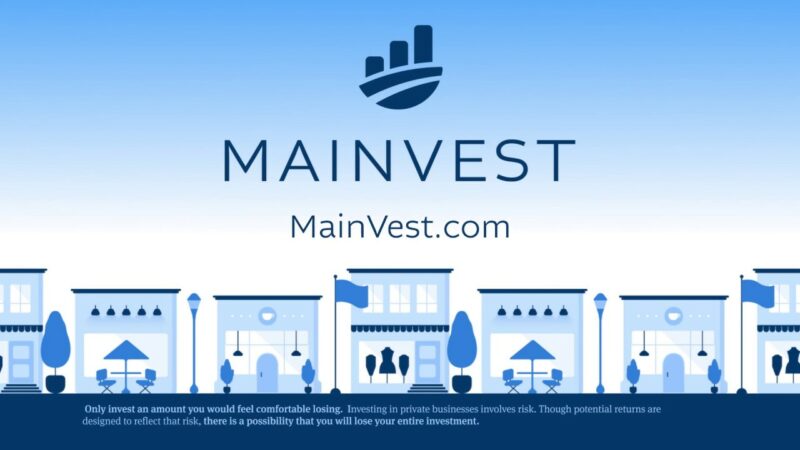 Mainvest is offering new investors a $20 cash bonus. Earn an additional $20 cash bonus for every new investor that you refer plus up to a $5,000 cash bonus for every new business you refer. Find more referral bonuses here. 
MainVest, Inc. is an investment crowdfunding platform focused on connecting small businesses looking for growth/startup capital with local investors in their community. Entrepreneurs can have access to the capital, local stakeholders, and infrastructure needed to build successful businesses, create employment opportunities, and help communities grow.
Continue reading below to learn more about Mainvest.
See our full list of the best investment bonuses from J.P. Morgan, Ally Invest, BlockFi, Betterment, and more!
Mainvest $20 New Investor Bonus

Earn a $20 bonus when you use an eligible referral link to sign up for a Mainvest investor account and connect your bank account. No investment is required and available to new investors only.
Mainvest $20/$5,000 Referral Bonuses
Receive a $20 cash bonus for every new investor that your refer who opens a Mainvest account and up to $5,000 cash bonus for every new business you refer that launches a campaign. Please note that the amount of new business referral bonus depends on how much they set out to raise.
---
Mainvest For Investors
| | |
| --- | --- |
| Investment Options | Brick-and-mortar small businesses |
| Minimum Investment | $100 |
| Investment Term | Varies, typically 5 – 10 years |
| Investor Fee | None |
| Target Returns | 10% to 25% |
| Open To | All Investors |
You can start investing in small brick-and-mortar businesses, like restaurants, salons, yoga studios, and even cannabis facilities. Just have $100 ready to invest.
Most investments offered are int he form of revenue-sharing notes, it works similarly to an unsecured loan but are repaid based on business revenue. You'll receive a percentage of business revenue every quarter until the investment is reached, with an agreement to pay the entire investment back by a certain date.
All businesses listed goes through a vetting process and only 5% of companies are accepted.
Mainvest investors also benefit from:
A quick and easy sign-up process.
In-depth data for all listed businesses, including their SEC filings, balance sheets, income statements, and financial projections.
Direct contact with any listed businesses for further questions, if any.
The platform does not charge investors any fees.
---
Mainvest fo Businesses

If you're finding a way to fund your business without getting a loan from a bank, Mainvest will help. You can raise anywhere between $20,000 to $1 million from individuals within the community. Mainvest doesn't require a minimum credit score or credit check, nor any personal guarantees or collateral.
Once you are vetted and approved, Mainvest will help you with:
SEC filing
Building your profile
Repayments
Updating investors
Digital marketing
Press strategy
Pitches
When paying back your investors, you share a fixed percentage of your revenue every quarter. The exact percentage, and all other terms are up to you.
It's free to get started, you only pay when you listing is funded. Mainvest charges businesses 6% of the amount raised.
Conclusion
Mainvest is a website where you can browse opportunities to lend money to small businesses. Anyone can invest, as long as you're 18 or older and have a U.S. bank account.