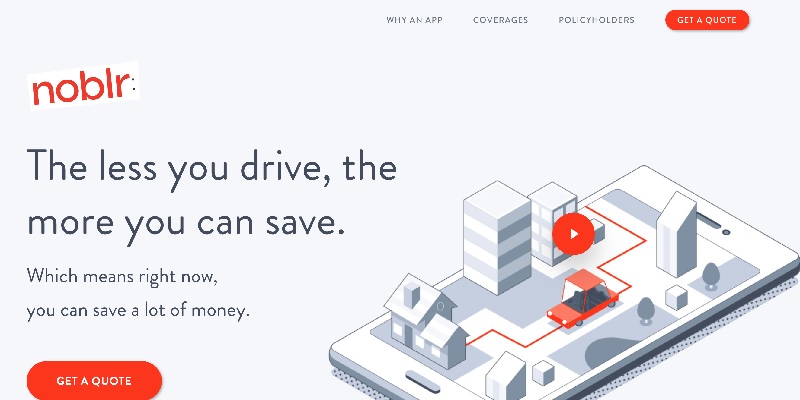 Noblr now has a $25 Amazon Gift Card when you finish a free quote. Plus, you'll receive a $25 Amazon gift card for each person that you've referred towards this smart car insurance service. Check out other referral bonuses here.
If you're good at driving, you could be paying more than you want for your auto insurance. Noblr sees this, and provides good drivers with better rates based on: when, where, how well, and how much you drive. Being a great driver will save you no more than 51% on your car insurance.
Read below for more information on Noblr and what they have to offer.
Noblr $25 Welcome Bonus
Receive a $25 Amazon gift card when you use a referral code and finish a free quote from Noblr. There won't be any obligation to buy Noblr insurance to be eligible for this offer. Then, you'll receive your bonus in about 4 weeks after you've finished their quote.
This bonus will be eligible in: Arizona, Colorado, Ohio, and Texas. Even though Noblr is available in New Mexico, this offer will not be applied here. Visit their website for any updates on their locations.
(Visit for more information)
Noblr $25 Referral Rewards
Give $25, get $25 for every referral you've made towards Noblr. You don't have to buy Noblr insurance to partake in this offer. This is how it will work:
Visit the Noblr referral webpage.
Put in your information to get your personal referral code.
Get a $25 Amazon gift card when your friends receive a free quote with your own referral link.
You will get your bonus in about 4 weeks. Then, you'll be able to gain no more than $1,000 in referral gift cards. But, this offer will not work if you reside in New Mexico.
How Noblr Works
To sign up with Noblr, you must provide your personal information, car details, and driving habits. Then, Noblr will figure out a fixed amount that you'll pay each month. This amount will vary depending on your car, driving history, and rewards you might be eligible for (owning a home, have no accidents).
Plus, they will have a variable amount that they predict. However, this number will be based on how you drive that month. You'll have to accelerate and brake with this in mind if you want to save money. Avoid texting while you drive, take a safe route, try not to drive late at night, and drive less.
Everyone that's covered by Noblr will need the Noblr app for this offer to work (more on that below).
Noblr Features
This is a smart car insurance for smart, safe, and good drivers. You'll be able to save money based on your driving habits and how much you drive. Some of their perks are:
The Noblr App. It's an all-in-one copilot that scores how you drive to help you make better, safer, money-saving choices. It will measure how hard you accelerate and brake, if you are using your phone, and if you're driving on a highway or a street. Plus, you can look at your insurance card, manage your account, submit claims, and get in touch with the Member Concierge crew.
Driver Scores. This will be measured on a trip-by-trip basis in the app. The better you drive, the better rates you get.
Rewards. Gain rewards when you get a policy with them. Then, pay your full fixed premium and renew your policy.
Flexible Coverage. Noblr will provide easy, understandable coverage. You'll be able to tinker the details to how you want. The car insurance coverage will include uninsured motorist bodily injury and personal injury protection, plus roadside assistance.
Conclusion
If you're a great driver, Noblr will most likely provide better rates than what you're paying at the moment. Just answer a few questions to receive a free quote, then get a $25 Amazon Gift Card. For a similar insurance service, check out Root. They also have a $25 welcome offer and a $25 referral bonus as well.