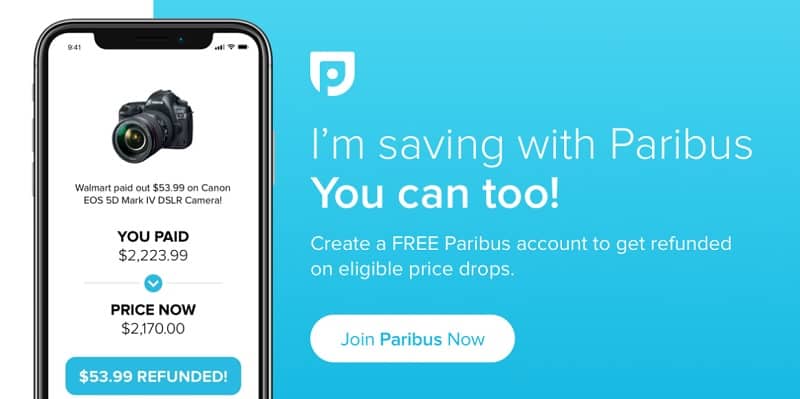 One of the worst feelings is when you purchase an item just to later find out it's gone on sale later that week.
There are applications that monitors your online purchases and alerts you when there's a price drop. However, that still doesn't help if you've already bought the item before the better sale comes up.
In case you didn't know, you can often request a price adjustment refund once the item goes on sale. This can generally be done within a certain amount of days (7 – 10 days after purchase), but it's very time consuming and takes time to follow up.
Fortunately, Pribus is here to save the day. They'll do all the hard work for you so that you get your price adjustment refund at just the click of a button.
If you're already interested, be sure to sign up today!
How Does Paribus Work?
By entering your email, they'll silently search for past orders that you've made.
If they see you've purchased a product, they'll continually monitor to see if that purchased item later gets a price reduction. They'll quickly notify you and ask if you'd like to initiate the process of getting your price adjustment refund. Refunds can be made either in the form of original payment or as store credit.
Paribus will do all the dirty work for you while you sit back and wait for your potential refund. If you run into any issues, Pribus can help you sort it out. They constantly monitor big retailers like Target, Kohl's, Gap, etc. to ensure they don't let any policy changes slip by them.
In addition, they'll monitor the delivery status of your package. If it arrives later than the guaranteed date, they'll automatically start the process with that retailer.
They now also track Hotel bookings. Once you book a hotel online, they'll keep an eye out for a lower rate and help you rebook to get money back. They monitor hotel bookings made through Expedia, Priceline, Booking.com, Hilton, Marriott, and Hotels.com.
How To Sign Up
The sign up process is simple, and now thanks to some of their changes, it's completely free!
Start off by navigating to Paribus. You can register by entering your email. It's important to note that Paribus requires an email that you make all your purchases through. They'll scan your emails for any receipts received after making a purchase.
If you're worried about your privacy, create a new email specifically designated for online receipts. This will not only help relieve you of ay worry about your privacy, but can also help you stay organized.
Best Features
The best part of Paribus is their efficiency and automation. Everything is automated and won't be done without authorization from you, the client. They constantly monitor for price changes to ensure that not a single price drop gets past them.
If you've ever tried to get a refund online, you understand the annoyance of having to wait and monitor your emails for any responses. Paribus steps in and does it all for you so you can go out and enjoy your time without having to worry about your refund.
Drawbacks
In all honesty, there aren't any drawbacks to report.
In the past, people had complained about their 25% success fee, but recent changes made it so that it's completely free and you receive your full refund.
Conclusion
Paribus is an amazing intuitive application made by a pair of two brilliant minds. If you had any doubts about their legitimacy, it's worth noting that Paribus has been acquired by Capital One, the 8th largest bank in the US and has over 700,000 users.
Trust us when we say you don't want to deal with online refunds. Let Paribus take the wheel and do all the dirty work while you get to sit back and enjoy the ride.
On top of getting savings through price adjustment refunds, consider diving into the world of shopping portals where you can get cash back on purchases you otherwise wouldn't. Check out our list of the Best Shopping Portals available for you. Be sure to also check out our list of the Best Credit Cards that you can combine with all these application to get your the biggest savings.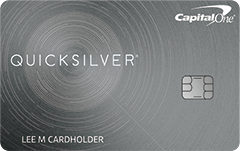 The Capital One Quicksilver Cash Rewards Card offers $200 Cash Back after spending $500 on purchases within 3 months from account opening.

You'll be able to earn 1.5% Cash Back on every purchase, every day with no rotating categories or sign-ups needed to earn cash rewards.

This card comes with no annual fee and no foreign transaction fees which makes this card a viable option for your go-to everyday card.