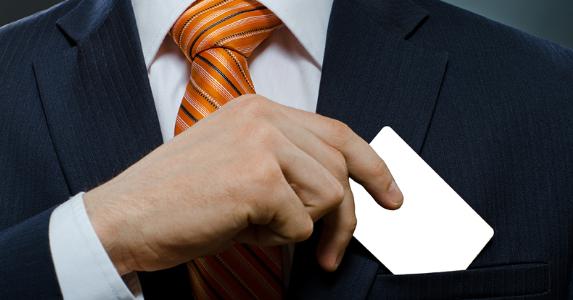 When I was first getting into the world of credit cards, I could certainly say I was naive in the process. I watched a celebrity "flex" his Black Centurion Card at a bar in Vegas. It seemed like necks were turning, possibly from the admiration that unveils towards such a luxurious card (or they were trying to catch the digits on the front and back), however, such an aesthetic piece of elaborately induced metal with attributes that can easily lure just about anyone is just way to expensive for my budget.
Yes, I was contemplating a bootleg of the Centurion card; something black, metal, and incorporates the prestige in a meticulous finish. However, at the time, perks and benefits didn't attract me as much as the aesthetics of the card art did, which led me to get one of those low-key "Platinum Rewards" Cards with no real key benefits attached. So, with that story out of the way, this post will hopefully lead you towards picking not only an aesthetic credit card, but a useful one as well.
---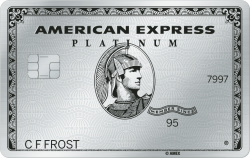 The very thought of luxury can be correlated with American Express and especially their Platinum Card® which is certainly one of the more easier cards for the eyes to digest at. It's slick, intricate designs relay consistently across every panel of the card, not to mention that the card also weighs a good 18g, which is an essential requirement for the ultimate premium card.
Checking out the cards perks, this card earns 5X Points for flights, travel and hotels booked directly on AmexTravel on top of key benefits including a monthly $15 in uber credit, $200 in airlines credit, access to Amex's most premium of lounges attached and so much more!
Platinum Card from American Express Summary:
Maximum Bonus: 60,000 Bonus Points
Spending Requirement: Must spend $5,000 within 3 months of account opening.
Annual Fee: $550
Bonus Worth: The 60000 Bonus Points is worth about $1,080 depending on how much you value MR points.
---
A beautiful deep sea-like blue rendition entranced by an utterly creative pattern that may very well incite the epitome of travel for the Chase Sapphire Preferred® Card is what landed such a card so highly on our list! Aesthetic, rewarding and affordable with a 2X rewards on all travel purchases, 20% discounts on travel booking through Ultimate Rewards and a variety of travel partners (1:1 transfer ratio). Not to mention that this card also has a $95 annual fee that is waived for the first year.
Chase Sapphire Preferred Card Summary:
Maximum Bonus: 50,000 bonus points + Additional 5,000 points
Spending Requirement: You must spend $4,000 on purchases in the first 3 months from account opening, and add an authorized user (no annual fee) within the first 3 months and they make a purchase.
Annual Fee: $0 introductory annual fee for the first year ($95 thereafter)
Bonus Worth: The 50K points alone is worth $625 towards airfare/hotel.
---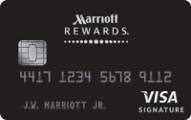 The Marriott Rewards® Premier Credit Card, engulfed in a simple-black card art, ravished on a piece of metal that weighs 13 grams minimum could perhaps be the "neck-turning" card of your choice at a low $85 annual fee. I would consider this card to be the 'Black Chase Sapphire Preferred' that you can only redeem on Marriott Properties.
With this card, you should expect to earn 1 Free Night Stay at a Category 1-5 hotel every year after your account anniversary date, 5 points per $1 spent at participating Marriott Rewards & SPG hotels, 2 points per $1 spent on airline tickets purchased directly with the airlines, at car rental agencies & restaurants and you'll receive automatic Marriott Rewards Elite Status
Chase Marriott Rewards Premier Credit Card Summary:
Maximum Bonus: 87,500 bonus points
Spending Requirement: Spend at least $3,000 within 3 months and add an authorized user to earn 7.5K points
Annual Fee: $85
Expiration Date: None
Additional Advice: There's no limit to the number of points you can earn, so earn as many as you wish!
---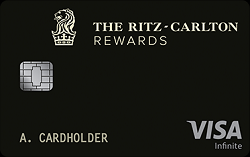 The Ritz-Carlton Rewards VISA Infinite Credit Card, the epitome of luxury and like the Marriott Card, this card is purely black layered over metal weighing a good 28 g! That's double the weight of all the cards I mentioned previously showing just how much power you feel even holding the card.
With this card, you'll be earning 5 points per $1 spent at Ritz-Carlton & partner hotel stays and 2x points on travel & restaurants. It's no surprise that the Ritz Carlton VISA Infinite is specifically tailored towards Ritz-Carlton guests with three upgrades to Ritz-Carlton Club level each year as well as $100 in hotel credit on paid stays of two nights ore more. Let's not forget the $300 annual travel credit towards baggage fees, Global Entry fees, airport lounge access, seat upgrades and more!
The Ritz-Carlton Rewards Credit Card Summary:
Maximum Bonus: 2 complimentary nights
Spending Requirement:  Must spend $5,000 within first 3 months
Annual Fee: $450
Bonus Worth: Roughly $1000
Expiration Date: None
Additional Advice: Your points can be redeemed for room upgrades, hotel stays, etc or converted into airline miles transferable to 33 airline partners.
---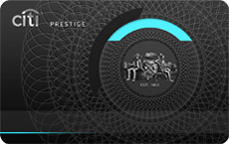 The Citi Prestige® Card is considerably one of the most aesthetic cards to date. Such an intricate design that remains consistently throughout the card on top of the design being utterly creative and inducing the mere symbolism of luxury for it's cardholders.
With this card, you should expect 3X the points on Air Travel and Hotel stays, and 2X points on Dining and Entertainment purposes. Not only that, but you'll be able to take advantage of first class benefits ranging from convenient complimentary 4th night hotel stays and $250 in Air Travel Credit annually
Citi Prestige® Card Bonus Summary:
Maximum Bonus: 75,000 Bonus Points
Spending Requirement: You must spend $7,500 within 3 months of account opening.
Annual Fee: $450
Bonus Worth: The 75,000 Bonus Points will be worth $937 via Citi's Travel Portal after the updates are applied.
---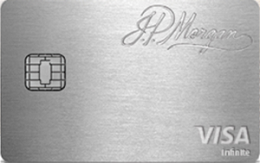 The J.P. Morgan Reserve Card is available for Chase Private Clients. With a slick-simplistic shiny metal rendition weighing in at a good 27g of Palladium (rare-metal) worth more than $600 an ounce on top of traces of gold and laser engravings.
Here's what you should expect from this card's features: 3x the points on travel & dining purchases, $300 annual travel credit for travel purchases, 1:1 Transfer ratio, Complimentary lounge access at over 900+ lounges and so much more! Perks are practically the same as the Chase Sapphire Reserve, but you get an insanely more aesthetic piece of metal and recognition with Chase.
J.P Morgan Reserve Card Summary:
Maximum Bonus: Unknown
Spending Requirement: Unknown
Annual Fee: $450
---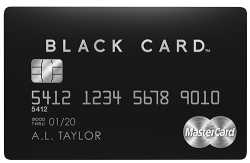 The Black Card MasterCard owns up to it's Stainless Steel/Carbon Card counterpart with a simplistic black-engulfed design that would never get old. Not only is it an attractive card to get your hands on, but you'll also be getting Industry-leading rewards, double the points redeemed fro airfare, $100 Annual Airlines Credit, Members-exclusive LUXURY MAGAZINE and so much more.
Black Card MasterCard Summary:
Maximum Bonus: None
Spending Requirement: None
Annual Fee: $495
Bonus Worth: None
---
Conclusion:
Given our list, you should get a sense of what the most aesthetic cards are in the market as well as their respective perks and benefits. If a card did not have suitable features, it wouldn't be added to our list of "Premium Metal Credit Cards." Each of these cards listed would satisfy the condition that they do leave an overall lasting impression and some of the cards mentioned doesn't have to have a $450+ annual fee to achieve that, so I urge you BCS Readers give these cards some thought. If you have any recommendations you'd like to add to our list, we'd really appreciate it! Check out our complete list of Credit Card Promotions for all of your Credit Card needs!