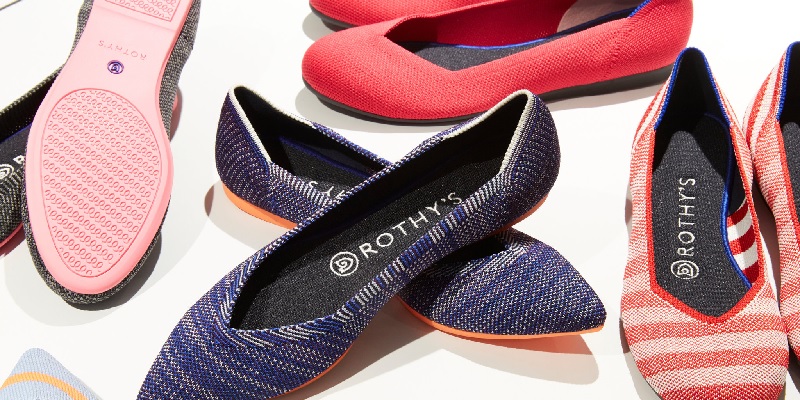 Rothy's now has a $20 discount for new customers. Additionally, you'll be able to give your friends $20 off and you can earn a $20 bonus credit for each referral you make. Check out more referral bonuses here.
They are partnered with cashback shopping sites like Rakuten.
This is more than just your pretty work shoes, Rothy's flats are comfortable, stylish, and sustainable. They are made from 100% post-consumer water bottles and other recyclables. Additionally, you'll be able to wash them in the machine as well. Read below for more information on what Rothy's has to offer.
Rothy's $20 Coupon Code
Earn a $2o coupon code for your first Rothy's order of at least $30. Just use a referral link, put in your email, and click "Continue." This discount is available for new customers only. Furthermore, this referral will expire after 30 days, so be sure to use it fast.
(Visit for more information)
Rothy's Give $20, Get $20 Referrals
Refer your friends to shop at Rothy's with a $20 discount, and you'll earn a $20 bonus credit for each person that gets their coupon code with your referral link. Then, they must make their first Rothy's order of $3o or more. Additionally, your referral credit is good for future Rothy's orders of $30 or more. To partake in this bonus:
Visit Rothy's Refer-a-Friend webpage.
Send your personal referral link over email or Messenger, or share it anywhere else.
Furthermore, you are limited to 15 reward codes for every 3o days and 100 reward codes altogether. Up to $2,000 in value.
Rothy's Features
Normally, upper parts of Rothy's shoes are made from 100% post-consumer plastic water bottles. They are washed, sterilized, and fused into fiber that will be knitted into yarn. Then, recycled foam is the removable insoles, and rubber soles are carbon free or vegan leather (depends on style). Plus, the adhesives are non-toxic and vegan as well. Their packaging is biodegradable and made from other recyclables as well.
Rothy's shoes come with a seamless construction so you're not uncomfortable or see any hard edges. Plus, they are light and flexible and comes with moisture-wicking to get rid of sweat and rain. Rothy's also offers frees standard shipping and returns for all their orders as well.
Conclusion
When you get a pair of shoes from Rothy's, they are chic, sustainable, comfortable, and machine washable. Earn a $20 coupon code when you use a referral link and start referring friends towards Rothy's.