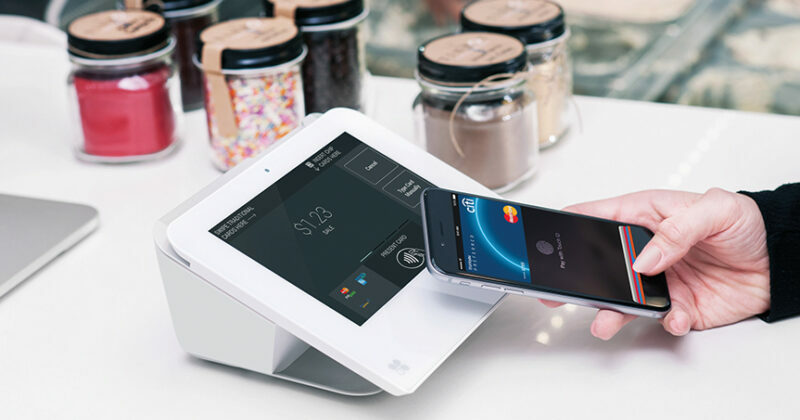 Sam's Club has partnered up with Clover to be a part of their merchant provider division and help deliver service for business owners. Sam's Club Merchant Services help businesses manage their operations through enabling payments at the counter, curbside, online, and much more.
Continue reading below to learn more about Sam's Club Merchant Services and what they can do for your business.
See the Best Credit Card and Merchant service providers
Processing Services
Every product and service offered by Sam's Club Merchant Services are branded by First Data. Sam's Club covers the basics that both retails or eCommerce merchants need for their business. Including:
In-person processing: Payments are accepted in person by using traditional point-of-sale (POS) equipment. Sam's Club offers a variety of compatible terminals and devices for retail processing. Some can do more than process traditional credit and debit cards, they can also process contactless payments and checks too.
Online Processing: Global Gateway from First Data is what will be used for online processing. It hosts checkout and web API options. The hosted checkout works with a wide range o popular shopping carts, it supports all major credit cards.

The web service API lets you or your developer integrate the Global Gateway and customize payment acceptance. You can use it with other programming languages and can also be integrated with a variety of shopping carts.
The web service API, customize payment pages to coordinate with your website's interface. The global gateway API accepts traditional credit cards as well as checks, PayPal, Google Checkout, Amazon Payments and more.

Mobile Device Processing: They also offer  mobile processing with Pogo, a free downloadable app and a card readers for purchase. The readers connect directly to smartphones or tablet for swiped transactions. Please note swiped transactions usually carry lower processing rates than keyed-in transactions.
Phone & Mile Processing: If there is no physical credit card present, you are able to accept payments. It works with a virtual terminal that allows you to process payment from any computer connected to the internet. No special equipment is needed for this processing. Credit cards, debit cards, and checks, and comes with automatic tax calculation, reporting options, and fraud prevention tools. Plus you are able to set up recurring billing and customize receipts.
---
Equipment
Sam's Club Merchant Services offers equipment for sale and for lease. Plus it features from model to model but also has features like check acceptance, wireless connectivity, and integrated PIN pads. You also have your pick of accessory devices, including check readers.
All equipment offered is branded by First Data.
| FEATURES | STATION | MINI | FLEX | FD130 | GO |
| --- | --- | --- | --- | --- | --- |
| Credit & Debit Cards | X | X | – | X | X |
| Gift Cards | X | X | – | X | X |
| Checks | X | X | – | X | X |
| Contactless | – | X | X | X | X |
| EMV | X | X | X | X | X |
| Handheld | – | – | X | – | X |
| Wireless | – | – | X | – | X |
| Peripherals | X | X | – | – | – |
Clover Flex
Clover Station
Clover Mini
Clover Go
FD130
The Clover Flex POS system is a new smart payment and business management device that is the size of your palm. It integrates a printer, a camera and a QR scanner with a powerful touchscreen. Keep the Clover Flex on the counter, or use it on the go with its 3G and WiFi capabilities.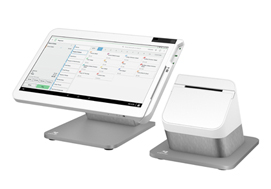 Clover Station is designed to make it easy for merchants by putting everything into one system. It lets you accept payments, tracks inventory, manage employees and more!
However, please note that Clover Stations cannot be reprogammed, so it cannot use the hardware with another processor if ou want to switch from Sam's Club to provider in the future.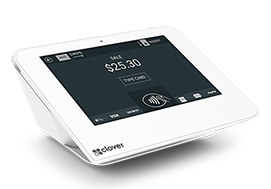 The Clover Mini is ready to use right when you take it out of the box.  It offers many ways to process payments within a small set up.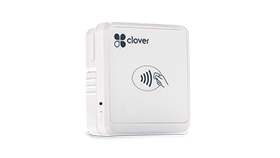 This mobile credit card reader and mobile POS lets your customers pay using their mobile wallet. It's simple, sleep, and pairs with your mobile device through a Bluetooth connection.
This system is a combination POS terminal, printer, PIN pad and contactless and EMV chip reader, this compact unit is the most popular Sam's Club POS systems ever.
---
Customer Satisfaction
Sam's Club Merchant Services offers telephone support 24 hours a day, seven days a week, 365 days a year, provided by First Data through the Clover division. You can also use the live chat feature:
| DAY(S) OF THE WEEK | TIME (EST) |
| --- | --- |
| Monday – Thursday | 8:00am to 9:30pm |
| Friday | 8:00am to 7:30pm |
| Saturday – Sunday | 9:00am to 7:30pm |
If you have a technical problem with a Clover product, the knowledge base should help. However, if you have a more serious issue, you'll most likely want to talk to a company representative. But in advance, First Data currently has a bad reputation regarding its customer service, so prepared to speak to rude representatives.
---
Contract & Closing
Sam's Club Merchant Services offers the same contract as First Data, it comes with a standard term of four years with an automatic renewal clause. Just like other contracts, make sure to go through the document word-for-word before signing on the dotted line. Make sure to note all the fees associated with your account and how to terminate properly.
Conclusion
Since they are both linked, we recommend to do your research on First Data if you're thinking of signing up with Sam's Club Merchant Services. Although they both offer the same thing, Sam's Club Merchant Services is catered to small businesses.
However, if you're a low volume provider, Square is  a great alternative. They are another credit card processing service that offers a variety of solutions for merchants. For diret processing, you can checkout, Chase Payment Solutions.