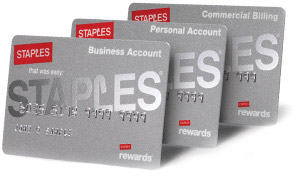 Now, within recent changes towards the Staples Rewards Program that rejected online orders from receiving 5% back in Staple Rewards, however, if you are a Staples Rewards accountholders ( Staples personal account, Staples business account, Staples commercial account – Issued by CitiBank), seems like you will be able to participate in 5% with online purchases.
Recommended Credit Cards:
Staples Account Comparison:
Choose the account that best suits your needs.

Editor's Note: Seems like these accounts won't be staying off your personal credit report.
Staples Credit Card Summary:
Maximum Bonus: Save $50 with $150 minimum purchase or more made within 45 days.
Expiration: 10/28/2017
Requirements: $150 minimum purchase
Additional Terms: Credit may not be used to satisfy any minimum payment due on your account. One credit per account. May not be combined with any other credit offer.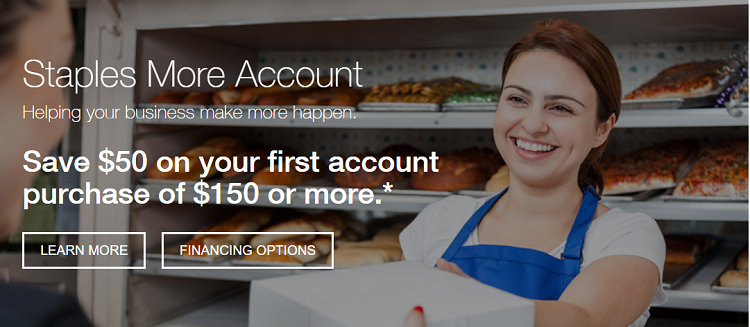 Interest & Financing Perk:
Staples always had this system of catering to businesses and without a doubt, Interest financing really does hit the spot if you often need to financing (pay off) larger purchases over time.
Purchases $299 can pay no interest if paid in full within 6 months
Purchases $499 can pay no interest if paid in full within 12 months
Purchases $799 can pay no interest if paid in full within 18 months
Editor's Note: Standard APR is applicable at:
Personal card: 28.99%
Business card: 14.99% or 19.99% or 23.99%, based on creditworthiness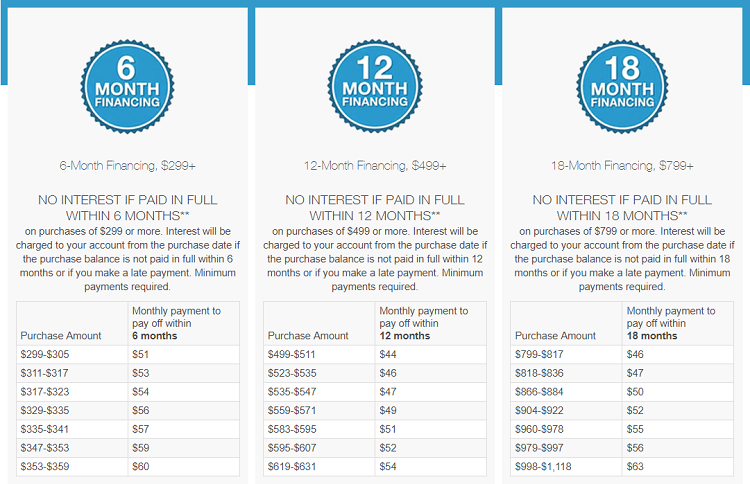 Changes To Staples Rewards Program:
No more rewards earned at all for online purchases.
No more Plus-Tier level.

Base > Premier, used to be Base level (2%) spend $500 > Plus (3%) spend $1k > Premier (5%)

All Staples Rewards members will receive free next-day shipping on orders $49.99 or more.
No more free shipping without a minimum $49.99 spending.
Conclusion:
5% Cash Back and Special Financing Offers sounds pretty great for businesses that knowingly tank larger purchases at Staples. With a Staples More Credit Card Account (Business, Commercial or Personal), a straight dosage of 5% bonus. However, if you need to charge the Staples account to get the 5% reward, you, it wouldn't necessarily be useful. These accounts should really only make sense for those that put a HEFTY spending on Staples goods. Hefty enough to value this method over Chase Ink's 5% at Staples, or SimplyCash® Plus Business Card's 5% Back as well.