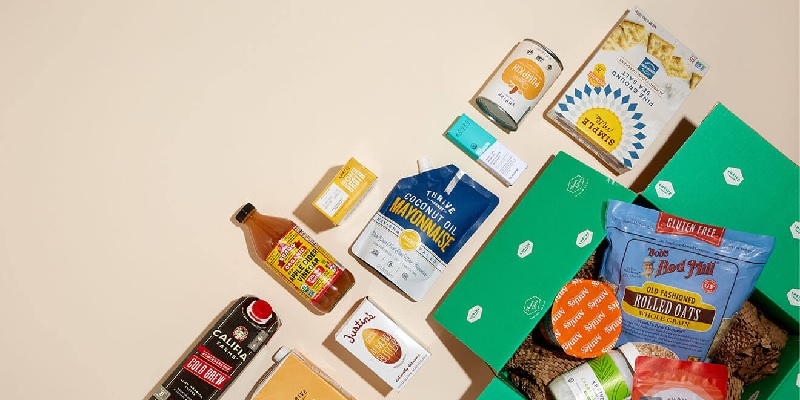 Thrive Market now has an offer of 25% off of your first order and a 30 day free trial membership. You can even get cash back on products, and a $25 bonus in Thrive Cash for every person that you've referred towards this online market.
Make sure that you active a cash back shopping service such as Rakuten when you shop at Thrive Market.
With Thrive Market, it will make having a healthy lifestyle much easier when you have access to more than 5,000 food, home, and beauty items with no more than 50% off the original cost. This membership will have free gifts and guaranteed savings. You are also helping sponsor free Thrive Market access for a smaller price.
Read more about Thrive Market and their recent promotions and deals!
Thrive Market 25% Off First Order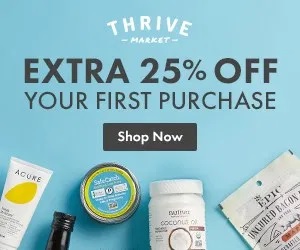 Receive a 25% discount (about $25) on your first Thrive Market purchase when you sign up for this service with this link. Then, your first order will begin your 30-day free trial membership that you can cancel when you want to.
(Visit Thrive Market for more information)
Thrive Market $25 Referral Offer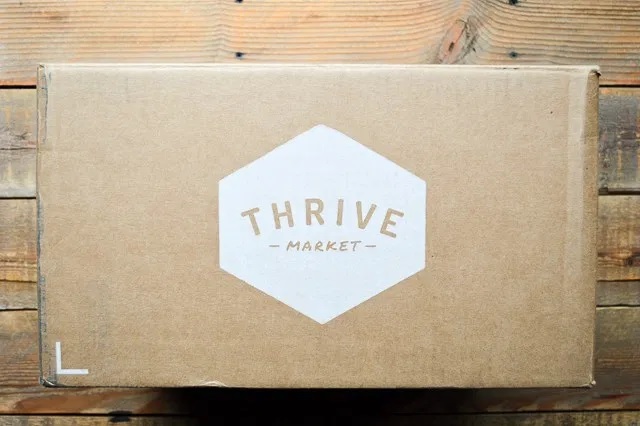 Receive $25 in Thrive Cash for every person that registers for a Thrive Market account with your referral code. Your referrals will even receive 25% off of their first order as well.
There won't be a limitation on the amount of people that you're able to refer. However, you must be a Thrive Market member to qualify for this offer.
Feel free to leave your referral code in the comments section below.
How to Earn the Bonus
Sign into your Thrive Market account.
Then click "Invite Friends"
Copy and share your personal referral code over email or Facebook, or anywhere else.
Get $25 Thrive Cash for every person that signs up to be a paid member with your referral code.
Thrive Market Features
Using Thrive Market, it's an online grocery store that is great at making natural and organic food, home decor, and hygiene products. What makes this market different from other retailer brands is that they have special products that aren't so easy to find anywhere else.
Here are some of Thrive Market's top features:
They have organic and natural brands such as: Bob's Red Mill, Eden Organic, Newman's Own, Simple Organic, Spectrum, etc.
Thrive Market has brands that aren't easy to find elsewhere.
It has its own Thrive Market brand.
They offer more than just food.
You can compare prices that are lower priced rather than in the store.
Get regular coupons and promotions in your email. Ex: 15% off your total order.
Their app makes ordering products very simple.
Orders will be saved onto your account.
Receive cash back for every product (more on that below).
Thrive Cash
The Thrive Market will allow you to get more from your membership with cash back. You will be given "Thrive Cash" when you get your favorite items or when you've referred people.
Thrive Cash that you gain can be used for orders you might make in the future. Your cash back will be immediately applied to your next order when you checkout. One Thrive Cash dollar is equivalent to $1 USD.
Membership Fee
When you sign up for a membership, it will cost about $59.95 a year with free shipping on purchases that are more than $49. Each membership that's been bought, Thrive Market will give a free membership to a family that needs it.
Bottom Line
If you're someone that wants to have a better, healthy lifestyle, and don't have access to retailers that have natural organic products, Thrive Market is a great choice. When you sign up for Thrive Market you'll see that there are some perks that you'll get to live that lifestyle that you wish for. However, if you don't care for those things, then you should consider different delivery services such as Peapod or Shipt.