TOMS is now welcoming new customers with a $20 bonus credit when you make your first order with a referral link. Plus, you'll get an extra $20 store credit for each person that uses your personal referral link to make their first purchase. When you sign up for TOMS Passport Rewards, you'll be able to earn points for shopping on TOMS.om and get other exclusive perks.
TOMS also partners with Rakuten and other cash back shopping services.
Established in 2006, TOMS started as a charitable cause with the objective of giving away new shoes to a child in need for every pair sold. This brand started by making their version of alparatas, comfortable slip-ons that features a classic sense of style. The shoe company has expanded over the years to include a larger variety of footwear like boots and sandals, even sunglasses, apparel, and accessories.
Read below for more information on what they have to offer.
$20 Off Your First TOMS Purchase
Receive a $20 bonus discount on your first TOMS order of at least $75 when you use a referral link to make your purchase. This offer is valid for new customers only.
(Visit for more information)
TOMS Give $20, Get $20 Referral Program
Give your friends $20 off their first order when you invite them to TOMS. Then, you'll receive a $20 store credit for each referral that uses your referral link to make their first purchase of $75 or more. To partake in this offer, visit the TOMS invite page and put in your email.
Feel free to leave your personal referral link down in the comments section below.
TOMS Passport Rewards
TOMS Passport Rewards is the brand's loyalty program. As a member, you'll be able to earn points for shopping on TOMS.com, even as well as various activities like logging into your account, singing up for their email list, connecting on social media, sharing your birthday, and updating your profile. Additionally, you'll be able to redeem the points you gained for: gear, discounts, and perks.
Furthermore, you can enjoy exclusive benefits like: early access to sales, sweepstakes, and more. This will include free shipping for a year after you've reached 350 points.
TOMS One for One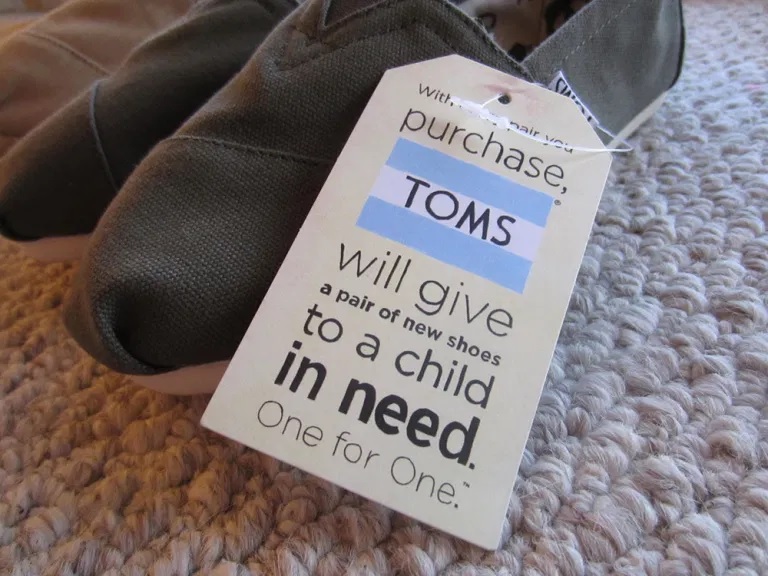 TOMS matches every pair of shoes purchased with a new pair given to a child in need. In their first year, they were able to give 10,000 pairs of shoes, and the one-millionth pair in September 2010. TOMS now donates shoes to over 20 countries and works with charitable partners who incorporates shoes into their health, education, hygiene and community development programs.
TOMS Sustainability
TOMS has a goal to improve lives, this will include taking care of the environment. They are committed to making sustainable choices from the material they use to the vendors they partner with.
TOMS shoes are made with:
REPREVE recycled polyester created from post-consumer plastic bottles using a process that's light on water consumption and greenhouse gas emissions.
Organic cotton grown without toxic chemicals or genetically-modified seeds.
TENCEL Lyocell created from wood pulp sourced from responsibly-managed forests.
Carbon-negative Green EVA derived from sugar cane.
Eco fibers like hemp, linen and jute consume less water than traditional fibers and require less chemicals to grow.
Plant dyes derived from natural botanicals.
Recycled rubber for the insoles.
Recycled polyester for the strobel boards.
TOMS is a member of the Fair Labor Association and engage third party auditors to ensure their factories meet corporates social responsibility requirements.
Conclusion
If you want some comfortable shoes that are sustainable an charitable, you should get a pair of TOMS. Lastly, if you use a referral link, you'll be able to enjoy a $20 discount off your first purchase of $75 or more.