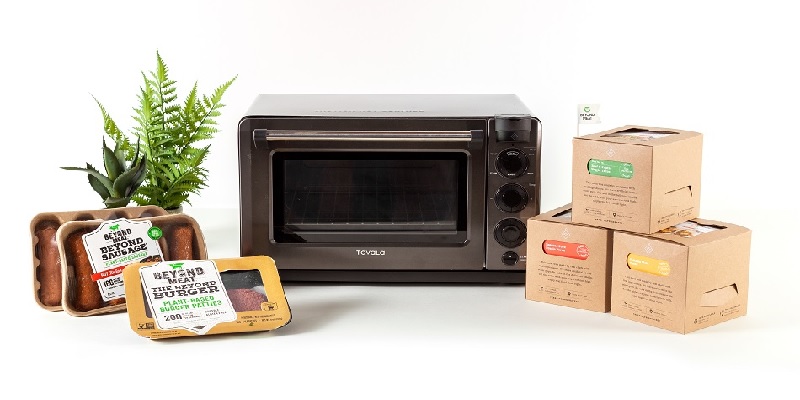 Tovala is offering some great bonuses right now. Be sure that you make a purchase with a referral link and receive an extra $50 off for a total discount of $150 meal credit for each person you successfully refer to Tovala. Here are some other money referral bonuses.
Check out some of the best grocery and food delivery bonuses here.
With Tovala, it's one part smart oven and one part meal delivery service that will cater to people that want to make their dinner effortless. You won't need to shop, prep, cook, or clean up at all. Just connect your Tovala oven to WiFi and scan, relax, and enjoy your meal.
Read below for more information on what they have to offer.
Tovala $50 Welcome Bonus
Receive an extra $50 off a Tovala Smart Oven (Starter Kit included) when you use a referral link to make a purchase. This offer will immediately build up on the "I'm Hungry for a Deal" bonus when you check out for a total discount of $150 off your order. Furthermore, this welcome bonus is available for new customers only.
Feel free to leave your personal referral link down in the comments section below.
Tovala Give $50, Get $50 Referral Program
You can tell your friends about Tovala and give them an extra $50 off the Tovala Smart Oven. For each referral that uses your link, you'll receive $50 in free Tovala meals.
To get your referral link, visit the Tovala referral page and sign into your account.
Tovala I'm Hungry For a Deal Promotion ($100 Off)
Gain $100 off your Tovala Starter Kit purchase and sign up to order 6 meal delivers over your six months. You'll be able to skip weeks of meals or change your meal plan whenever you want (more on that later). However, this offer is valid for new customers at the time of oven purchase. Plus, it will automatically apply at check out.
Remember, this offer comes with the Tovala Happiness Guarantee. If you don't like the oven, you'l have 100 days to return it for a full refund.
How Tovala Works
Tovala delivers fresh meals with the Smart Oven that can be cooked themselves. This is how it will work:
Get weekly delivers. Pick your meals from a new menu every week.
One minute of prep. There's no washing or chopping, just 60 seconds or less for prepping and you're finished.
Scan to cook. Scan the code and the Smart Oven will cook each meal perfectly.
Relax and enjoy. Every meal will cook in 20 minutes or less.
Additionally, not only can the Tovala Smart Oven cook Tovala Meals, it scans the barcode on more than 750 grocery items so they can: steam, back, broil, toast, or reheat it to perfection. The Tovala Smart Oven is $299 ($149 after the "I'm Hungry For a Deal" and welcome bonus). Financing is available, starting at $17 per month.
Tovala Meals are sourced, prepped, and delivered fresh with no artificial ingredients. They offer Calorie Smart, Carb Conscious, Gluten Free, Vegetarian, and Customizable dishes to cater to a range of different diets. Additionally, you'll receive between 3 to 16 meals delivered weekly for $11.99 per meal. You have the option to adjust your order size, skip, or cancel whenever you want.
Conclusion
When you use Tovala, it makes cooking fast, easy, and effortless. Their Smart Oven will be able to cook you delicious meals in a matter of minutes for you to enjoy.
Furthermore, Factor 75 also delivers healthy and tasty meals, but with no smart oven. Currently, they have a $40 first order discount going on.