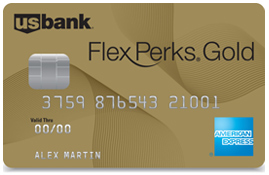 Now, out of the two card that just dropped yesterday, I find the new U.S. Bank FlexPerks Gold American Express Card to be the most attractive offer between the two card. You'll earn an attractive 30,000 FlexPerks when you spend $2,000 or more within a given 4 months of credit card activation. You will be able to rack up nice points with 3 times the points on restaurants, 2 times on gas stations and airlines and 1 times the points on all other purchases.
Now, there is a $85 annual fee and it's quite hefty. Take this card into consideration because the annual fee can be well compensated for with just the airlines perks you receive such as; $25 airlines allowance, TSA Precheck, Global Entry, No foreign transaction fees and so much more.
Editors Note: Before applying for this card, make sure you freeze these two credit bureaus first as that will improve your chances of being approved.
Alternative Credit Cards:
U.S. Bank FlexPerks Gold American Express Card Summary:
Maximum Bonus: 30,000 FlexPoints
Spending Requirement:  Spend $2,000 within 4 months
Annual Fee: $85
Bonus Worth: The 30,000 FlexPoints has a maximum value of $600
Expiration Date: None
Additional Advice: None
U.S. Bank FlexPerks Gold American Express Card

Features:
Triple FlexPoints at restaurants
Double FlexPoints at gas stations
Double FlexPoints at airlines
One FlexPoint per $1 spent on all other eligible Net Purchases.
Travel on more than 150 airlines with no blackout dates or online redemption fees.
Redemption starts at just 5,000 FlexPoints for merchandise8 , cash back, gift cards, statement credits and more.
Get up to a $25 airline allowance with every award travel ticket good towards baggage fees, in-flight treats and more.
TSA PreCheck or Global Entry automatic statement credit reimbursement for whichever program you apply for first.2  Upon approval, enjoy expedited travel screening at participating airports.
Only 20,000 FlexPoints = up to a $400 ticket.
No Foreign Transaction Fees.
$85 Annual Fee, not waived for the first year.
U.S. Bank FlexPerks Points Worth:
Airfare (maximum value of 2¢ per point)
Hotels, car rentals & cruises (maximum value of 1.5¢ per point)
Merchandise (value of 1¢ per point)
Gift cards (value of 1¢ per point)
Statement credit (value of 1¢ per point)
Annual fee (value of 1.7¢ per point for this card)
U.S. Bank FlexPerks Gold Amex Vs. FlexPerks Travel VISA:
Now, the FlexPerks Travel VISA credit card is a top contender in the Travel credit card industry, but for US Bank to collaborate with American Express to make another Travel Rewards credit card that completely dominates the VISA Signature? It's evident that the U.S. Bank FlexPerks Gold AMEX will definitely replace this VISA in a year or so.
I mean, the card dominates with 1x the points higher in the restaurant category as well as offering a higher bonus. With the FlexPerks Travel VISA, the buggy part was that the point redemption was quite a disappointment, and I'm glad to see that US Bank completely fixed that issue on the new Flexperk Gold Card.

U.S. Bank FlexPerks Gold Pros: 
Attractive Start-Up Bonus
One of the higher travel rewards rates: up to 4% back on airfare
No Foreign Transaction Fee
Airlines Perks
Exceptional Rewards Point Value
Easy Rewards redemption
U.S. Bank FlexPerks Gold Cons: 
Unattractive annual fee of $85 ( Sadly, not waived for the first year either)
Conclusion:
Get your hands on the new U.S. Bank FlexPerks Gold American Express Card and you can earn yourself a significant 30,000 bonus points when you make a spending threshold of $2,000 within a given 4 months of credit card activation. I believe everyone should take this card into consideration for at least a year given that the sign-up bonus is quite a rewarding opportunity. Not only that but the reward point accumulation is quite attractive as well; 3x on restaurants is up to 6% cash back as well as the 2x on Airlines and Gas which offers 4% cash back.
The annual fee may be quite hefty but it could easily be compensated with the travel rewards perks and gold status you receive with American Express. You can also use your points to offset the annual fee, but only in 2 years of credit card activation and onwards. Pay 5,000 points instead, giving you a value of 1.7¢. This could quite potentially be a rewarding card if you fly frequently and eat out often, otherwise, find out which card is right for you by checking out our complete list of Credit Card Promotions today!