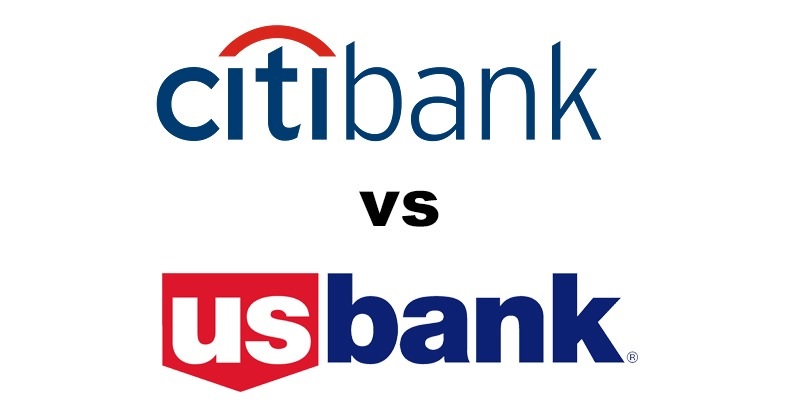 Citibank and US Bank are both very well known banks in America. Citibank has over 700 branches across the US, while US Bank has over 3,000. Both of these banks offer a wide variety of products from checking to savings accounts, so you can be sure to find one that fits what you're looking for.
Be sure to keep reading to learn more about Citibank and US Bank to find out which one is a better fit for you. Below you will see a side-by-side comparison of the two banks.
Citibank
US Bank
Locations
700 Citibank branches across 13 states (Locator)
More than 3,000 branches across 26 states (Locator)
ATMs
2400 ATMs across the country. Also works at all MoneyPass ATMs
More than 4,700 ATMs across the country
Savings
3/5
3/5
CD
3/5
4/5
Checking
3/5
3/5
Money Market
N/A
3/5
Customer Service
4/5
4.5/5
Mobile App
4.5/5
4.5/5
Pros

Perks for high balance customers
Many fee-free ATMs
Global presence

Promo CD with high APY
Free student account
24/7 customer service

Cons

No free checking option
Higher balance requirements
Low savings APY

High minimums to waive fees
Low savings APY

Bottom Line
Citibank is offers credit cards and banking services, but it's more geared towards people who have high balances in their deposit account.
US Bank offers a wide array of services and many account options.
US Bank Promotions
CHECKING ACCOUNTSSAVINGS ACCOUNTS
Easy Checking: Personal checking with basic banking must-haves
Gold Checking: Extra benefits for U.S. Bank credit card and loan customers
Platinum Checking: Top-tier checking with competitive rates and all the perks
Student Checking: Personal checking with features just for students
Safe Debit Account: A bank account minus the checks with no overdraft fees
Platinum Select Money Market: Exclusive savings account for our Platinum Checking Package customers
Package Money Market Savings: Competitive savings account rates only for Gold Checking Package customers
Elite Money Market Account: Earn more interest on high balance accounts
Standard Savings Account: Basic savings ideal for low balances and first-time savers
Citibank Promotions
CHECKING ACCOUNTSSAVINGS ACCOUNTS
Citigold Account Package: A Citigold relationship opens the door to Citi's highest level of professional service, financial guidance and exclusive benefits.
Citi Priority Account Package: A Citi Priority relationship includes integrated servicing, support for your financial needs, on-demand guidance and a breadth of pricing and lifestyle benefits.
Citi Accelerate Savings. There is no limit on earnings and no minimum opening deposit required to earn this amazing rate.
Author's Verdict
Overall, if you choose either of these banks, you'll be sure to get a great banking experience. US Bank is good if you need access to customer service at irregular hours. However, Citibank is good if you have a high balance and want access to more branches and ATMs.
In addition, we have a list of bank promotions to get some extra cash in your pockets today. You may also want to check out savings accounts if you want to get started on saving up money.