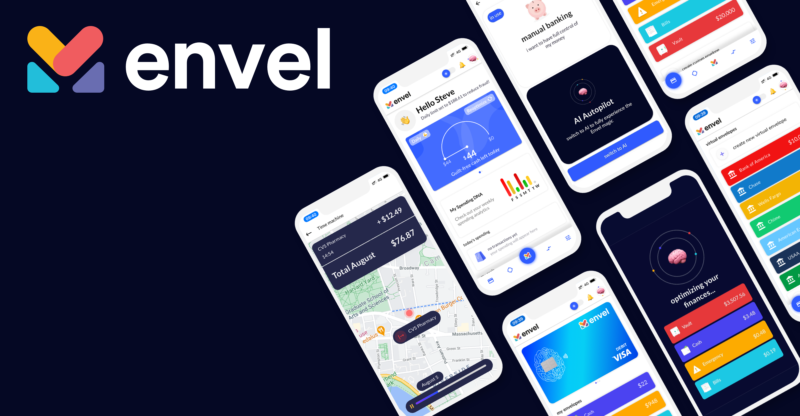 Envel is a financial technology company that uses Artificial Intelligence to help you manage your hard-earned money better than any bank. They automatically manage your spending as well as payments and savings.
| | |
| --- | --- |
| Features | Banking, bill payment, budgeting, saving |
| Monthly Fee | $0 |
| Minimum Balance | $0 |
| ATMs | 37,000+ in the MoneyPass network |
| Works With | Apple Pay, Google Pay |
| FDIC Insured | Up to $250,000 |
| Promotions | None |
Find more bank bonuses from banks like Chase Bank, Bank of America, Citibank, Discover Bank, CIT Bank, TD Bank, Huntington Bank, HSBC Bank, Wells Fargo and many more.
Envel Features

If you don't have time to manage you budget, Envel is a great way to help you get started on managing your financial lives better! To get started, let Envel know how much you make, your regular expenses and your financial goals. Envel will automatically set money aside in each Envelop when money comes into your account.
Members enjoy:
Get Paid 2 days early with direct deposit. Get access to your paycheck up to 2 days early! Eligibility for early direct deposit is based on your employer.
Automated savings, budgeting, and goals. Because of Envel's Autopilot feature, you can build your savings account, reach your personal finance goals, and manage your budget effortlessly.
Security at your fingertips. You can freeze, unfreeze, or order a new card with one click. Envel leverages cutting edge technologies and encryption to safeguard the Envel ecosystem, money, and customer data. Deposits are FDIC insured up to $250,000 through nbkc, Member FDIC.
Create up to 99 checking accounts. Envel allows you to create in seconds up to 99 FDIC insured Envel spending accounts for whatever reason i.e. groceries, holiday, goals, gas, and more!
Send and receive money instantly. Send or receive money instantly to any Envel user with Envel Send.
Automate your Bills. With the Itemized Bills, you tell Envel your different Bills, due dates, and payment frequencies, and our AI will make sure all your Bills are covered.
Customizable color themes and modes. Customize your own experience by choosing your own background and theme colors.
In app customer support live chat & community. Chat with Envel's support team in the Envel app with live chat. Join communities on Discord, Reddit, or their Community Forum to chat with the Envel team and other users, voice your feedback, and get timely support.
---
Envel Fees
Compared to other competitors, Envel doesn't charge you to open an account, nor charge any minimum balance fees or monthly fees! Plus, you get free withdrawals at 37,000+ MoneyPass ATM networks
Conclusion
Envel is great for users who needs a checking account that will help them budget automatically, while helping them improving their financial habits.
Find all the best personal finance apps
You can also checkout Douugh Smart Bank, it's another personal finance app that takes the stress out of managing your money and helps you reach your goals faster.