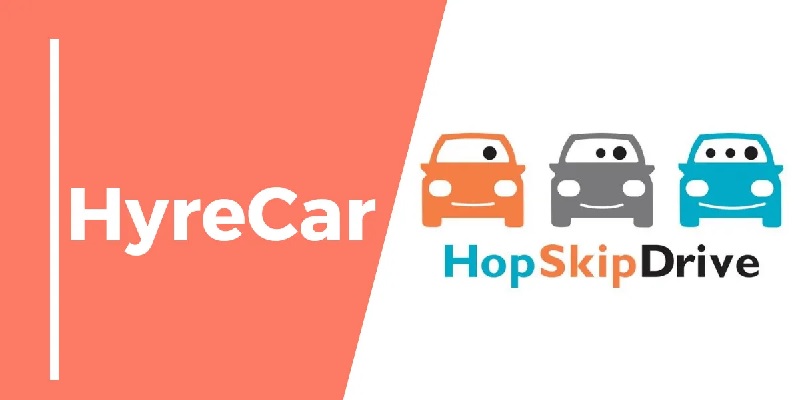 HyreCar is a peer-to-peer (P2P) marketplace that gives rental cars to drivers who work for Uber, Lyft or other on-demand companies like: Postmates, DoorDash, Instacart, Grubhub, and more.
Vehicle owners list their cars on this website and drivers can go through the listings to rent a car of their preference. If you want to make extra money whether if you're a car owner or a driver, this HyreCar review will help you get a better grasp of what they have to offer.
Check out other deals from: GIG, Avail, and Getaround.
HyreCar for Car Owners
When you rent out your vehicle on HyreCar, it gives you a decent source of passive income. Additionally, you'll have the power to decide how much you want to charge per day, and you can offer discounts on longer-term rentals as well. Not to mention, you can even set the mileage limit on your car.
Some car requirements depend on where you live, since different states have different rideshare and delivery vehicle regulations. With that in mind, most require cars that are no more than 10 years old and has 4 doors and five seatbelts.
Furthermore, you'll be able to list your car for free and the process only takes a few minutes. Once you sign up for an account, you need to describe your car and upload documents for verification including:
Clean photos of your car exterior and interior
Vehicle registration
Car insurance
Driver's license
19-point inspection
Uber/Lyft documents
HyreCar also gives extra insurance coverage for when your car is rented out such as:
Premium. $500 owner deductible / HyreCar takes 25% commission.
Standard. $2,500 owner deductible / HyreCar takes 20% commission.
Basic. $3,000 owner deductible / HyreCar takes 15% commission.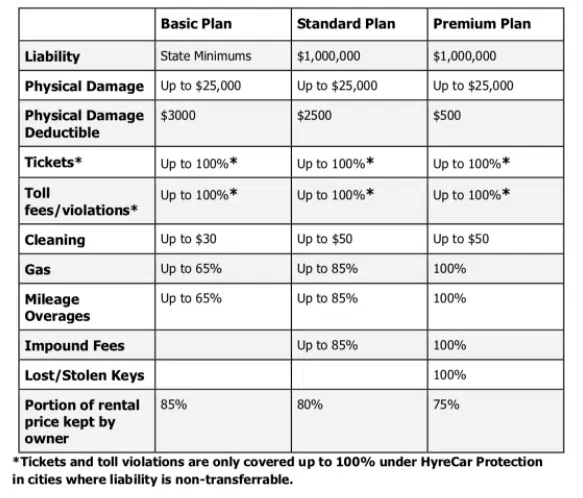 HyreCar states that most cars are listed for $35 per day with a 2-day minimum. Depending on the protection plan you choose, this is how much you can make on a two-day trial rental, starting at $70:
Premium: $52.50
Standard: $56.00
Basic: $59.00
Payments are released when the rental has been picked up, and it takes about 2 or 3 days for the funds to hit your account.
(Visit for more information)
HyreCar for Drivers
If you don't have a car, don't want to use your car, or if your car is temporarily out of service, HyreCar matches you with car owners. This will let you rent vehicles to drive for rideshare companies and food delivery services.
Like the vehicle requirements, HyreCar driver requirements depend on the platform you're driving for. The age requirement for Lyft and Uber are the same at least 21 years of age. You have to have a valid, in-state driver's license for at least a year (Uber requires three years of driving experience), with a clean driving record. Not to mention, you have to own a valid insurance policy and a smartphone as well.
Plus, before you rent from HyreCar, you need to pass a background check. It can take some time, but you only have to do it once. If you don't pass the background check, HyreCar will refund the fee. Rental pricing depends on several factors, such as whether the vehicle can drive UberSelect or UberXL, year of manufacture, gas mileage and more, as well as location.
Typically, you can expect to pay between $24 to $40 a day. For longer rental periods, you might be able to get a discount. However, if you drive beyond the mileage restrictions (usually 250 miles/day), you have to pay an extra $0.25/mile.
HyreCar needs your full payment information before you can rent a vehicle. If you're using a debit card, they will need a $200 security deposit a well. This amount will be refunded to you after you return the vehicle.
Some features include:
Big inventory. Pick from thousands of cars of varying makes and models, giving you the option to drive for different Uber and Lyft levels. All of the listed vehicles have already passed inspection by Uber and Lyft.
Flexibility. If you don't like driving, or if you want to take a break, you can get out of a rental agreement. In other words, if you're only paying for the car when you need it, and you stop paying for it when you don't. Rent a vehicle for as little as a couple days, without having to pay for a return fee. Additionally, it lets you drive different vehicles every week until you find your favorite one.
Insurance. HyreCar offers insurances coverage with each rental, so you're covered in case of an accident while you're on the job.
Multiple platforms. Drive for multiple platforms before committing to one long-term.
Customer service. If you need any assistance, you'll be able to call customer service.
Conclusion
Overall, HyreCar makes vehicles available for drivers and gives car owners a way to earn more money in a passive way. If you're a driver, having HyreCar as an option in case your vehicle goes out of commission is essential to getting back on the road and getting money to pay your bills.
It's also a good idea if you're just starting out in the gig economy, and if you want to see if it's a good side hustle for you before making a commitment.