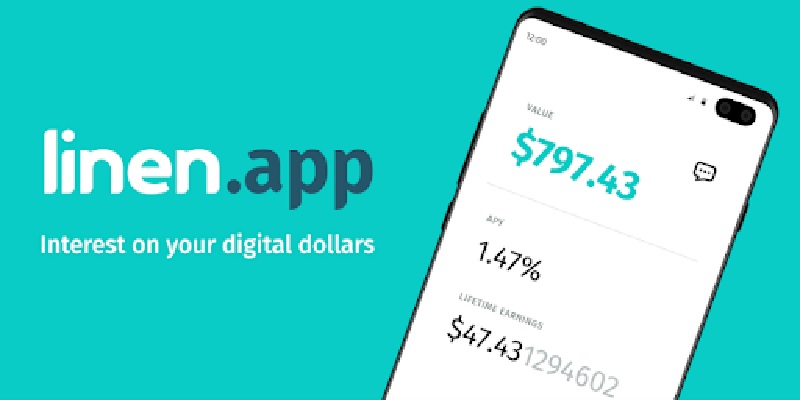 Take advantage of our updates on Linen App's bonuses and other offers here.
With Linen, it's a free mobile wallet that will enable you to get U.S. dollars for a digital dollar stablecoins (USDC). Plus, you'll be able to earn interest on these holdings over blockchain-based lending areas.
Check out other offers from: Coinbase, Gemini, Voyager, and more.
Read below for more information on Linen App and what they have to offer.
Linen App Early Adopter Bonus
Receive a $5 bonus as future equity when you get the Linen app and use a referral link when you apply. Remember, that Linen isn't completely launched at the moment. When you sign up for their promotions early, you'll be able to begin earning future equity.
(Visit for more information on Linen)
Get a $10 bonus as future equity when you sign up to partake in the Linen Sharedrop on Republic. You'll be able to gain a 1.00% APY for future equity and assets that you handle with Linen. The maximum balance you'll be able to have is $50k for no more than $500 in future equity.
To take part in this offer you must:
Have your Republic and Linen account emails have to stay the same.
Be a U.S. citizen over 18 years old.
The Linen Sharedrop is a regulated and monitored crowdfunding campaign hosted by the Republic. Once you've taken part of this offer, you'll get equity or cash in the future if Linen is acquired. Then, Linen has to go public, or if other conditions are met. In other words, if Linen is doing well, you will too!
Other platforms like: Coinbase, Ventures, Polychain Capital, HashKey Capital, and Wyre Capital have put their investments into Linen.
Give $5 Get $5 Referral Program
Once you've referred someone to join Linen with your personal referral code, both you and your referral will receive a $5 bonus. This bonus will come to you as a form of future equity.
Linen App Features
This investment app is made for the new technological generation, enabling you to earn interest on digital dollars. This is how it will work:
Deposit the digital money (stablecoin USDC) to the Compound Liquidity Pool. Those pools will let anyone borrow digital money as long as the loans are secured by digital assets.
Compound works as an automatic interest rate protocol. It's based on the supply of digital dollars and the demand for borrowings on the Ethereum blockchain.
Any returns will be generated by borrowers that secure borrowings with digital assets collateral. These borrowings will be over-collateralized. The minimum collateral ratio to borrow will change from 115% to 150% of the loan.
With Linen, they will not charge you additional fees for their services. Plus, there isn't a minimum balance you must fulfill either. This way, you'll be able to gain access to liquidity pools no problem. There isn't a commitment that you have to worry about either. The Linen wallet balance will be open for withdrawal whenever you want.
Conclusion
When you use Linen, it's a user-friendly app that will enable you to invest easily and earn interest at the same time. This is a great digital wallet fit for the new digital age!