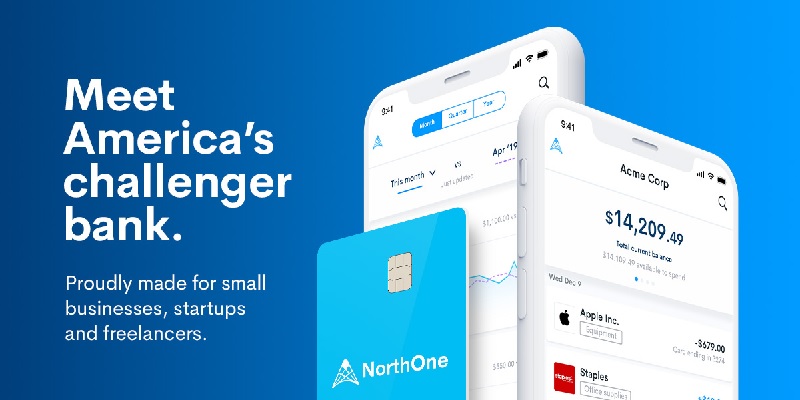 NorthOne now has a mobile banking service designed for: small businesses, startups, and freelancers. With NorthOne, they state that they are the first bank in America to provide an online welcome in less than 3 minutes.
Their banking services are backed up by Radius Bank and is member FDIC insured.
Check out our business checking account bonuses here.
Read below for more information on NorthOne bonuses.
(FDIC insured)
See our bank offers page for other offers. Some popular bank offers include Chase Bank, Discover Bank, TD Bank, Huntington Bank, HSBC Bank, and many more.
NorthOne Online Business Banking

With NorthOne's online banking, you can make deposits or withdraw money from about 300,000 ATMs free of charge! When you use their mobile app, you'll be able to:
Make an FDIC insured business bank account in less than 3 minutes.
Pay bills
Deposit checks
Manage your NorthOne Mastercard debt card
Transfer money from the NorthOne bank account to your account at the old bank.
Look for NorthOne ATMs to deposit or withdraw checks or money.
Connect to the Stripe, PayPal, Shopify, or other payment processors or wallets.
Have 24/7 live chat support from their support team.
(FDIC insured)
For other business checking accounts, take a look at our Chase Business Checking ($300 Bonus), Huntington Unlimited Plus Business Checking ($750 Bonus), Huntington Unlimited Business Checking ($400 Bonus), as well as the Huntington Business Checking 100 ($200 Bonus).
NorthOne $75 Referral Bonus
What you'll get: Both you and your friend earn $75 each
How to earn it:

Register via NorthOne's referral link (we currently don't have a referral code, feel free to share your code in the comment section) to get started.
After you register, download the NorthOne App for iOS/Android and log in to complete the sign-up process.
Make a $50 minimum initial deposit to NorthOne using a debit card from any another bank.
Once your $50 deposit is funded to NorthOne, you will receive your $75 cash bonus within 30 days.

When it expires: None listed
(Visit for more)
(Expired) NorthOne Make a Purchase, Get $25 Offer – Targeted
What you'll get: $25 credit
How to earn it:

This is a targeted offer, so no link available for public use
Some customers receive offer via e-mail to make a purchase and get $25 to spend on small business Saturday on November 28, 2020.
Purchase on your debit card must be made by expiration date.

When it expires: 11/21/2020
Fees & Restrictions
Normally, NorthOne will charge you a flat fee of $10 a month for unlimited banking. If you want to make a domestic wire transfer, the fee is also $10. For international wire transfers it will be $25. Plus, making ACH or PAD returns will charge you a $2 fee. However, if you have non-sufficient funds then the fee will be $25. Overdrafts included will be $5 a day.
Conclusion
Opening a bank account with NorthOne is much easier now that you can do it in under 3 minutes online! Plus, there are several features that comes with this online mobile account. NorthOne has many ATM locations in the nation that you will be able to use as well.